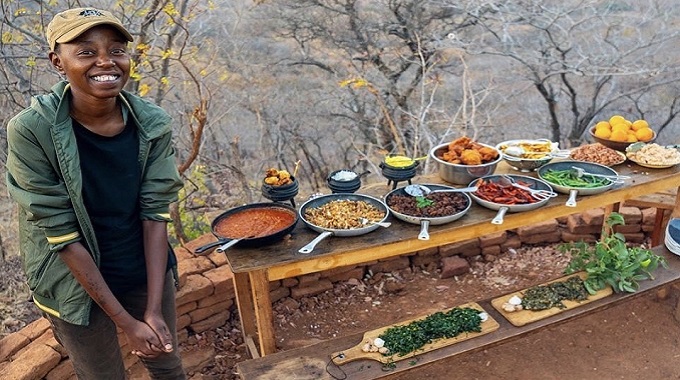 The Sunday Mail
Kimberly Mhembere
CASUAL vegan dining, which is a creative plant-based approach to classic traditional dining, has become popular among Africans.
It has been embraced by many to the extent that chefs and restaurateurs now actively promote the concept at most eateries.
One such person leading the campaign is Zimbabwe-born Nicola "Chef Cola" Kagoro.
The chef said she serves a new menu of realities and possibilities in the 21st century African diet, which she uses to promote healthy eating, while respecting and protecting creatures that share our world.
"I believe veganism originated in Africa and it is through colonial practices that we decided to adopt unhealthy meat-eating practices. Our African ancestors ate meat but they did not consume it in large amounts nor slaughter animals daily," she said.
"Slaughtering was preserved for special occasions such as rainmaking, weddings and deaths."
Vegan food, she believes, is healthy.
"Many people are already vegan; they just do not know it yet," said Kagoro.
The Harare- and Cape Town-based chef says it is her duty to make nutritious dishes on budgets that everyone can afford.
"The idea is to actively promote the reality that people can thrive on a healthy plant-based diet, on a budget. My palate was influenced by my upbringing."
Having spent her childhood in New York City, she began to appreciate that life is full of "flavours", many of which she intends to explore.
She got her first cooking lesson from her mother when she was aged 12.
"That is when I knew this is something I love to do. I then figured out I wanted to be a cook at the age of 16 and I have never looked back since.
"It shaped who I am as a chef, as I discovered that I was not shy to explore different flavours and ingredients."
She specialised in hospitality management at the International Hotel School in Cape Town.
Her journey then took her to the renowned Plant Café, where she rose to become head chef, before she later decided to start her own African Vegan on a Budget.
"What influenced me to create my brand was the need to educate people of colour about veganism, especially on the myths, beliefs and truth," she said.
She runs "Dinner with Chef Kola", which is a mobile dining concept that she hopes to expand to other African countries.
The experience is much like an introduction to vegan food and the lifestyle.
"The dinner series is motivated by an environmental concern, raising the themes of sustainability and consumption while creating an event for people to relax, network and learn," added Kagoro.
"I want to help people understand that they can enjoy delicious vegan cooking on a budget. I am the only chef in Zimbabwe who dared to create a 100 percent vegan brand. I do not work with meat products nor any meat by-products."
Kagoro once received an international accolade at the World's 50 Best Top Vegan Influencers awards.
She has also worked with the International Anti-Poaching Foundation.
In addition to collaborating with BBC, CNN, National Geographic and Forbes, Kagoro is also the host of the popular "So I am now Vegan" show on DStv.