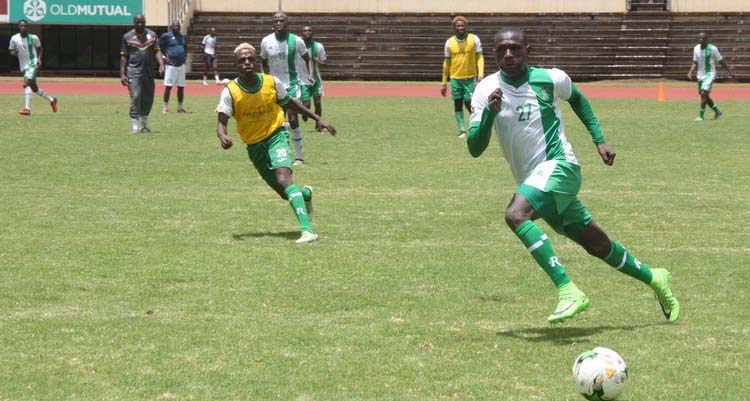 The Sunday Mail
Makomborero Mutimukulu Sports Editor —
CAPS UNITED have proven to be both an irresistible force and an immovable object at the National Sports Stadium, using both artistry and artisanship to stitch together an impressive 22 –match unbeaten run.
The champions have known when to swagger their way to victory and when to sweat and graft their way to it.
However, as they get ready for their first league home game, against Harare City, Makepekepe already have to answer questions about their ability to wedge a successful title defence.
Today's visitors were the last to inflict a home defeat on Caps United, winning 1-0 on 26 July last year.
Lloyd Chitembwe's men have failed to find the back of net in their last three matches, playing goalless draws with TP Mazembe in the Caf Champions League, Highlanders in the ZNA charity shield final and Shabanie Mine in the season opener last weekend.
Things haven't gone south as yet but they haven't been moving northwards either for the champions and their clash with the Sunshine Boys gives them a chance to get going.
Chitembwe appreciates a good team, even a good coach, when he sees one.
Harare City are a yoyo team, fluctuating between the good, bad and the abysmal, but if a tag has to be put on them the one that reads "good" won't be misplaced.
Chitembwe lives up to the street lingo "game recognise game."
The Caps United mentor has coaches he respects and does not shy away from paying homage to them.
He never thinks twice about calling them in for one of his team's training sessions.
During his current and second tenure on the Makepekepe bench Chitembwe has had Wilson Mutekede, Kennedy Nagoli and Nelson Matongorere coming through to help his team prepare for certain matches.
Chitembwe's relationship with Mutekede goes back to the days when the Caps United coach used to commandeer the team's midfield.
The pair have risen and fallen together.
And when they met at Maglas last Sunday as the champions visited Shabanie Mine it was a case of one looking into the mirror.
"It was awkward," commented Mutekede who takes charge of his second and last tie as the Chinda Boys coach against Bosso today after landing the Zifa technical director's job during the week.
One man who hasn't been called to the Caps United training session is Harare City coach Mike "Dread" Madzivanyika.
However, that does not mean that Chitembwe has lost his respect for the former Black Aces man, nay.
The reigning coach of the year reckons the City coach and Nagoli are the best brains when it comes to putting together a midfield that is solid on the back foot and dangerous on the offensive.
"Mike is a very good guy, very cool. We worked together back then during my first stint at Caps United and we had a good relationship. I have also seen him grow in this coaching industry which is a good thing," said Chitembwe.
Madziva does not hide is admiration of Chitembwe either.
"I worked very well with Chitembwe and I learnt some things during our time together. He has done well as a coach and I congratulate him for winning the championship last season," said the Harare City coach.
Both teams come into the match with clean bills of health with Leonard Tsipa and Abbas Amidu set to lead the Makepekepe attack in the absence of Simba Nhivi.
Nhivi's contract renewal talks have jammed.
Today's Fixtures (All Matches Kick Off @ 3pm)
Caps United FC Vs Harare City FC (NSS), Triangle United FC Vs Dynamos (Gibbo) Highlanders Vs Shabanie Mine (B/F), Hwange V Ngezi Platinum (Colliery)
Results
Bulawayo City 2-1 Chicken Inn
FC Platinum 3-2 Bantu Rovers
Black Rhinos 1-0 Chapungu
How Mine 1-1 Tsholotsho FC