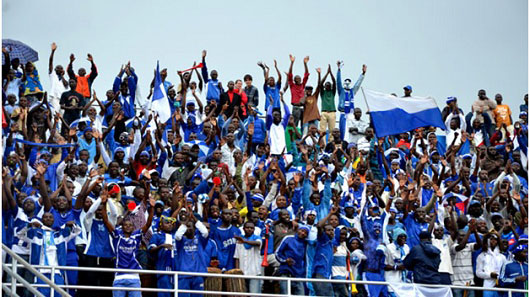 The Sunday Mail
Langton Nyakwenda
Sports Reporter
IT is a crisis that started four years ago and has been getting worse with each passing season.
Attendance figures at Premier Soccer League (PSL) matches have been falling since 2018, even before Covid-19 hit these shores.
According to the PSL, 442 808 fans — an average of 1 447 per match — watched the 2018 season.
Attendance figures fell to an average 1 356 fans per match in 2019, as 414 996 paid their way into stadiums.
Since the switch to 18 clubs in 2017, the PSL season now has a total of 306 matches per season, up from 240 when the league still had 16 teams.
However, the increase in the number of PSL matches has not been matched by attendance figures.
The just-ended season was catastrophic.
In fact, it was the worst since the Premiership was founded in 1992.
Although the PSL indicated that they are still collating figures for the 2021/2022 season, attendance at high-profile matches — which include the Harare derby pitting the capital city's two biggest clubs, Dynamos and CAPS United — was underwhelming.
The first edition of the derby at the National Sports Stadium on June 5 attracted a paltry 5 107 fans, while the second leg drew an even lesser crowd at the same venue on November 13.
Similarly, less than 3 000 fans watched the famed Battle of Zimbabwe showdown between Dynamos and Highlanders at the same venue on October 30.
These figures pale into insignificance when compared with the Soweto derby in South Africa featuring Kaizer Chiefs and Orlando Pirates. A sold-out crowd of 93 000 watched the Soweto derby on October 30 at FNB Stadium. Gone are the days when the so-called PSL small teams would cash in whenever they hosted Dynamos or Highlanders.
Previously, clubs would often clear most of their debts after playing DeMbare.
For example, in 2004, Kwekwe Cables proposed to play their home game against DeMbare at Rufaro Stadium.
However, 18 years later, the Harare derby is struggling to lure 5 000 fans.
On July 13, 2014, a good crowd of 21 067 fans paid to watch Dynamos and CAPS United draw 1-1 at the National Sports Stadium.
Back then, people would even walk from Harare's central business district to the National Sports Stadium and back.
Kalisto Pasuwa's men did not disappoint either, as they would put up dominant performances on their way to a fourth straight league title.
When 12 100 people paid to watch another 1-1 draw between the two sides at the same venue on April 6, 2015, it was deemed the lowest attendance of the derby of all time.
The figures from back then put paid to suggestions the giant stadium's location has contributed to dwindling attendance.
Both Dynamos and CAPS United — the biggest crowd pullers in the capital — now use the National Sports Stadium as their home.
PSL chairperson Farai Jere, however, still contends that the absence of Rufaro has largely contributed to fan apathy.
Jere believes Rufaro can attract more crowds than the National Sports Stadium.
"Our PSL clubs, because of the standards required, are not allowed to play matches at Rufaro Stadium, yet Rufaro is central and is the home of football," Jere said.
Interestingly, fan apathy has hit clubs based in Harare more than those in Bulawayo, where Highlanders are based.
Decent crowds have been witnessed at Barbourfields, which is situated in Mzilikazi.
"Fans were packing Barbourfields week in, week out because of the location of the stadium. "Similarly, Rufaro is the home of football, and if we were to stage our games there, I am sure fans would come.
"Rufaro, Gwanzura and Barbourfields, just because of their locations, attract good crowds," added Jere.
The 2022 Chibuku Super Cup final between Bulawayo Chiefs and Herentals attracted over 10 000 at Barbourfields last weekend despite the low profile of the teams in contention.
The cheapest ticket was US$1, a huge reduction from the US$3 that fans paid to watch league matches.
Could gate charges be a major factor in attracting fans?
Jere, who is also CAPS United president, begs to differ.
"What happened at Barbourfields week in, week out tells you that (fan apathy) is not about the price.
"Highlanders fans would still throng BF even when the gate charge was US$3," says Jere.
Dynamos and Warriors cheerleader Chris "Romario" Musekiwa agrees with Jere, as he thinks attendance figures are driven more by passion than price.
"Bulawayo fans are so passionate about football. When there is a game at Barbourfields, they converge in numbers.
"To them, it doesn't matter whether their team is performing well or not," said Musekiwa.
"But here in Harare, fans tend to go to the stadium when their teams are doing well.
"When Dynamos were dominating the league under Kalisto Pasuwa, the team commanded large crowds wherever it played.
"The team is not doing well and fans are staying away.
"It's wrong, though. We must be all-weather fans. Let us fill up the stadium even when Dynamos are not doing well," he said.
Tatenda "ZiSupa ReGreen" Mushonga, a CAPS United fan, feels lack of entertaining players at the stadiums also explains why fans have turned their back on league matches.
"We no longer have magicians; those kind of footballers whose skills attract huge crowds," he says.
"Also, because there are no sound junior development programmes at most clubs, we now watch recycled players, year in, year out.
"We need new and exciting talent."
Popular Chicken Inn and Warriors supporter McCloud Moyo is urging the PSL to revise gate charges for the 2023 season.
"A dollar will do for next season," he says.
"The Chibuku Super Cup final between Bulawayo Chiefs and Herentals proved that fans can come to the stadium if the PSL charge reasonable prices."
The fan crisis has largely been attributed to falling standards of local football.
Others argue that when the Big Three – Dynamos, Highlanders and CAPS United – are not performing well, it affects attendance.
It is a point that was supported by Bulawayo Chiefs coach Thulani Sibanda.
While Dynamos finished a distant third on the log, both CAPS United and Highlanders finished outside the top four.
The trio have not been involved in a league title race in the same season for many years.
Sibanda, however, maintains that local football is still attractive.
"There are teams that can still pass the ball; teams that can still play some good football," he said.
Jere agrees.
"The crisis cannot be blamed on standards because we still have an attractive brand of football.
"In fact, there are a number of factors that are more critical. We have to look at how Covid-19 affected us.
"I would like to admit no proper research was done on how to bring back fans to the stadiums after Covid-19," said Jere.
"Remember, the Premier Soccer League had very strict Covid-19 rules which we had to follow, and in the process of following the rules which were set, it affected the numbers at the stadiums.
"The other factor is that there was lack of sound advertisement. Some fans did not even know football was back."
The absence of radio commentary, he said, had also meant the loss of another key partner for the game.
"The decision to take football away from radio has been detrimental.
"There is a positive relationship between the attendance at the stadiums and radio commentary.
"Most of us were attracted to football not because we knew about it, or knew about CAPS United or Dynamos, but through listening to radio commentary.
"You would tell yourself that the next match I am going, after listening to those commentaries."
 ■  Twitter: @LangtonGuraz