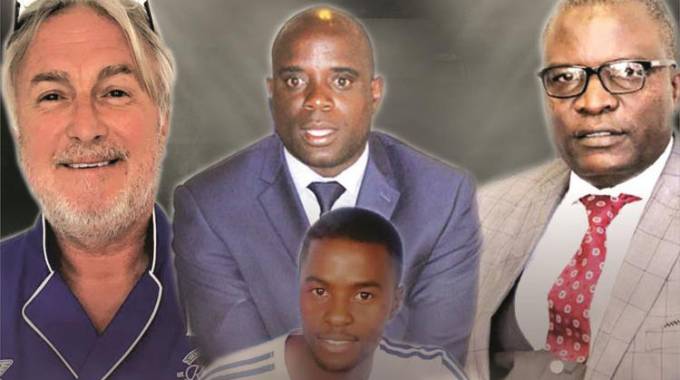 The Sunday Mail
Langton Nyakwenda
Sports Reporter
IT has become very unusual for Dynamos to enjoy the kind of tranquillity and optimism they are experiencing at this particular time of the season.
The pizzazz could be back at the Glamour Boys, whose massive spending spree — backed by an increased sponsorship package from their financiers Gold Leaf Tobacco — has ignited excitement amongst the team's mythical seven million supporters.
DeMbare fans are believing again following the arrival of 15 new players. Club chairman Isaiah Mpfurutsa fired a thinly veiled warning to other teams in a wide-ranging interview with The Sunday Mail Sport last week.
Mupfurutsa warned that the lion which had literally lost its roar is about to reawaken and reclaim the dominance of the championship for which Dynamos' legacy has been built over the years.
Ironically in the period they have gone into a slumber with FC Platinum taking three of the five titles on offer since Kalisto Pasuwa's trendsetting class won four straight championships, Dynamos have huffed and puffed while being inactive on the transfer market.
Instead they had resorted to trials of very average enthusiasts just to assemble a team at the start of each year while continuously losing the best players to their rivals.
But as Mupfurutsa explained, there has been a refreshing change of the business approach and with RG Tobacco availing the funds to oil the machine, prospects are all looking bright once again in the blue half of the capital.
Dynamos have given coach Tonderai Ndiraya a fresh and improved contract and The Sunday Mail can reveal that the national Under-23 gaffer is scheduled to fly out to Belgium on March 1, for a two-week attachment with a top Belgian First Division club, in a deal brokered by sports consultant Gino Laureyssen.
Laureyssen was last year also instrumental in bringing Belgian coaches to DeMbare as part of a long-term exchange programme.
Cameroonian striker Albert Eonde, formerly with FC Platinum, became the latest signing last week after agreeing terms with DeMbare where he believes he can make as much of an impact as his countryman Christian Epoupa did.
Partson Jaure, Jeansmith Mutudza, Stephen Appiah, Byron Madzokere, David Temwanjira, Barnabus Mushunje, Nkosi Mhlanga, Tanaka Chidhobha, Lenox Mutsetse, Tinotenda Chiunye, the highly-rated King Nadolo, Tanaka Mawarire and goalkeeper Tymon Mvula are all part of the new-look Dynamos squad that is set for a training camp in Nyanga later this month.
A bullish Mupfurutsa believes they have laid the platform to fight for honours once again.
"Our sponsor has actually renewed our contract and has also increased the resources that are availed to the club.
"That is why we managed to acquire players right from the onset, that is why we have managed to tie down our coach Ndiraya," said Mupfurutsa.
"We respect what Ndiraya has brought to the club, although I can't disclose details of his new contract, what I can say is that it is an improved contract which will be reviewed from time to time.
"Everything is under control, that's why you find that he (Ndiraya) is committed to Dynamos. There will be continuous improvement to his contract. I think he is a happy man; more things are going to come for him.
"This year should be a better season and Dynamos fans have every right to believe. I am sure you will also agree with me and the multitude of supporters that we have gone for a long period without lifting silverware, particularly the title.
"Or even the Chibuku Super Cup, and it is unusual for Dynamos. So there is hunger in the Dynamos family and this is now pushing us to think big, to be more ambitious."
The last time Dynamos laid their hands on the championship trophy was on November 23, 2014 when an emotional Pasuwa saw his side beat How Mine 2-1 on the last day of the season to pip surprise leaders ZPC Kariba for the crown.
A tearful Pasuwa then immediately announced his departure from Dynamos and since then they have watched in dismay as FC Platinum took over dominance of the crown in the last three years.
Two years earlier it was also won by Chicken Inn in 2015 and CAPS United 2016.
Dynamos have never won the Chibuku Super Cup, which has changed hands between Harare City, FC Platinum, Ngezi Platinum Stars and Triangle since its reintroduction in 2015.
DeMbare finished ninth and 18 points behind winners FC Platinum in the 2019 Castle Lager Premier Soccer League race.
They had one of the worst points return at home, managing just 20 points at Rufaro, compared to Ngezi Platinum Stars who raked in 36 at Baobab.
DeMbare had one of the worst strike forces in the league, as they managed to score more than one goal per game on only five occasions the whole season.
That forced Ndiraya into action, drawing up a list of his targets before the 2019 season concluded.
"What I can say is we have done the greater part of the work, we are almost finalising the acquisitions for the 2020 season, we still need to sign one or two players, to beef up some positions.
"The coach gave us a number of options, like he always does, so Eonde is one of the options," said Mupfurutsa.
Before the arrival of Gold Leaf Tobacco, who sponsor Dynamos through their brand Rudland & George, a desperate DeMbare resorted to conducting trials as a means of assembling players.
They entered last season without a sponsor forcing then coach Lloyd Chigowe to settle for cheap material which failed to live up to the club's expectations.
Chigowe was sacked two months into the season following a poor run.
"It goes back to the issue of resources. If you look at last season, we had sponsorship from NetOne which expired on December 31, 2018 and was subject to renewing but the process of renewing took time.
"So what it meant is we went into January and February without a sponsor which meant we didn't have the resources to be as aggressive on the market.
"We only got a sponsor around March, and we had to make do with whatever resources were available. Our sponsor, Gold Leaf Tobacco, only came at a later stage and we are very thankful to them.
"To that end, I still insist that MaBlanyo (Chigowe) did a good job given the resources at his disposal. The players also did a good job because they kept the Dynamos flame burning otherwise we would not be talking of Dynamos today."
Belgian sports consultant Laureyssen, who also worked with CAPS United when they won two consecutive league titles in 2004 and 2005, is opening up international links for Dynamos.
"These links have opened up avenues for our coach Ndiraya who is going to Belgium anytime soon. He is not going there as a tourist, he will be working. He is going to be attached to one of the top First Division teams," said Mpfurutsa.
Part of the deal includes revival of Dynamos' junior football structures and DeMbare now has a fully-fledged Division Two side made up of Under-20 players.
"We now have a structure that runs from Under-12s to the Under-20s in Division Two. Our executive committee member Francis Madzinga is on a massive scouting mission across the country.
"We also now have a relationship with Prince Edward School and we are looking to formalise the partnership. Our Division Two team trains at Prince Edward."
Traditionally, DeMbare got their junior players from Churchill High, which also produced players like Samson Choruwa, Norman Maroto, Desmond Maringwa, Murape Murape and Eddie Mashiri.
Mpfurutsa chairs an executive that includes his deputy Moses Shumba, secretary Webster Marechera, treasurer Moses Chikwariro and Tinashe Farawo who is executive member in charge of marketing and public relations.
"There is unity within the executive, you might have noticed that we are always together, we plan together, we share ideas and we are not selfish people. More so, we have a number of professionals in there, the corporate flair is also helping a lot.
"We have to give credit to the Dynamos Board led by Bernard Marriot, they are backing this executive through and through," said Mpfurutsa, who also took time to thank DeMbare fans.
"I have to thank them (fans) so much for standing by the team even when things were not good. They have always given moral support to the team.
"I would like to urge them to keep on believing, to keep on being patient. I know they are seeing the work that is being done.
"Even if we start badly we should remain united so that we work together. Dynamos is for the Dynamos family. When we are facing problems they are ours together and when we succeed that success is ours as well.
"Football has cycles, teams go on a bad patch. Look at Manchester United in England, they dominated for a long period but where are they now. Liverpool, where were they.
"Where was FC Platinum when Dynamos won four consecutive league titles? I think we gave the teams a chance in the last few years but the moment we go on a resurgence we might as well win the title for consecutive seasons again."
And the buzz among their faithful has been evident ahead of the start of the 2020 season.