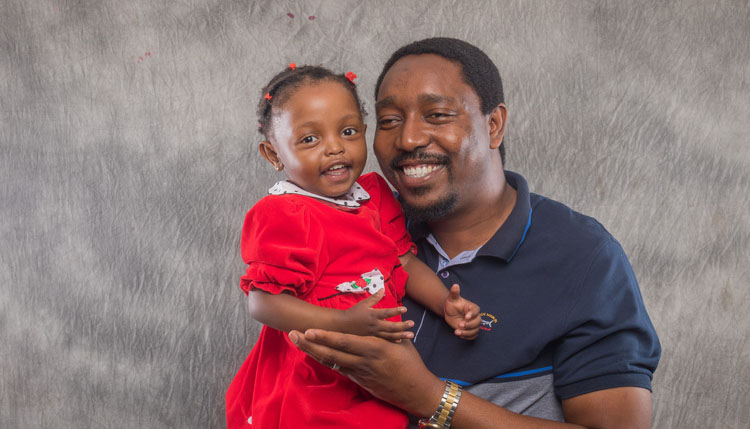 The Sunday Mail
Today marks nearly one and a half years since baby Manqoba Mabhena had a liver transplant. Everything is just fine with the little angel. Glory be to God!
She is of good size and growing fast — just like any typical toddler.
I look back at her picture before the transplant and cannot believe she is the same person.
No more fat cheeks, no more emaciated limbs and swollen belly, no more yellow eyes and skin. My family and I are incredibly thankful to have Manqoba with us and to see her growing up with endless potential.
By the way, Manqoba still has an infectious smile and a captivating giggle.
With the assistance of the Zimbabwe National Army (ZNA) and Premier Service Medical Investments (PSMI), Manqoba and I were in India for her one-year post-liver transplant review.
I continue to see the hand of God in Manqoba's life.
All the tests carried out were normal except for one setback.
During a CT scan, doctors found that the portal vein which blocked before her surgery had blocked again. And scary as it seemed, no one could tell when it blocked.
When we carried out Manqoba's regular blood tests locally to see if the liver is functioning well, everything seemed normal. One thing that I have learnt about God is that the moment we figure out how He works He stops being God.
Miraculously, despite the blocked portal vein, God created another channel for blood to move in and out of the transplanted liver — hence her blood tests are normal.
I stand amazed at God's love for my daughter.
However, she has to have endoscopies every six months to check if there are varices in the blocked portal vein – if any are found during the endoscopy, they are sealed.
For everything, I say it is well.
Now two years and three months old, Manqoba was born with a condition called biliary atresia which was diagnosed when she was five months old.
The doctors explained to me that biliary atresia is not compatible if uncorrected. And performing a corrective surgery after 120 days of life makes it unhelpful.
And surgeons couldn't perform a corrective surgery because her liver was already showing signs of significant liver damage with only a liver transplant being the best option.
In biliary atresia, the bile duct that leads from the liver to the intestine becomes damaged preventing bile from leaving the liver. In the early stages, the bile duct outside the liver is mainly affected, but in later stages bile ducts inside the liver are also damaged. This can lead to build up of bile in the liver which can be harmful to the liver.
Symptoms such as swollen abdomen, weight loss, itching, muscle loss, loss of appetite, easy bruising, low energy and weakness, among other wide array of symptoms characterised Manqoba's early life.
Any mother hates seeing her child ill, and I wished I could wave a wand to instantly heal her tiny body or take her place to free her from the discomfort.
Every day I would try to put up a brave face, wear a smile but my heart was aching.
My child's illness was emotionally, physically, spiritually and financially draining. Manqoba had a liver transplant in India on November 28, 2016 under difficult circumstances.
On November 15, 2016, Manqoba started passing black stool then later bleeding profusely from all airways.
Doctors at SPS Hospital in Ludhiana tried to stop the bleeding but to no avail. They then performed an endoscopy through which they closed the bleeding blood vessels.
The following day, doctors explained to us that though the bleeding had stopped her condition was deteriorating and was being transferred to Apollo Hospital in New Delhi.
There is nothing on earth more likely to make you become unhinged as a parent than to see your child suffer and be unable to prevent it.
The sight of the ventilator helping your gravely ill child breathe and the sound of several machines around her beeping was overwhelming.
Manqoba stayed in ICU for two weeks — and doctors kept on waving bad news cards to our faces — one after another.
The most shattering was the intensivist saying to us: "To be honest with you, we are only able to save between 25 to 30 percent of people in your baby's condition but we remain hopeful."
And yet another setback cropped up, she developed pneumonia.
As if that wasn't enough, a CT scan reported that her portal veins supplying blood to the liver had blocked.
The liver transplant surgeon, Dr Subash Gupta, explained to us that they were considering performing the transplant on November 28 if she maintains the same stability though it was now a more than high-risk surgery.
And yes our prayers were answered — so the transplant was performed on the scheduled date.
I am forever indebted to my husband, Lawson Mabhena, for donating two thirds of his liver to our daughter.
As Philip Whitmore Snr rightfully said: "Any fool can be a father, but it takes a real man to be a daddy."
And surely Lawson deserves a Bells!
I have never seen anyone as resilient as my little angel. She could still smile through the worst pain.
Manqoba handled different kinds of surgeries and needles like a pro.
Manqoba put up a good front and, for the most part, she went through the annoying routine with a smile or a few tears — something which I couldn't handle.
It is true that miracles do happen when we least expect them and Manqoba is a testimony to that.
My husband and I are grateful to the love and compassion from friends, family, Zimbabwean community and other well-wishers who helped us raise the required amount in a space of one month and prayers extended to us by the TACC family during this difficult time.
And all I can say is: "It can only be God."