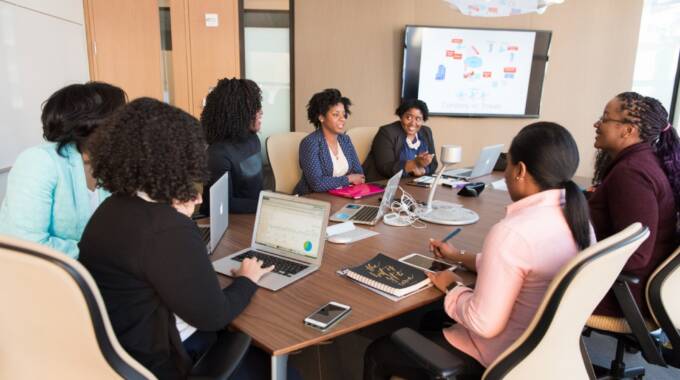 The Sunday Mail
Boardroom Talk
with Lucy Marowa
MARCH is significant for all women worldwide because not only do we celebrate them on International Women's Day (March 8), but also throughout the month.
Many events are held to create spaces for women to come together and share their experiences, as well as network and learn from each other.
The question is: Is this time enough to do all that is needed to train, groom and empower more women to positions of influence in society?
Have we done enough to increase the participation of women in boardrooms?
Have our statistics changed significantly in terms of female corporate leaders in Zimbabwe?
I think not!
What then do we need to do to increase the number and contribution of our female folk in the boardrooms across public and private institutions? Is it not time to walk the talk so that our country becomes progressive?
We need to paint the picture
It is well-known that very few listed entities in Zimbabwe are headed by women.
The same goes for public and non-listed private entities. If, as a country, we make an effort to keep track of the diversity of boards through corporate governance entities like the Institute of Corporate Directors Zimbabwe (ICDZ) or the Women Corporate Director's Network Zimbabwe (WCDNZ), we would know the status of the boards at different entities.
This makes it easier to push for the inclusion of women from an informed point of view.
We could even use such information to push for certain policy narratives, but without it, it becomes all talk, hence someone needs to take this up.
We need to be deliberate
Organisations need to realise that the inclusion of women in decision-making roles is not just an academic exercise, but mandatory.
It must, thus, be part of the organisation's strategy, especially nowadays, with the emergence of environment, social and governance (ESG), which requires a deliberate effort to report on the social aspect that includes gender mainstreaming, as well as inclusion of minority subgroups. This goes beyond a cosmetic cover of putting women into positions to fulfil quotas.
It allows the purposeful grooming of leaders who contribute meaningfully to the development of the organisation and its success.
Some researchers have shown that the inclusion of women in decision-making leads to increased risk management, greater monitoring of strategy implementation, as well as better corporate social responsibility outcomes.
As Zimbabwe, we, therefore, need to put in place mandatory board quota systems for both public and private companies if we are to see any changes in board compositions and stop them from being boys' clubs.
We could even consider making it part of a company's listing requirements to have a certain quota of women at board or managerial level.
We need to include men in the conversation
It is imperative for men to understand that the inclusion of women in leadership roles does not mean they are being replaced or ousted.
It is not a case of either or, but of working together for a common good.
Men need to view women as allies, not enemies, and vice versa, until we can hold the diversity conversation with maturity. Efforts should not be directed only at one gender while excluding the other.
These two genders need to work together and understand one another's way of thinking in order to co-exist.
While we empower the women to take up leadership roles, we ought to prepare the workplace to accept the leadership of these women in order to avoid culture shocks.
Women need to be ready
The woman who needs to make it into the boardroom must do all it takes to prepare herself for the task ahead by getting the necessary qualifications, skills, grooming, networks and everything in-between.
Being female alone is not enough — you are hired on competence in order to deliver just like your male counterparts.
There will be no excuse for lack of preparedness or tardiness — one must build one's profile and live up to it.  We also need to present ourselves and offer to take up positions so that we can be noticed.
The best way is to have your name listed with professional bodies like ICDZ and WCDNZ so that they can link you up with corporates that are seeking directors through their placement programmes.
Lucy Marowa is the chairperson of WCDNZ. She is also a corporate governance guru, lecturer and motivator. For comments and feedback, please send to: [email protected] 0772469893.