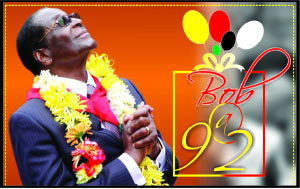 The Sunday Mail
Joseph Nyadzayo
Presidential Photographer
On February 21, 2016; President Mugabe will celebrate his 92nd birthday anniversary. As part of a build up to this celebration, The Sunday Mail is running a series of articles detailing various aspects of the President's iconic life. Presidential Photographer, Mr Joseph Nyadzayo speaks to this publication's Chief Reporter Kuda Bwititi about his memorable moments with President Mugabe. Read on . . .
***
I have had the honour and privilege of working for the President for the last 21 years as his Chief Photographer.
I have listened to him and had the chance to photograph him officiating at various forums.
I have been at many important events that he has attended, so I feel obliged to testify to my fellow countrymen about this man.
I am proud to say that after having spent all this time with him, I have never met anybody with a congregation of virtues like President Mugabe.
I have had the privilege to meet several Presidents, among other high profile people from around the world, and I can safely say that none matches President Mugabe in terms of convergence of virtues.
He has all the good qualities that you can ask for, he is a super intelligent man yet he couples that with discipline and does not abuse his intelligence or take advantage of others with it.
His dressing is immaculate, yet simple.
He is a great orator and listener at the same time.
He is proficient in English and Shona.
His memory is like an anthology because he can remember some very minute details about things from many years back.
This is why you have people praising him after they have had the chance to interact with him, including those who are not friendly to him or to the country.
They praise him as they will have been amazed by how he remembers things. He has so much detail about everything, whether it is international or local issues or even on complicated technical or scientific issues.
He can unpack any issue like he is a Professor in that field.
There was a time when we were at Chishawasha Primary School and he was interacting with the kids, relating how they could memorise the times table.
He then left the kids in amazement after he sang a chorus that he was taught by his mother during his childhood – to memorise the times table.
During his speeches at various international forums, you can feel the excitement that he brings to other delegates. He creates and attracts so much anticipation and appreciation.
There have been several times when I have been stopped in the streets by strangers in different countries to say to me, you are lucky to have President Mugabe, why don't you give him to us.
I recall a Chinese national whom I overheard saying that President Mugabe is a miracle when we visited China. This is how much he is appreciated out there, all over Africa and other parts of the world.
There have been international events that I have attended where President Mugabe has received wild cheers more than leaders of other countries.
People cheer loudly, more than they cheer their own leaders.
This shows you how much he is revered abroad.
Some people from other countries have come to me and confessed their love for President Mugabe. They are so smitten by him to the extent that they have said, "Can you give him to us?"
I always look at the recognition that he receives globally. He has received honorary degrees from different parts of the world, all in recognition of the work he has done.
Just a look at the different institutions that have given him honorary degrees in all these years shows that they were not seeking any favours from him, but they are truly giving him recognition.
He turns 92 on February 21 and he looks fitter than ever.
People say there is need to discuss the succession of the President, but I do not believe President Mugabe will be succeeded by one person.
He can only be succeeded by 15 million Zimbabweans who share his vision for the country. So, for our nation to survive, we have to understand that President Mugabe is no longer an individual.
He is now a spirit and whenever we invoke his spirit, we will lead the country on the best trajectory that it can take to achieve complete political and socio-economic success.
Some people have been saying that we should not celebrate now because we are having economic challenges. But I say that it is even more important to hold these celebrations now when times are hard because it gives more weight to our recognition of his works.
Honour in music
I chair the Zimbabwe Music Awards, and my colleagues and I are going to honour the President in a special way this year.
We are organising a concert dubbed "WDB", meaning "Well Done Bob".
We are inviting everyone who wants to express his or her gratitude to the President to partner us for this event in any way that they can.
This event is apolitical and non-partisan.
It is open to every Zimbabwean, regardless of political affiliation.
My conviction beyond any reasonable doubt is that every Zimbabwean has a cause in one way or the other to thank President Mugabe.
As Zimbabweans, we have all been empowered by President Mugabe as the land reform programme was carried out to fulfil the needs of Zimbabweans.
The indigenisation and economic empowerment programme is also designed to benefit all Zimbabweans.
He is also among the few remaining individuals who pioneered the fight for our freedom.
No one in the country can fail to thank President Mugabe for the role he played in bringing independence.
I know that for some politicians and other figures, it is difficult to come out and say thank you to President Mugabe, but they all owe it to him in one way or the other.
His education policies enabled many people to become what they are today.
The country continues to enjoy peace and stability because of his leadership. So, I challenge anyone to come forward and say they do not have anything to thank President Mugabe for.
I am sure many people might not know this, but the President is a musician in his own right. He used to play the bugle horn in his old days, and I am told that he was part of some band.
Special moments
I have had many special moments with him throughout these years. I remember after taking up this post in 1995 I had a meeting with him, which was routine so that he would give me a run-down of his expectations. During that first meeting, I got to learn a lot about him and how special he is. He puts you at ease when he interacts. Since that was my first meeting, I could not even hold the tea-cup properly as I was visibly nervous.
One of my first major assignments was to take his official portrait. He liked it so much and I am proud that it is the one that is still being used today.
So, I can say it is one of his best pictures.
The following year, he also had his wedding, which was a very special occasion. It was also one of the best days of my career and obviously for him as well.
He and the First Lady Amai Grace Mugabe were very happy with the pictures that I took on that day. The First Lady even bought a gift to appreciate the work I had done at the wedding.
The President is a father figure.
During the inclusive Government era (2008-2013), there was tension in Government and there were challenges on how political rivals could run the same Government. This was a period when the President really displayed his fatherly nature. Whenever Cabinet ministers from the MDC visited his office, he treated them like his own children. He was very warm to them and he used to speak to them about different issues, sharing detailed information about the liberation struggle.
He treated them as his sons and daughters.
Humility
There are many moments that the President talks about which show you that he is a humble man who appreciates the simple things in life. He also makes reference to the incident when he went to see his father in Tsholothso and was given a goat leg as a gift. He always talks, with pride, of how he carried that meat to his home area in Zvimba to share with his mother and family. Those moments are like treasure to him, this just shows that despite all his international experiences, it is the simple things that mean the most to him.
He also talks fondly about the hut that he built in Zvimba. That hut still stands today. This shows you he is the type of man who does not yearn for the fancy things in life.
In terms of his pictures, I have observed that the President always wants to make things simple. I have travelled to all parts of the world with him and he is very different from other leaders who always demand to have their shots taken in a certain way so that they appear glamorous.
The President always wants his pictures to depict reality. He is not someone who wants simulated pictures.
Humour
I find the President to be a very witty, humorous character.
He always tells the story about Garfield Todd, whom he once accused of being responsible for deducting money from his salary without justification.
So, the President went to Todd's house to confront him about the issue.
When he arrived, he went into the kitchen from where he could tell that Todd's wife was entertaining some guests.
So he began shouting at the top of his voice.
When Todd realised that his guests would soon learn of the altercation, he acceded to the President's demands to have the deductions stopped.
Some people do not understand why he closes his eyes at some meetings. One might think he is asleep, but it appears to be one way of deepening concentration.
In terms of sports, he always jokes that whenever he watches a game of football, he always reacts and gestures animatedly so much that even those near him risk being injured.
One of his favourite players on the continent is Didier Drogba. He also jokes regularly about that famous miss by Wilfred Mugeyi during the Africa Cup of Nations (2004).
"If they had put me in that position in that game, I would have converted that chance", he always says.
Spirituality
When he signs a visitor's book, the President writes long paragraphs; he just doesn't write brief comments but he expresses himself fully in such messages.
He just doesn't sign a visitor's book or a condolence message for the sake of it but he does so in a thorough way. He makes sure that every line that he signs doesn't cross to the next line. He loves to use a fountain pen and when he has finished writing, he goes over the message again crossing over the "T"s in his crisp handwriting while putting the dots on the "I"s.
This is how thorough he is.
His other virtue is listening.
He has a special skill of paying attention when someone is speaking.
This is why it is not easy to lie to him, because he will ask you specific details about what you would have said previously.
If he meets you and remembers your name, he will ask you about your close relatives that you may not even know. The President also makes it a point to carry his rosary. I am convinced that he carries his rosary on him everyday, on all occasions.
He said he was given the rosary by his mother. I recall that during our trip to Mali (2015) – when he witnessed the signing of a peace accord in that country – he took out his rosary, explaining to the rival parties the importance of peace and harmony.
I also remember one occasion when he took out his rosary when we were in the United States to attend a Roman Catholic service in New York.
So the President is also a very religious man.
He believes intensely that religion is the opium of the people. That is why he never surrenders his catholic beliefs.
I find it remarkable that during the liberation struggle he used to go to China to bring weapons to supply to a battalion of soldiers. He did so constantly every year until independence and this proves how much he was committed to the struggle for Independence.
One of the light incidents that he talks of regularly during the war was when they had gone for a long time without food.
They got to a certain homestead in Rusape and were offered a sumptuous meal.
However, just as they were about to eat, a BSAP officer interrupted them by forcing his entry.
Morris Nyagumbo then punched the officer who subsequently fell onto the plateful of meat.
So, he always jokes about how funny it was that they were all left clasping lumps of sadza and lost out on eating the meat because of a split second twist of fate.
Cowering enemies
There are a number of times when I have seen Western leaders dodging the President – out of fear of meeting him.
In Turkey last year, US President Barack Obama came into the Heads of State meeting a bit late and greeted other Presidents who were sitting in a row.
President Mugabe was also in that row.
But when Obama realised that he was getting closer to him, Obama then stopped all handshakes and only said to the rest of the leaders from a distance; "Good to see you."
It was clear that he acted deliberately to avoid shaking hands with the President.
Former British Prime Minister Tony Blair also did something similar, he avoided sitting next to the President at Pope John Paul's funeral.
Heads of State sat in alphabetical order and the leaders of the United Kingdom and Zimbabwe were to sit side-by-side.
Shockingly, Blair decided to sit elsewhere.
The big "Thank You"
I believe God will punish us if we don't celebrate this man. He is Grandmaster of politics, no doubt.
I feel as Zimbabweans we do not appreciate him as we should. If other people in different parts of the world have so much love for him, why should we shy away from celebrating him? He deserves to be celebrated and I implore Zimbabweans to say "thank you" to him because he has earned that gratitude.
Our country is now an international brand, we are now considered a pioneer of land reform in the world because of President Mugabe.
It is my humble feeling that many Zimbabweans do not comprehend the full worth of this man. So I want to be among the men who place it on record that the President must be honoured.
I consider myself to be one of the lucky people privileged to work closely with the President.
On behalf of my entire clan, I must thank the President for the opportunity to be close enough to learn so much from him over the years and drink from this fountain of wisdom.