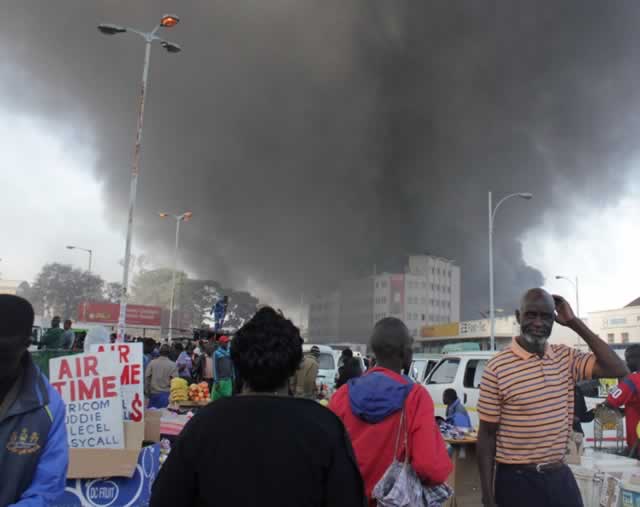 The Sunday Mail
Levi Mukarati
It is estimated that worldwide, an average of 800 people (the majority of which is in low-income countries), die each hour due to a single human-made but preventive cause – air pollution exposure.
New World Health Organisation (WHO) findings released last week show that in 2012, an estimated 7 million people died of air pollution-triggered cardiovascular diseases such as stroke, ischaemic heart disease and cancer.
Polluted air has also been fingered in the development of respiratory diseases, including acute respiratory infections and chronic obstructive pulmonary diseases.
Of the 7 million air pollution-related deaths, men and women aged 25 years and above accounted for 49 and 42 percent respectively while children five years and below accounted for the remaining 9 percent.
The new estimates are based on the latest WHO mortality data from 2012 providing concrete evidence of health risks from air pollution exposures.
Statistics indicate one in eight of total global deaths two years ago were a result of air pollution, which is measured as the microgramme (mcg) concentration per cubic metre of air (mcg/m3).
According to environmental watchdogs, "air pollution (indoor or outdoor) is the introduction of chemicals, particles, biological materials or other harmful materials into the earth's atmosphere, possibly causing disease, death to humans and damage to other living organisms …"
Recent figures show air pollution deaths more than doubled from the previous estimates and health scientists confirm the burden is now the world's largest single environmental health risk and reducing air pollution could save millions of lives.
"Cleaning up the air we breathe prevents non-communicable diseases as well as reduce disease risks among women and vulnerable groups, including children and the elderly," Dr Flavia Bustreo, WHO Assistant Director-General Family, Women and Children's Health, said in a statement accompanying the report last week.
"Poor women and children pay a heavy price from indoor air pollution since they spend more time at home breathing in smoke and soot from leaky coal and wood cook stoves."
Zimbabwe's pollution levels
Experts say it is worrying to note that as the international community battles air pollution, Zimbabwe has no comprehensive data on its pollution levels.
However, individual assessments show that as a result of reduced industrial activity during the last 15 years, vehicles are probably the single largest source of pollutants such as hydrocarbons, nitrogen dioxide and carbon monoxide.
According to an academic and agro-meteorologist, Mr Barnabas Chipindu, vehicles also produce other harmful emissions that include lead, benzene, arsenic, aldehydes and sulphates.
"The major human activities that generate the bulk of air pollutants are transportation, industrial processes, industrial and non-industrial fugitive processes, the energy production, waste management and agricultural activities," says Mr Chipindu in his paper: The Status of Air Pollution in Zimbabwe.
"Research should be carried out to quantify the ambient levels of air pollution in the country as well as the impacts of air pollution to ecosystems."
In Zimbabwe, air pollution is regulated by the Air Pollution Control Regulations Statutory Instrument 72, 2009, which acknowledges that, "… Exposure to various forms of air pollution has been documented as having a net negative effect on human health."
However, the Environmental Management Agency (EMA), which recently took up air monitoring mandate from the Ministry of Health and Child Care, says it is yet to set up Ambient Air Monitoring Stations to analyse the country's air quality.
"We are monitoring the sources of pollution in the country through mobile and stationary sources," said EMA spokesperson Steady Kangata.
"Mobile monitoring involves monitoring vehicle emissions and from January (2014) to date we assessed 1 350 vehicles, out of these 320 were excessively smoking. The impact of this smoke which contains carbon monoxide, sulphates and particulate matter (which) when released to the environment causes fog that reduces visibility.
"On humans it causes stimulation of the bone marrow, systematic inflammatory responses and asthma. The beauty about Zimbabwe is that we are now using unleaded petrol because leaded petrol contains lead which can cause increased impaired neurological function."
Kagata said EMA conducted stationary monitoring of industries, power-generating plants and other activities that are likely to pollute the air.
"We have licensed 1 478 of those industrial stakes and due to low performance (in that sector), the emissions are low."
Tracing the burden
Experts say since the Industrial Revolution of the 1800s, the global population has increased and so has industrial activity, with no commensurate mechanisms for the disposal of waste products.
"Excessive air pollution is often a by-product of unsustainable policies in sectors such as transport, energy, waste management and industry. In most cases, healthier strategies will also be more economical in the long term due to health-care cost savings as well as climate gains," says Dr Carlos Dora, WHO Co-ordinator for Public Health, Environmental and Social Determinants of Health.
With increased air pollution, the death toll on the world's population has also risen.
Latest findings
Africa is ranked third most affected WHO region with almost 680 000 people succumbing to air pollution exposure in 2012.
Gaborone, Botswana, tops the most polluted city on the continent with latest data showing a level of 216 mcg/m3, which is above the WHO's 20 mcg/m3, measured as an annual average.
"Globally, 7 million deaths were attributable to the joint effects of household (HAP) and ambient (outdoor) air pollution (AAP) in 2012," states the latest WHO Burden of Disease from the joint effects of Household and Ambient Air Pollution.
"The Western Pacific and South East Asian regions bear most of the burden with 2,8 and 2,3 million deaths, respectively. Almost 680 000 deaths occur in Africa, about 400 000 in the Eastern Mediterranean region, 287 000 in Europe and 131 000 in the Americas."
The WHO states that the remaining deaths occur in high-income countries of Europe (295 000), Americas (96 000), Western Pacific (68 000), and Eastern Mediterranean (14 000).
The report further shows that at least 4,3 million global deaths in 2012 were attributable to HAP compared to 2 million in 2004. South East Asian and Western Pacific regions bear most of the HAP burden with 1,69 and 1,62 million deaths, respectively.
Africa comes third with almost 600 000 death, 200 000 in the Eastern Mediterranean region, Europe (99 000) and the Americas (81 000).  The remaining 19 000 deaths occur in high-income countries. On the other hand, 3,7 million deaths were attributable to AAP in 2012 compared to 1,3 million in 2008.
"About 88 percent of these (AAP) deaths occur in low- and middle-income (LMI) countries, which represent 82 percent of the world population," states the report.
Disease statistics
Available statistics show that of the 7 million people who died as a result of indoor and outdoor air pollution, 36 percent succumbed to ischaemic heart disease and 33 percent to strokes.
Chronic obstructive pulmonary disease claimed 17 percent of the total deaths with a further 8 percent dying of acute lower respiratory infections and 6 percent as a result of lung cancer.
"The risks from air pollution are now far greater than previously thought or understood, particularly for heart disease and strokes," says Dr Maria Neira, Director of WHO's Department for Public Health, Environmental and Social Determinants of Health.
"Few risks have a greater impact on global health today than air pollution; the evidence signals the need for concerted action to clean up the air we all breathe."
Millions of people are dying each year due to air pollution exposure and experts say it is up to governments to enforce anti-emission polices that will result in an improvement of air quality.