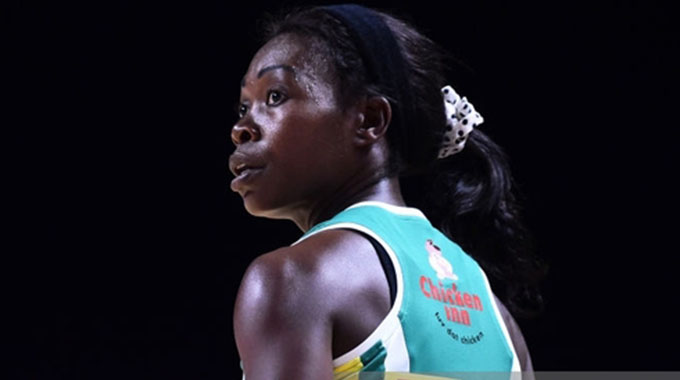 The Sunday Mail
Veronica Gwaze
Sports Reporter
JUST over a year after her side held the nation spellbound with its Netball World Cup exploits, Gems former captain Perpetua Siyachitema is bitter her troops never really got the recognition and rewards they believe their feat richly deserved.
Zimbabwe's netball side were in Liverpool, England, for the Vitality Netball World Cup, where they did commendably well for a maiden dance. Their 37-year-old captain announced her retirement from the international game upon their return from the tournament.
She, however, is bitter the Gems' exploits were largely unrewarded.
"When we qualified for the World Netball Cup in August 2018 in Zambia, that was the highlight of my career. I felt my hard work was finally being rewarded.
"I had dreamt of it for years, so I felt that if I retired after such a feat, I would have something marvellous to look back and smile at.
"It would make for a good, lasting image," Siyachitema said.
However, a year later, the former skipper revealed, with a tinge of sadness, how she felt behind all the smiles and celebrations that punctuated their World Cup journey.
The preparations, she said, were tough as the team had to make do with limited resources.
"The World Cup preparations were tough, we trained with little resources, camped in Mbare, sleeping in a classroom without proper bedding, bathrooms or ablution facilities.
"Every day that we walked through Mbare to the training venue, touts made fun of us, and it was a nightmare.
"Still, we soldiered on.
"I feel that we deserved to be treated better in terms of both preparation and camping," said Siyachitema.
She also feels the Gems' World Cup salaries and bonuses were not commensurate with their achievements.
During the tournament, just a few hours before their clash with Malawi, the Gems had a crunch heart-to-heart meeting with the officials over their welfare.
By that time, they had already played five games, but had not yet signed any contracts.
The Zimbabwe Netball Association (ZINA) had promised that contracts would be made available for signing before their first game.
"In salaries and bonuses, honestly, I don't think we got what we deserved.
"We worked really hard, achieved so much and we were hoping for more."
Siyachitema however, draws some satisfaction from the way her career panned out.
She recalls her first call-up to the Gems in 2009 with fondness, and being named captain two years later, remains one of her most cherished memories.
"My first call-up was an amazing experience full of adventure and exposure, and I learnt a totally new game, different from what we were accustomed back home.
"During those days, I looked up to former netballer Chipo Tsunga, and just playing with her had a huge impact on my journey to the top." In 2012, she took up her first coaching classes in preparation for life after the court.
She would travel to Botswana, Namibia and South Africa, where she got to be part of the classes that were conducted by global netball gurus — Australian Instructors.
In 2016, she was appointed assistant coach of the national Under-21 team and took them to Botswana, where they qualified for the 2017 Junior World Cup in South Africa.
The Young Gems finished ninth at the prestigious tournament.
Later, she was appointed assistant to Ropafadzo Mutsauki for the national Under-20 side that won bronze at the Region 5 Games.
Siyachitema, however, noted that being a player-coach was not easy.
Apart from coaching the junior teams, in 2017 she became Glow Petroleum Queens head coach. Presently, she is the only female head coach in the Rainbow Amateur Netball League.
"The most challenging moment of my career was when I became a player-coach at Glow.
"This was more of a full-time gig and it was tough to play both roles at the same time.
"Trying to perfect your own play and having to watch and coach your 'mates' is a huge task.
"In fact, it was demanding, but it helped me grow professionally," she said.
When she returned home from the World Cup sojourn, her charges had dropped to eighth on the log standings, and the prospects of relegation, while still far-fetched, were a possibility.
However, by the end of the season, Glow had managed a top-four finish.
Following her retirement, Siyachitema now devotes all her time to coaching and on her academy.
"Previously, I was a player-coach, but after retirement from international duty, I have to devote fully to my duties as a coach," she said.
"When I came back, we went back to the drawing board and used the World Cup experience and lessons to assemble what I felt would bring the impact that was needed.
"Do not get me wrong, my assistant did a really great job in my absence, but once I got back it became a collective effort.
"Remember, I had been away for months, so obviously I had lost track of what was happening in the league and she was there and useful in that aspect."
Following her retirement, Siyachitema now devotes all her time to coaching and on her academy.
"Previously, I was a player-coach, but after retirement from international duty, I have to devote fully to my duties as a coach.
"In two years, my academy will be up and running for 16-year-olds and below.
"I will be scouting players with special emphasis in rural areas, as there is usually untapped talent abound there," said Siyachitema.