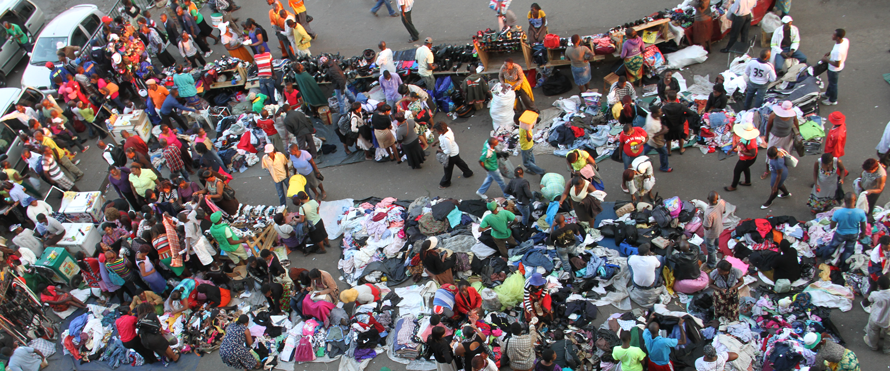 The Sunday Mail
Brian Chitemba and Itai Mazire
Foreign businesspersons, mainly Chinese and Nigerian, are smuggling second-hand clothes into Zimbabwe and hiring vendors to sell them on the streets to dodge paying rentals and taxes, investigations by The Sunday Mail show.
Investigations – which involved conversations with individuals in the trade – indicate that a good number of illegal vendors in Harare's Central Business District are making thousands of dollars weekly, but this money ultimately ends up in the pockets of these foreign bosses.
The scheme employs hundreds of vendors, largely explaining the sudden influx of illegal traders on the capital's streets in recent months.
Also at play is a protection racket in which shadowy characters charge vendors varying amounts to set up base on particular streets. This racket (referred to as "space barons" on the street) assured many vendors that authorities would not be able to move them, hence the difficulties in getting the traders to relocate to designated selling sites.
Information gathered by The Sunday Mail suggests the foreign businesspersons mainly use Beitbridge, Chirundu and Nyamapanda border posts to get bales of clothing and other consignments into Zimbabwe.
In some cases, goods are brought in legally or only part of the duty is paid for; or they are smuggled across porous borders with Mozambique, South Africa and Zambia.
Once they land in Harare, the goods are stacked in warehouses from where middlemen collect and then distribute them to the illegal vendors.
Each middleman is required to leave either a security deposit or, in cases of the more trusted ones, just their national identification card, as surety that they will ensure the goods are sold and the money for the goods paid back.
These middlemen in turn recruit the illegal vendors who will, in turn, sell the clothes on the streets and surrender daily or weekly sales revenue.
Everyone gets their "cut" at their level of the transaction.
Some vendors are recruited from Harare's outskirts and sleep in the open, only returning to their homes at weekends before returning on Mondays to resume trading, flooding pedestrian-heavy roads like Speke Avenue, Robert Mugabe Road, Julius Nyerere Way, Jason Moyo Avenue, First Street and Fourth Street.
In Mbare, vendors selling clothes on behalf of importers are understood to hand over proceeds as much as three times a day, indicating how brisk business is.
Little of this money finds its way into the formal sector, as it is externalised to purchase more goods that are largely smuggled into Zimbabwe.
The entire racket is precipitated by the unwillingness of importers to formalise operations and pay rent for retail space and taxes and levies to Government and local authorities.
Commercial rentals for mid-sized retail space in Harare's CBD range between US$800 and US$1 200 monthly, and businessowners also have to pay salaries, utility bills and taxes.
An official with a vendors' association told us, "These foreign businessmen are the ones behind most of this trade. I cannot divulge much because the details will lead back to me. If I tell you who supplies me, they will know I talked to the newspapers. All I can say is it is not all vendors in town are selling their own goods."
Grassroots Economic Empowerment Association chair Mr Alexio Mudzengerere added: "Our preliminary findings reveal that the majority of vendors who were selling secondhand clothes were being sponsored by foreign nationals who would have brought bales from Mozambique.
"The foreign nationals give the vendors along Jason Moyo Avenue and Robert Mugabe Road clothes to sell and at the end of the day, the vendors get a commission."
Local Government, Public Works and National Housing Minister Saviour Kasukuwere said he was yet to receive reports on the smuggling rings but reiterated that he would leave no stone unturned in restoring order.
"We are not against vendors, but we want them to do things above board; they must be registered and operate in designated sites," he said. "Therefore, I would like to urge councils to move with speed in addressing the vendors issue so that residents are not exposed to hazards."
Harare City Council spokesman Mr Michael Chideme declined to comment.
Howeber, council insiders said city authorities were aware of the racket.
"Genuine vendors are willing to relocate to the designated sites. But we have another group of vendors who are selling goods on behalf of other people and are paid on commission. These are the ones who argue that there is more business in the Central Business District. We have also gathered information that most of the goods sold on the streets of Harare are smuggled into the country," a senior official said.
A source in the Zimbabwe Revenue Authority said major border posts were recording in increase in secondhand clothing imports.
"Zimra has put in place measures to curb smuggling, but it should be noted that the criminals have always been trying to find a way out," an official said.
Zimra spokesperson Mr Taungana Ndoro could not be reached for comment.
Last week, Harare City Council acted on a Government directive to clear the CBD of illegal vendors.
After resistance in the initial stages, resulting in the arrest of 26 vendors for attacking municipal police, officers, the programme has gathered momentum.
So far, Speke and Jason Moyo avenues have been cleared.