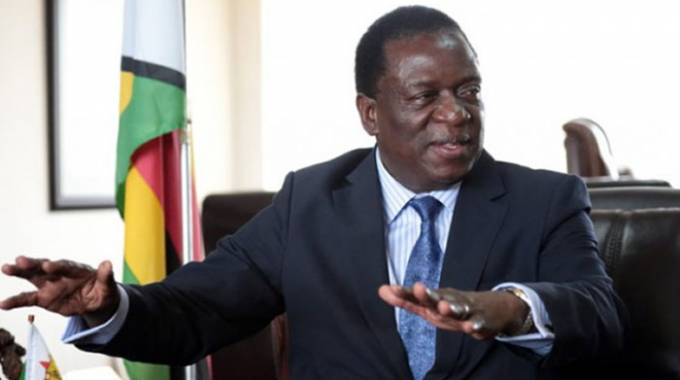 The Sunday Mail
Takaidzwa Dennis Rwafa
To my knowledge, having met President Emmerson Mnangagwa a few times before his ascension to the highest office in the land, he is very much his own man.
There is no doubt about that.o my knowledge, having met President Emmerson Mnangagwa a few times before his ascension to the highest office in the land, he is very much his own man.
Any inference that he is a carbon copy of his predecessor is only actuated by malice and is devoid of truth and fact.
Local entrepreneurs and indeed foreign investors in Europe, the Far East and South Africa — where he led outward investment missions — will testify to his clarity of mind, attention to detail and, more importantly, his willingness to listen.
There is, therefore, a general feeling that this is the right man to do business with.
Now, the disease among and between some Zimbabweans is the "Pull Him Down" syndrome. This is exacerbated by negative comments splashed in social media.
Not only is this creating a crisis of expectation within the larger population, but it also scares investors away.
Some prolific commentators on social media and foreign television stations are itching to pull President Mnangagwa down, without realising that the net losers are the people of Zimbabwe.
The self-appointed "experts" on the political situation in Zimbabwe are either attention-seekers trying to be relevant in the socio-political milieu, or just demented creatures trying to galvanise political capital from many gullible citizens who fail to interrogate whether what is being tweeted or posted on Facebook has any grain of truth.
Prophets of doom!
In this piece, I make a passionate appeal to Zimbabweans from all walks of life and, more importantly, to investors — both foreign and local — not only to give President Mnangagwa and his Administration a chance, but also to help him chart a new beginning for Zimbabwe.
Remember, the new President is inheriting a Treasury with no money at all! He is starting from scratch, yet, civil servants have to be paid, including their bonuses.
Fuel, medicines, electricity and other essential goods and services require hard currency, which is not readily available because of poor export performance of our economy.
To expect the new President to solve these myriad of challenges by tomorrow is unrealistic, to say the least.
What President Mnangagwa needs to do is appoint think-tanks to come up with policies that can attract foreign direct investment into Zimbabwe in the shortest possible time in order to kick-start our economy.
President Mnangagwa knows the weaknesses of Mugabe's policies.
He is the type who will exercise restraint, particularly on Government expenditure, and realise the facilitative role of the State in order to provide an opportunity for the private sector to flourish.
The whole nation is waiting to see how President Mnangagwa will deal with corruption in the first 100 days in office.
It follows that more resources should be availed to the Zimbabwe Anti-Corruption Commission to conduct investigations thoroughly and secure prosecution and incarceration of offenders.
Recently, we saw some politicians going scot-free because they had captured the sitting President and his wife, the latter openly pronounced their innocence before their matters had even came before the courts.
That effectively discourages foreign investors because who would want to invest money in a country where there is no rule of law?
Many people in both the private and public sectors know these culprits.
Let them blow the whistle because never again should our economy collapse because of a greedy few.
If you know someone who is engaged in corrupt activities and you keep quiet, you are an accomplice to that macabre enterprise called "corruption" that has sunk our economy.
As aptly stated by Edmund Burke, "The only thing necessary for the triumph of evil is for good men to do nothing."
Do the right thing and report them.
Political uncertainty — Investors hold their money
Anybody who deals with foreign investors will tell you how sensitive they are to political developments and policy inconsistencies in the recipient country.
Officials who recklessly speak or confuse Government policies literally kill foreign direct investment.
They undermine the sterling efforts of our embassies abroad which encourage investors to come to our country.
All policy pronouncements are collapsed and critically analysed by investors to determine high or low risk factors inherent in the recipient country so that investment decisions can be made.
So, what do we need to do to instil confidence among prospective investors?
Indeed, investors prefer a stable political and policy environment and a credible and consistent political leadership.
They want assurances on return on their investments and that their dividends are remitted to their chosen destinations without any hassles.
All of us need to start now to refrain from uttering reckless statements about our country and its leadership across the political divide. Unity of purpose should now become our new mantra because we are on the threshold of creating one of the fastest-growing economies in Africa.
I am one of those project financing consultants who is trying to bring investment into Zimbabwe.
I have been quiet because the situation in Zimbabwe was so volatile and unpredictable.
Now, I think, is the right time and I have investors waiting in the wings to invest in the private sector, mining, agriculture, infrastructure and even partnering with Government in public-private partnerships or joint ventures.
There are well-endowed philanthropic organisations in Europe ready to assist us in huge infrastructure projects that will benefit our people.
Like any business venture where money is invested, conditionalities cannot be avoided.
Top on the list is a stable political environment and this can be a very tall order.
Whilst President Mnangagwa has been inaugurated, what happens next determines whether we can swim or sink.
If we tell investors that we have an interim administration that will run until the middle of 2018, they will hold on to their money until after the elections.
Investors want predictability of a government they will be dealing with.
We cannot lie to them.
It is up to the political players to brainstorm and bite the bullet.
Zimbabwe needs to send the signal that it is ready and open for business, and do away with yesterday's relentless mantra of political squabbling, mudslinging, smear campaigns and character assassination.
Let us go for rapid economic transformation, create employment and start putting money in our pockets.
We get solace and inspiration from remarks by Zanu-PF's Deputy Secretary for Legal Affairs, Cde Munyaradzi Paul Mangwana, who told the media last week that there is ongoing inter-party dialogue with the view of mapping the best way forward for Zimbabwe.
I can only imagine something like a Government of National Unity will follow so that the country has a cooling off period for at least five years before rekindling the political divisions that come with elections. Investors would welcome such an arrangement and pour in their money.
As long as there is uncertainty brought about by electioneering and canvassing, we can kiss investment goodbye!
If we settle for a five-year GNU, then we also have to shed off this scourge of lethargy within our Government ministries and the Reserve Bank of Zimbabwe.
Even at a time when the economy was at its lowest ebb and FDI was trickling in in drips and drabs, they took months on end to approve projects, much to the chagrin of investors.
We need to improve our governance systems so that we do not blame investors for adopting a "wait-and-see" attitude because investors do not owe us a living and the reverse is sadly not true.
There should be a mutually-beneficial and symbiotic relationship with transparent frameworks and clear benchmarks.
So, let us put our house in order first, bearing in mind that Zimbabwe is not the only lucrative destination for foreign direct investment.
As we embrace a new beginning under President Emmerson Mnangagwa, let us draw lessons from the mistakes we have made in the past, and never repeat them; let's learn from them.
Mr Takaidzwa Dennis Rwafa is a veteran former diplomat, bureaucrat and media consultant, and runs a project financing consultancy in conjunction with global financiers ready to invest in the Sadc region in general and Zimbabwe in particular. He wrote this article for The Sunday Mail