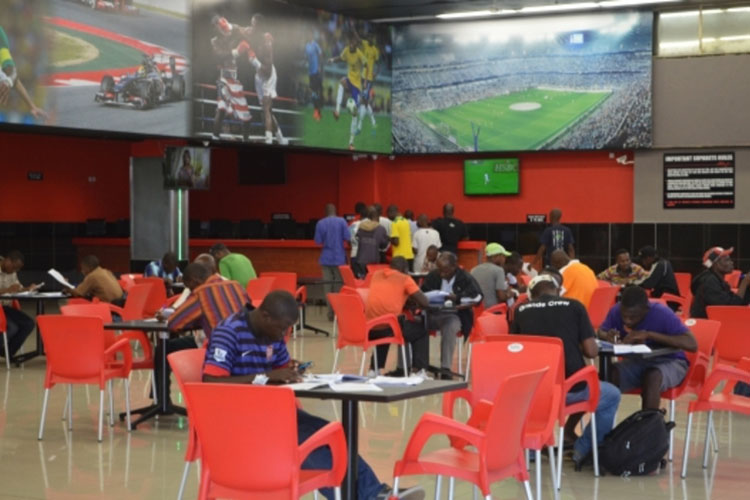 The Sunday Mail
Tendai Chara
Aaron Moyo's daily routine starts with him waking up at 6am. Shortly thereafter, the father-of-three takes a jog before having breakfast.
By 7am, Moyo will be among a group of people who will be anxiously awaiting the opening of a sports betting shop in Harare's Central Business District. Moyo is one of the many people who are taking betting as a career. There are, however, no figures to show the number of people who bet professionally.
On his unique and interesting "job", Moyo will for long hours be glued to sports betting television screens, analysing sporting activities and placing bets. A number of factors, chiefly among them the harsh economic climate, has seemingly given birth to a new generation of punters who live solely on betting, taking it as full-time employment. Betting is based on a calculated or even unknown risk and is seen to be largely dependent on one's luck and chance.
For Moyo, betting is a necessity that gives him excitement.  "Initially, I was betting for the thrills and excitement that is associated with games of chance. However, after I lost my job, betting has now become my only source of livelihood," he said.
Unlike most of the part-time punters, Moyo doesn't leave everything to chance. The football fanatic researches and compiles match statistics, watches as many international matches as possible and even makes some mathematical calculations to predict results.
According to Moyo, sports betting is a profession which must be treated as such. "Betting is not entirely about luck. It is about statistics, current form and probabilities. It is mathematical," Moyo said.
He maintained, though, that he is not addicted. "This is my job. When I leave home, I wave goodbye to my wife and kids, telling them that I am going to work. This is my source of livelihood," he said.
The only challenge that he faces is that of explaining to his children what he actually does for a living. Betting is often seen in bad light.
To Fungai Mangwende, betting is a "noble" profession that he is not ashamed of. He gleefully recounted the good and bad times in his betting career. "I made a bit of money during the last soccer World Cup. We experience both good and bad times," Mangwende said.
Unlike Moyo, Mangwende believes that betting is centred on luck. "I have seen punters who carry large volumes of statistics but hardly hit the jackpot. I solely depend on my instincts when placing bets," Mangwende said. He said depending on one's luck, betting can be rewarding.
He dismissed the view that betting is not an honourable profession, adding that he will not hesitate to teach his son how to bet should the son express some interest. "The biggest mistake that is made by most punters is betting all their money at once. I only bet with the money that I don't need, about a quarter of my savings. I always put aside enough money for daily expenses and even if I lose, food will still be on the table," added Mangwende.
According to Mangwende, most punters are always "chasing losses" — gambling after losses as a way of earning back lost money. Mangwende is into sports betting for the money. "I bet solely for the money. If it was not for the money, I could not spend so many hours watching those boring activities. Besides, betting is so stressful."
Mangwende once lost $100 in a day with his happiest moment being the day he pocketed $500. However, betting can have negative effects. One can become addicted and become a "pathological better", resulting in unsuccessful attempts to reduce or stop betting.
It can result in an addicted person lying to family members, friends and employers in attempts to cover up time spent or money lost while betting. People suffering from a betting addiction are at high risk for serious social, work-related, financial, emotional and even legal and physical problems.
Betting has been linked to a range of mental health issues among them depression, anxiety, panic disorder and personality disorders. Such problems can often result in suicide.
Addicted betters can abuse drugs and alcohol. Family members of those addicted to betting often suffer from stress-related physical and mental illnesses like high blood pressure, anxiety and depression.
Some of the social problems related to betting addictions are loss of trust, domestic violence, severe financial hardship, and breakdown of the family structure.
Children with parents who have gambling problems are up to 10 times more likely to develop gambling problems themselves than children whose parents are not.
Despite the stereotypes associated with betting, there has been a marked increase in the number of people who are becoming full-time betters.
Football betting is a global industry worth billions of dollars. As a parting shot, Mangwende warned those that might want to venture into professional betting. "Betting is not an easy way to make money. Some people are even comparing professional betting to investing in the stock exchange. That is a false perception."