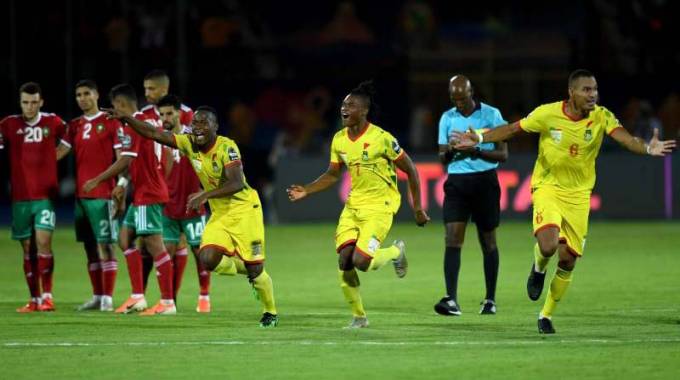 The Sunday Mail
Robson Sharuko in CAIRO, Egypt
IN more ways than one, the Squirrels of Benin provide a reminder of the Warriors — their predominantly gold kit, with shades of red here and there, four appearances at the AFCON finals and, with a population of about 12 million and a country virtually half the size of Zimbabwe.
Like the Warriors, they don't have many big name players with 35-year-old forward, Stephane Sessegnon, who now plays for Turkish side Gencerbirligi, after spells at Sunderland, West Bromwich Albion, Paris Saint-Germain and Montepellier.
And, like the Warriors, they are the only country, at this Nations Cup finals, who are the guidance of a coach, Frenchman Michel Dussuyer, who was also in charge of a national team at this tournament, back in 2004, when he led Guinea in Tunisia.
The similarities also don't end there because, just like the Warriors, the Squirrels made their Nations Cup debut at the 2004 Nations Cup finals and, 15 years later here, just like their counterparts from the south, they are also kitted by Umbro.
But, while the Warriors are back home, after picking just one point from their 2019 AFCON finals campaign in which they lost two of their group games, the Squirrels are basking in the glory of knocking out Morocco and qualifying for the quarter-finals for the first time in their history.
''There is God out there,'' Collin Matiza, the Sports Editor of our sister newspaper, The Herald, remarked after the Squirrels defied a one-man disadvantage, survived a last-gasp penalty in normal time and then found a way to defeat Morocco 4-1 in the shootout lottery.
Ajax Amsterdam's Hakim Ziyech missed the last-gasp penalty and the match ended 1-1.
Well, that's only half the story — Benin have not won a match at this AFCON finals, after drawing all their three group games against Ghana, Cameroon and Guinea Bissau, and then drawing their Round of 16 match against Morocco before winning it in post-match penalties — but they are through to the quarter-finals.
The Atlas Lions of Morocco didn't lose a match at this AFCON finals, winning all their three group matches, and then missing a last-gasp penalty in the 1-1 draw against Benin in the Round of 16 match on Friday, but they are out of the tournament.
The Benin story is even more remarkable.
These Squirrels have not won a match, in regulation time, at the AFCON finals in their history but now they face Senegal for the right to play in the semi-finals.
In their first appearance at the Nations Cup finals in 2004, the same time the Warriors were also making their debut, they lost all their three group matches, scored one goal, conceded eight and finished ranking as the worst team of that tournament in 16th place.
Four years later, they returned to the AFCON finals and lost all their three group matches, scored one goal, conceded seven and ended up being ranked 15th out of the 16 teams.
At the 2010 AFCON finals in Angola, Benin also featured in that tourney and gained their first point, in a 2-2 draw against Mozambique, but two defeats to Nigeria and Egypt saw them pick only a point, score two goals and concede five to finish ranked 14th out of 16 teams.
Their story continued here, although there was some improvement, with the Squirrels drawing all their three matches which meant that, in the 12 group games they have played in the AFCON finals, they are yet to win a single one.
Friday's match was their 13th and, again, they didn't win in regulation time, only for them to destroy the highly-rated Atlas Lions in the penalty shoot-out.
Benin coach Michel Dussuyer, who was in charge of Guinea at the 2004 AFCON finals, and — like his Zimbabwean counterpart Chidzambwa — was one of just two coaches from the Class of 2004 who were at this tournament, hailed his giant-killers after their miracle progress into the quarter-finals.
"I am very proud of my team," he told a post-match media conference.
"We had a difficult game. Morocco are a very strong team but we mentally prepared ourselves well and luck was on our side tonight.
"Playing with one man less was difficult and we will try to make amends for Khaled Adenon, who will miss the next match. I thank my boys for the remarkable efforts made tonight, I think we can continue this beautiful dream.
''We were confident of our ability to qualify and we worked hard to achieve our dream, in my final pre-match talk I demanded from the players to trust their capabilities to win and that's what happened in the end, we managed to eliminate a big team.''