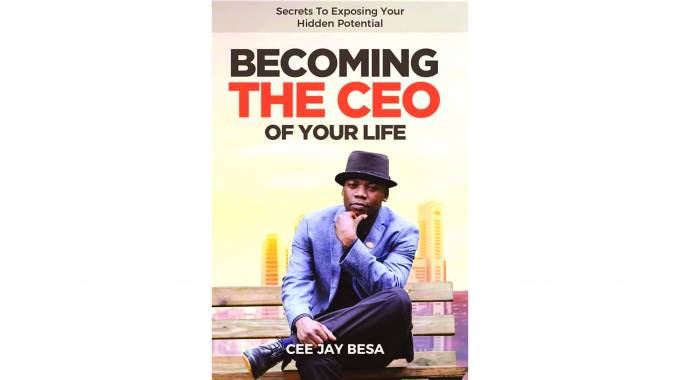 The Sunday Mail
Robert Mukondiwa
The way self-help and inspirational books are oozing, nay, haemorrhaging out of Zimbabwe and amongst Zimbabweans in the diaspora, has become a tad nauseous.
Therefore, writer and artiste Cee Jay Besa, who has just released a new book entitled "Becoming The CEO Of Your Life: Secrets To Exposing Your Hidden Potential", faces an uphill task. This book now has to compete for space with numerous such reads, some of which are insipid and about as inspiring as reading a eulogy written for a vagrant by someone who never set eyes on him. While Besa has to compete for space, there is a bright light for him and his effort. Like his music, he knows how to strike the right chords!
In the book, with nuances of spirituality and a perfect balance with lessons he learnt from the school that is life, one takes a journey through Besa's life. While doing so, they are also interestingly taking a unique guided tour through the corridors of his mind in what becomes a remarkable odyssey.
Forget what you thought you knew about navigating life as the leader to your soul and being, Besa paints a picture in which everyday you confront your life in a cerebral boardroom. In there, you take your decisions on the direction your life will take with the seriousness of Bill Gates or Elon Musk.
Where your life is not just a journey to a well chiselled gravestone with a few words of inspiration carved upon it but rather a serious experience that should be treated with the seriousness it deserves in order to achieve and live the ultimate fulfilling life.
As an immigrant from Africa to the land of opportunity, the United States of America, Besa knows that integrating in a foreign space is harder than it sounds, especially if one does not live their life with the thoughtfulness of a CEO. They may end up running ordinary enterprises.  Besa wants your life to be worth listing on the stock exchange, a life well lived.
He often refutes putting any pressure. At times, he insinuates paths to success without wanting to sound like a "know-it-all". Besa clearly does not want to foist his beliefs down your throat as do many self-ordained Christian writers. That is what makes this a worthy read.
Although I initially wanted to saunter through its pages once, I ended up reading the book thrice. Perhaps the most profound and epic beauty of Besa's work is how such wisdom can ooze from the cerebral passions of such youth.
At the end of the day, as with every self-help book, one can choose not to take the advice that Besa gives in his book. Yet unlike other books of this kind, it provides a good read regardless of whether one takes the lessons to heart or not, Besa knows your hidden potential. He knows you ought to find the gem in the heart of yourself in order to live your fullest life and in this book, that hidden potential is made to come out into the open. If life can be poetry in motion. In advice and experiences can ever be so succinctly put, then it is in these pages that they are laid perfectly well.
With nuances that will tickle the fancy of those who have read titles like Richard Templar's "The Rules Of Life" and Craig Lewis' "Lead To Succeed: What It Takes to Be The Best", Besa is well on course to swap his guitar for doling life's nuggets just like these writers.