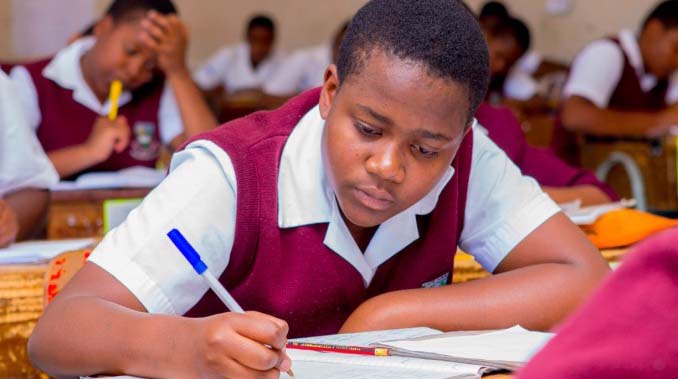 The Sunday Mail
Debra Matabvu
THE first school term ended last week, completing what was an unusual and tough term due to the coronavirus pandemic, as teachers and learners continue to battle to make up for lost time.
Traditionally, the first term of the year kicks off during the second week of January, but this year's opening dates were shifted to March after a second wave hit the country in January.
Government also introduced extensive learning and remedial teaching for learners to catch up in preparation for public examinations.
The school's holiday will only be for three weeks, unlike the usual four to five weeks.
Normal in-person classes were last conducted in March 2020 before the country went into its first lockdown.
However, during the just-ended term, classes were limited, particularly in public schools, where social distancing protocols meant some learners only had in-person classes for either two or three days per week.
Ministry of Primary and Secondary Education director of communications and advocacy Mr Taungana Ndoro insists that Government's catch-up strategy is working.
"Our catch-up strategy is impressive. We are proud of what we have put in place for continued quality and wholesome education for all Zimbabweans," he added.
But educationists are pushing for a more flexible learning system in schools.
"We have been doing some observations since schools opened, and we have noticed irregularities in learners' attendance," said educationist and University of Zimbabwe lecturer Dr Peter Kwaira.
"These are difficult times for everyone, but what is needed in schools now is the flexibility, such as in the way our examinations are written. There is need to infuse many learning concepts and systems for the encouragement of a flexible system."
Dr Cephas Nziramasanga applauded Government for introducing continuous assessment.
"It is assumed in education that there is no room for failure and repeating when using the continuous assessment regime. It is a way of examining and grading students, thus it is highly recommended in the times that we are living in as well as going forward. Continuous assessment also reveals a learner's weakness and strengths quicker than examinations."
During the term, schools were also disrupted by Covid-19. About 600 learners and teachers were infected with the disease, but outbreaks were largely contained by Government's heightened surveillance and monitoring system. Of these 600 cases, Matabeleland South province had 252 cases at Sacred Heart Primary and Secondary Schools and another 156 at Embakwe High School.
In Manicaland, 216 learners and seven staff at St David's Bonda High School tested positive, while another 46 cases were detected at George Silundika Secondary School in Matabeleland North.
Mr Ndoro said Government was generally pleased that it had contained the virus in schools, as the situation could have been worse.
"We are pleased with the robust surveillance system we put in place to curb and manage the spread of Covid-19. So far we have recorded 90 percent recoveries in our schools, which is impressive.
"Going forward and into the holidays, we plead with our learners, parents, guardians, teachers and school staff to remain vigilant in the fight against Covid-19 so that we do not have another round of cases when schools open for the second term on 28 June."