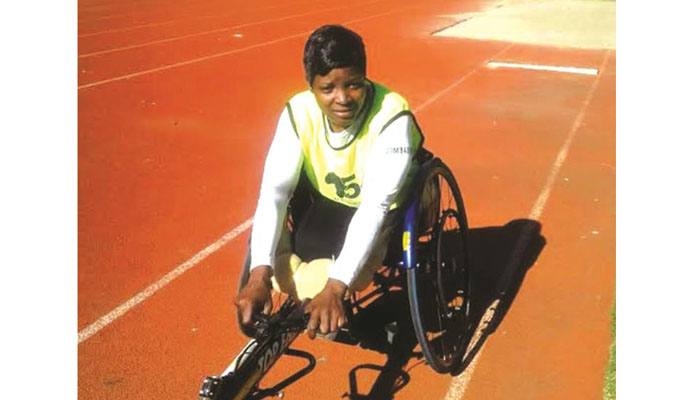 The Sunday Mail
Don Makanyanga
WHEN wheelchair racing champion Margret Bangajena (Pictured right) was diagnosed with Osteogenic sarcoma – a cancer that affected her bones – little did the then 15-year-old know this was the beginning rather than the end of her life.
"I was diagnosed with cancer when I was around 15 and I had my legs amputated at around the same time," said Bangajena.
"When I was amputated I thought it was the end of the road for me but little did I know that God had other plans for me," she said.
That was back in 1993, but now at 39 years old, it appears Bangajena is at peace with her condition and reigns as the poster "disabled person".
On her WhatsApp profile, one comes across the statement, "A disability is a condition not an identity.
We must learn to separate the two," which was made famous by Robert M Hensel, another advocate for people living with disabilities.
Not only does the wheelchair racer believe in the mantra, she embodies it.
She has eight straight Annual National Sports Awards (Sportswoman of the Year with a Disability) to attest to that success.
This week she celebrates her ninth nomination for the top award; but before her fate is decided at the awards ceremony to be held at the Harare International Conference Centre this Wednesday, let's take a look at how this extraordinary journey began.
Bangajena developed an interest in sports in 2000 when she enrolled at Ruwa Rehabilitation Center of Schooling.
"Before my leg was amputated I had little interest in sports but it all changed when I enrolled at Ruwa Rehabilitation Centre of Schooling.
"I started developing interest in sports, especially wheelchair basketball but later on I fell in love with wheelchair racing.
"I also play basketball (professional) but I like racing more because it's an individual sport," she said.
The turning point of her career came in 2009 when she represented Zimbabwe in South Africa, winning a gold medal in a maiden appearance outside the country's borders.
"I was so excited to be representing my country outside, and what made the maiden appearance so special was that I won gold in a 42 km race," said the 39-year-old athlete.
She reckons striking gold in South Africa opened a world of new possibilities, marking her journey to stardom.
"That is when I was nominated Sportswoman of the Year with disability for the first time. Ever since then, I have won the award and I am looking forward to winning it again this year," said Bangajena.
In 2011, she was part of the first Para-Rowers team to emerge from Zimbabwe and took part at the Italy Para-Rowers World Cup.
Bangajena has set her sights on the forthcoming 2020 Paralympic games in Tokyo.
However, her journey to the top has not been all rosy, she has struggled to balance her professional and personal life.
Apart from sport, Bangajena is a mother of one (11-year-old Tawanda) and a Seed Analyst's Assistant in the Ministry of Agriculture and Mechanisation.
All three require her attention.
"It's demanding to balance them but all the three things have to be done.
"If it were in a developed country I would focus on my training and racing but here you have to do something that brings food on the table.
"Lucky for me, I have a supportive family and workmates who understand the passion I have for sport," she said.