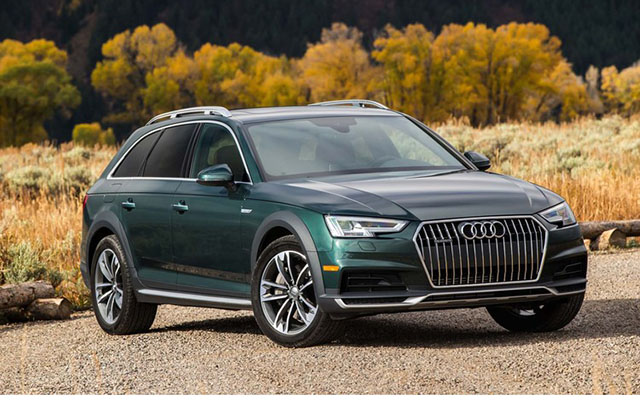 The Sunday Mail
ARE you tired of crossovers yet?
Probably not. Last year, sales of large SUVs rose by about 20 percent, and entry luxury SUV sales rose by more than 15 percent, while car sales stalled by nearly 20 percent in some segments.
But if you feel like diverging from the pack, here's an alternative – the 2017 Audi A4 Allroad.
Although the car has been around since 2001, it deserves to be ranked among the small handful of exceptional wagons — the Mercedes E-Class Wagon, BMW 3 Series Sports Wagon, and Volvo V90, among them.
Wagons are strange beasts (though critics love them).
Born and bred on a car body and platform, they share no engineering DNA from the original truck-based SUVs, but they do have a lengthened rear end for more storage at the back. And in America, at least, they don't sell in large numbers. Last year, Audi sold 2 300 of these A4 Allroads, compared with 34 687 of its A4 sedan. In January 2017, Audi sold 222, a 49 percent increase over the same period for 2016, but that was still fewer than the e-Tron, Audi's plug-in hybrid. By contrast, the company's current bestseller, the Q5 SUV, sold 3 636 units in the same period. I drove a US$52 625 Audi Allroad recently in New York during the worst snowstorm we have had this season and consider it a perfect antidote to wagon-wary buyers. I will get to why in a minute, but first a little background.
Evolution of the family car
The low sales figures can be traced to the natural evolution of the American car market since the 1960s. In the 1960s and 1970s, the family car was the station wagon. At the time, the wagons were oblong, unwieldy, embarrassing sloops of metal. They were the only choice for those who needed a vehicle big enough for a family but didn't want to throw the kids in the back of a pickup.
But by 1980, SUVs had started to emerge. Automakers realised they could sell these high-riding sport utes as the cool, independent anti-wagon choice for families.
Pretty soon, they began to dominate with such offerings as the Lexus RX, Chevy Tahoe, Cadillac Escalade, and Chevy Suburban; cool dads and affluent weekend warriors alike could pick these large, utilitarian vehicles without resorting to the wagons that recalled their own nausea-inducing childhood road trips — or worse, minivans, which emerged in 1983 with the Dodge Caravan.
So by the time Audi, Mercedes, and BMW catapulted their own exceptionally sporty wagons into the U.S. in the late 1990s and early 2000s, it was too little, too late. There was no chance of mass domination or even the warm embrace of avants, as versions of the wagon are called in Europe.
Subaru's Outback and Volvo's "V" wagons never really left, but those sell to even smaller pockets of enthusiasts who live in mystical places such as Oregon and Maine.
 Capable in all weather
I highly recommend the one I drove. The 2-litre, turbocharged four-cylinder engine matches the same 252 horsepower and 272 pound-feet of torque as that of the bestselling A4 sedan; the seven-speed, dual-clutch automatic transmission and all-new Quattro all-wheel-drive system are possibly Audi's greatest accomplishments as an automaker so far.Plowing through the foot of snow dumped into Manhattan recently proved more of a lark than drudgery.
Driving a wagon like this in inclement weather is like letting a Labrador jump in the lake — he's happiest in his natural habitat.
All-season 18-inch tyres and electronic stability control come standard, and the US$500 Cold Weather Package, which includes heated rear seats and heated steering wheel, is a smart investment.
A fresh interior
Compared with its closest competitors BMW and Mercedes, Audi is a young brand in the U.S. — it didn't start selling massive numbers in America until the 1990s. That's an advantage in some ways, because staying out of their sales-numbers death match every year (BMW and Mercedes trade top honors every other year or so) allows Audi more freedom to present itself as the option for progressive free thinkers and young spirits.
The interior of the Allroad matches this philosophy. The dashboard is low and slim with lateral vents across the front set off by a high-resolution control screen on top. There is also a 12,3-inch virtual cockpit behind the steering wheel that shifts from a classic-dial display to a panoramic setting depicting maps, driving systems, and other assistance settings.
The overall effect is less fussy than in the Mercedes but softer than in the BMW, a pleasant neutral path.Sliding into the cockpit of the Allroad feels the same as sliding into that of the A4: Nougat brown leather-wrapped steering wheel; firm, ergonomic seats; a massive panoramic sunroof; three-zone climate control; and privacy glass all come standard.
From behind the wheel, combing the exciting performance and the chic, clean interior, you will forget this is anything but a sport sedan.
 I promise.
On par practicality
The moment you open the trunk, though, you will remember this is a wagon.
While the back seat is expectedly spacious, and the headroom at both front and back is enough for us tall folks to love, it is the trunk that somehow does that magic thing that great cars do, which is offer more space inside than what an outside cursory glance would guess.
And though the cargo space is not quite as large as the BMW in this category, the split-folding rear seatback offers able functionality — it folds flat and wide enough to slide in furniture, appliances, snowboards, or bicycles. (But, really, put those on the roof.) Honestly, when you see the space back here you will get giddy imagining all the things you can do with it. I did.
The panoramic sunroof comes standard, as does the three-zone climate control and privacy glass.
Those who know, know
Fuel efficiency on the Allroad is 23 miles per gallon in the city and 28 on the highway. (One mile is equivalent to 1,6 kilometres, while one gallon is 3,8 litres) (It's an inline four, turbocharged to perfection, remember.) That easily beats the admittedly more powerful E-Class wagon, for instance, and also the next-up-in-size Audi Q3.
Here's proof: According to Audi, the Allroad outsold the European equivalent A4 Avant by more than three to one when it was introduced.
Consider it good company. — Bloomberg