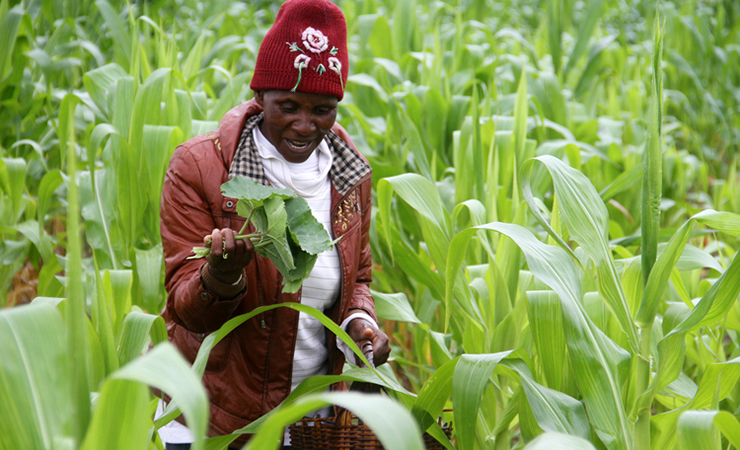 The Sunday Mail
Harmony Agere
Smallholder farmers are set to be the major beneficiaries of the Zimbabwe Country Strategic Plan which was jointly launched by Government and the World Food Programme on Monday.
The US$235 million, five-year programme is aimed at reducing hunger and boosting nutrition through building sustainable capacity for smallholder farmers.
In an exclusive interview soon after the launch, WFP country director Mr Eddie Rowe said the organisation was shifting from short-term food assistance to long-term technical support to enhance communities' food production.
"The focus of our country strategic plan is not necessarily humanitarian emergency response, even though we still maintain that capacity, we have shifted from short-term food assistance to long-term technical support to capacity enhancement or the various components of food and nutrition security," he said.
"So you would see in our country strategic plan a lot of activities relating to promoting agricultural market platforms, capacity enhancement, developing social protection safety programmes and providing technical expertise."
And central to the success of the plan is the smallholder farmer's ability to access both local and foreign markets, Mr Rowe said. He added that this would incentivise small-scale farmers and ultimately enable them to return to the field and produce more.
"Some of the root causes that we have identified affecting food security is that these smallholder farmers lack incentives to produce more," he said. "Also, even if they produce they have challenges, and one of the major challenges is the access to markets. So we set ourselves to establish a sustainable market access and a procurement platform so that smallholders can get to the market to sell their produce."
Mr Rowe said markets such as schools, hospitals and prisons could be taken advantage of by smallholder farmers if a catalysing system is factored in.
"There are a lot of linkages between establishing home-grown school feeding programmes and these very market platforms because the Ministry of Primary and Secondary Education would not need to buy food from outside," he said.
"Through this procumbent platform they would be able to procure local foods that they will use for their school feeding programme. They (smallholder farmers) can also use the model for hospitals, for prisons and other markets. We would be the catalyst because we will also be procuring as we also have programmes that require food. So we will be procuring to make sure that they get a start while the system develops."
Mr Rowe said the ultimate target is to create sustainable and assured markets for smallholder farmers.
The plan will assist the country achieve Sustainable Development Goal 2 which is food security and zero hunger as well as SDG 17 which is revitalisation of global partnerships for sustainable development.
And SDG 17 also seeks to ensure that 79 per cent of imports from developing countries such as Zimbabwe enter developed countries duty-free. Should the two SDGs be achieved, they will subsequently enable Government to meet its other SDG targets.
The country strategic plan is the first such plan which strives to enhance smallholder farmers whom are believed to be collectively the major drivers of agri-business in the country. Most smallholder farmers practise subsistence agriculture and operate within rural communities where over 70 percent of Zimbabwean population lives.
Of this vast population, 80 percent of the livelihoods is supported by agriculture.
If successful, the country strategic plan could hugely empower rural communities and boost economic activities in the country side. United Nations resident co-ordinator for Zimbabwe, Mr Bishow Parajuli, said there are vast opportunities in local and foreign markets but warned that price and quality always determines if the smallholder farmers would break into these markets.
"Opportunities for export are there but we have to factor in the element of quality and price," he said. "These two play a vital role when it comes to penetrating foreign markets, the products have to be competitive to break into the international markets. But this also applies to local markets, quality and price are still important because consumers tend to turn to cheap imports."
Mr Parajuli said some of the goods produced in the country are still relatively high compared to those originating from other countries. Nonetheless, before going for international markets, experts say some farmers are still failing to satisfy local markets due to poor accessibility.
Accessibility has been diminishing over the years due to poor road networks and has recently been worsened by floods and heavy rainfall.
And Government is taking the matter of helping smallholder's easily access markets quite seriously. Senior Principal Director (Policy and Co-ordination) in the Office of the President and Cabinet, Mr Ozias Hove, said the matter was urgent and was being attended to.
"We know and as Government we are the first ones to admit that our roads are not in the best shape and have thus reduced access," he said. "And if our farmers cannot access markets then our agriculture will die because they cannot go back to the field. But we have already started the rehabilitation process and the work is going on quite well. We have secured about US$35 million to rehabilitate our roads, particularly in areas which farmers operate in."
Although smallholder farmers are seen as the answer to food insecurity, they are the most affected by factors such as climate change, lack of funding and diminished land rights.
In its state of Food and Agriculture 2016 report, the Food and Agriculture Organisation said small-scale farmers will affected severely by climate change by 2030 if action is not taken, Zimbabwe being one of the countries most affected by climate change.