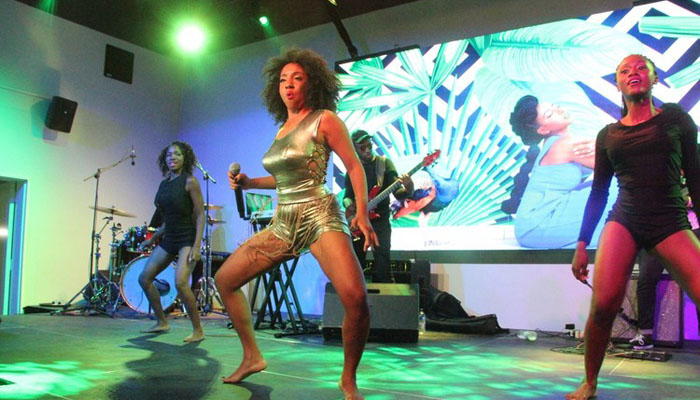 The Sunday Mail
Takudzwa Chihambakwe
Her name is Ammara Brown, and she rarely disappoints.
On November 10, 2017 she did it again as she launched her debut 14-track album "Ammartia" at The Venue in Avondale, Harare.er name is Ammara Brown, and she rarely disappoints.
"It took me a long time to release this project because I was failing to find the right producers to work on the tracks.
Also, the songs came to me in portions so that also caused the delay as I did not want to rush to complete the project," said Ammara.
Unlike other musicians who when launching their albums invite a lot of artistes to curtain raise for them.
Ammara made the night about herself with the only other act being host comedian, Clive Chigubu.
As guests entered the recently renovated, pristine The Venue, they were welcomed to some of Ammara's yesteryear hits and videos.
However, because she does not have many songs the fans quickly became restless as they waited for their star to appear on stage.
Ammara stepped front and centre with her band and started dishing out songs from "Ammartia".
Track after track, Ammara was slaying and her exuberance was infectious.
And the roof was blown off when she invited Nutty O and Tytan on stage for the tracks "Sey No" and "Mukoko" respectively.
All of this was ably aided by slick choreography masterminded by John Cole.
Towards the end of her performance, Ammara premiered the much anticipated "Akiliz" video and it was well worth the wait.
It is one of the best Zimbabweans are likely to see this year and easily could be controversial video producer Blaqs' best project to date.
Ammara said of it: "My team has been contacted by a satellite television company that has asked to have an exclusive premiere of the video on their platform. We are waiting to hear more from them, but the video is ready for you. Those who were at the 'Ammartia' launch last week Friday, were the first to view it as promised and I'm just eager to get this video out to the world."
Though the energy levels were high on the night, the only worrying factor was that the acoustics in the auditorium were not up to scratch.