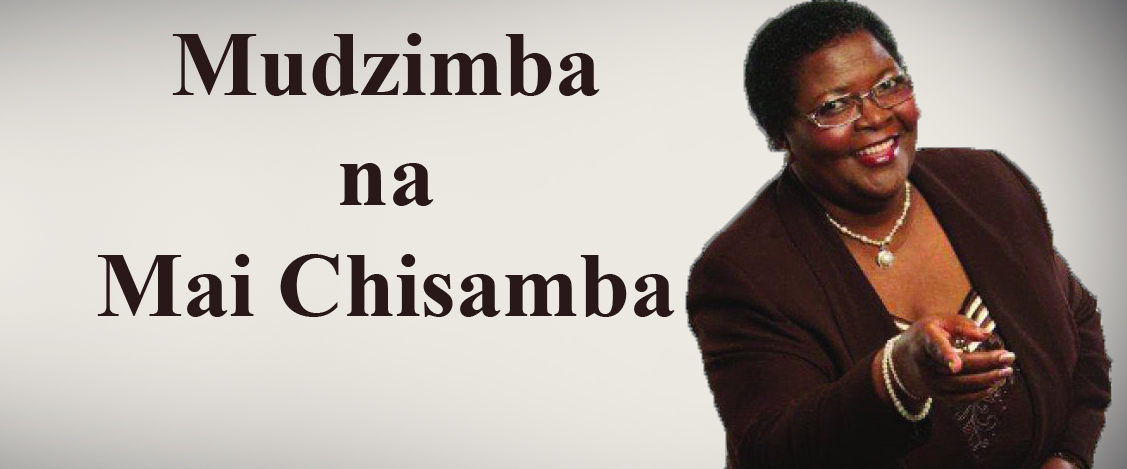 The Sunday Mail
GREETINGS amai. I am a working mother of four. I'm happily married and I stay with my family. Amaiguru vemumusha mandakaroorwa is a problem. She has been a menace since I got married to my husband twelve years ago. She and babamukuru have their own place and her family is also in a different town but she works at the same company with my husband. To cut the story short, she is always demanding money from my husband though she does not speak with me. In 2013 we had a misunderstanding with my husband who then moved out and stayed at her place vachitowacha hembe dzake keeping them in her bedroom. She even washed his undergarments. When he finally decided to come back home she was bitter with this arrangement. When we had a similar altercation in 2016 he moved out again and went back to stay at her place. It was worse this time around as my husband was dating another woman. He met this woman through amaiguru zvokuti vakanga vakutowirirana naye. When he decided to come back home after a year amaiguru wasn't happy so she sent a WhatsApp message expressing her disappointment.
Response
Thank you so much for writing in. My heart bleeds when I get communication that people are abusing each other in the name of marriage. There are no games in a proper marriage like what your husband is doing. He comes and goes when it suits him as if it's the normal thing to do. What is your beef about? You and maiguru are not in a polygamous marriage she has a husband of her own, where is he in all of this? Your husband needs to grow up he is not behaving like the head of house. The games they are playing with maiguru show that they both don't have respect for babamukuru, his elder brother. I also need to know how you feel towards your husband because you are just complaining about maiguru. I agree she has over stepped. She is out treating your hubby like hers. Attempt to work this out through our traditional structures like having an indaba with vana tete. In my view there is something that is definitely wrong. Why is your babamukuru quiet? Do you still love your husband? Have you ever talked about these issues? Maiguru should be reprimanded for trying to destroy your marriage. How can she match make for someone who is already married? I think there is more to this story that you are not saying. To me it's so disjointed. If you decide to stay in a relationship where the other spouse is promiscuous like your husband then you should always protect yourselves each time you are intimate. Otherwise you risk contracting STIs. To me your marriage sounds like more of a convenient arrangement than love. It lacks respect, companionship and love as a result it's full of cracks. I would be happy to hear from you after the indaba. With all due respect babamukuru should wake up and smell the coffee. I urge you to pray for the indaba so that it bears fruits. I wish you all the best.
I am addicted to older women    
Dear amai I am a young man aged 21 and my problems are self inflicted. My taste in women has always been unconventional. The first woman I was intimate with was 12 years older than me and since then I have been engaging women who are even twice my age. It started out as fun chasing these older women especially single mothers. I have always admired their confidence and assertiveness and now I am hooked. I desperately want to set myself free so that I can be more comfortable with dating ladies of my own age. Please advise me on how best I can quit dating older women because I have tried to distance myself from them but somehow they manage to seduce me and I fall into their trap. Do you think that I really have a soft spot for them? At the moment I am dating a woman who is the same age as me. I told her of this addiction and she seems supportive and willing to help me. Please help me I really love this girl.
Response
Thank you so much for your letter. I was really touched especially looking at your age. At 21 you are just entering into adulthood and you should tread with caution. I admire your bravery. Your self evaluation and trying to do the correct thing is admirable. For starters sleeping around is not advisable. It's debatable to say which age should date which age. Some say age is just but a number it's a case of preference. Wongororo shows that some people in most of these kinds of relationships are there for different sorts of benefits. Some are after money, cars, houses or lifestyles that accommodate all the above. Some would say it's a sign of moving with the times because other cultures are silent on age issues. Our culture is a bit on the conservative side where the man is usually expected to be the older one or at least be of the same age. When the age is stretched it definitely should be less than five years but all these are just views. Reason is that it is believed women tend to mature faster than men in relationships. In your case you need professional counseling. At 21 you should respect these older women because they are as good as your mother or mbuya. Tell yourself that you don't want to go against your heart, say no when you feel like indulging. I am happy that you are dating someone you love that is the most important thing. You have entrusted her with such a grave secret, she is someone who is willing to hold your hand and walk into the future. I am happy that its your choice to go back to the drawing board and start afresh. Please don't look back nyika yava nemazino unorumwa. Refuse to be used because some older women may get with you just to settle scores with their ex. The same applies even for older men who take advantage of young women. When you choose your direction in life please pray about it so that you never stray again. Try all of the remedies I have listed above and give me an update. I wish you all the best. You have what it takes and it shall be well. Keep your pride intact.
My past keeps haunting me
Amai makadii? I hope my letter finds you well. I am a young lady aged 21 currently pursuing an accounting degree. I have two problems turning my head around. The first one is that I am a victim of rape. Though it happened many years ago the visions still haunt me. I feel betrayed, guilty and consequently I quickly end relationships whenever they are getting serious. I don't know if it's just fear or whether something is seriously wrong with me. My boyfriend and I on the other hand have been dating since 2016. He is 24 years and soon will be working as an engineer. He is a very nice guy who is honest, faithful, respectful and loving in terms of character but his family is so poor. I financially help him out though he doesn't like it. His dressing inotondinyadzisa. I come from a middle class family and I get everything I spell out. He has introduced me to most of his family members but I have never done the same. My family would never approve of him. I do love him but how can I shape him to be an acceptable person and remove hubharanzi maari?
Response
I am sorry that you were raped when you were young. You did not tell me whether this guy is still around or if he was ever brought to book. What he did is a very serious crime. You need to see a counsellor and confront the cause of these flashbacks. I will refer you to an organisation that can assist you, furthermore if this culprit has not been brought to book yet you must make sure he gets arrested. As for your boyfriend I don't see the problem. He has qualities that are very rare to find in this day and age. Please consider yourself blessed, he is a man and a half. You are dating someone you can build a future with. Why do you despise of him because of his poor background? Poverty is not a permanent thing, life can change in an instant. His parents produced a child who is poor but very rich in character. There are rich people who cry day and night to have what you are taking for granted. Honest and loving people are truly hard to find. Zvehubharanzi can also be remedied. Ko iwe akakuudza kuti haunyadzise ndiani? Never look down upon the person you love and would want to spend the rest of your life with. Academically he has done well, he is going to be a future engineer. Teach your family to be more tolerant of others. If they are a middle class family then they should sympathise more with your boyfriend. I hope you guys are not in the business of looking down upon people. If you truly love him accept him as he is and continue to improve each other along the way. Please don't waste this good guy's time if you think otherwise. We have an adage which says chawawana batisa mudzimu haupe kaviri so be warned.