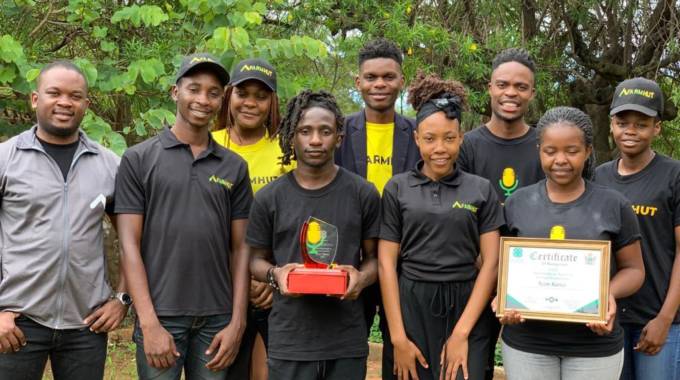 The Sunday Mail
Leroy Dzenga
Senior Reporter
FarmHut, a Zimbabwean agriculture startup that creates linkages between farmers with excess produce and the market, has received seed capital of US$100 000 from Hult Prize Foundation, a global business incubation organisation.
Hult Prize is considered the Nobel Prize for students, as it rewards impactful projects and helps young business leaders with training on how to setup sustainable organisations.
Annually, they run an accelerator programme in which they select startups run by university students for assistance in putting systems in place, and FarmHut was part of the 2020 cohort.
Only a few of the outstanding projects that get access to the acceleration programme are selected to get seed funding – an early-stage investment into a business meant to help with research and business development – and FarmHut were among the few that were chosen.
In an interview with The Sunday Mail, FarmHut chief executive and co-founder Ryan Katayi explained how they ended up being the only startup on the African continent that accessed the funds.
"We were selected onto the accelerator where we spent around right months receiving training and refining our business models. After the process we were shortlisted to 33 entities, and from the number, only 11 got the seed capital," Katayi said.
For the final-year chemical engineering student at the National University for Science and Technology (NUST) and his team, the capital will be directed to ensuring they have more inclusive systems that allow smallholder farmers to access markets with ease.
"This investment is not just for FarmHut. It goes to all the farmers toiling everyday to put a meal on the table. It sets the stage for us to take our revolutionary solution to the rest of the world," said Katayi.
Started in 2018, FarmHut has won a number of innovation competitions both regionally and locally, and this seed capital becomes the latest feather in their cap.
Zimbabwean youths have been showing increased interest in agriculture, in what is being termed a renaissance of the critical sector, which is the backbone of the economy.