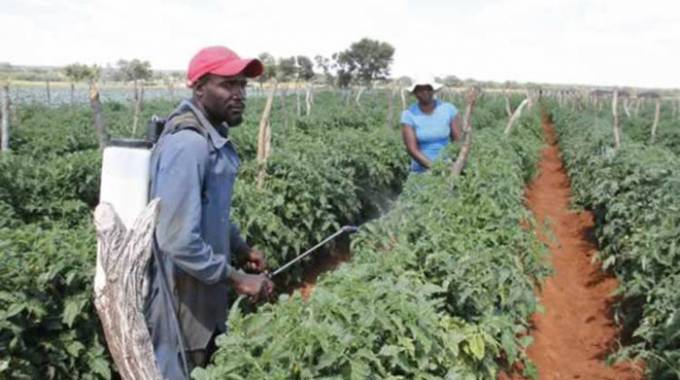 The Sunday Mail
AGRIBANK, the country's premier agriculture finance institution, has mobilised over US$100 million to fund the 2017-18 summer cropping season, which in some cases can be obtained without collateral.
This comes as Government — which owns Agribank wholly — last year directed the financial institution to focus on its core mandate of financing agriculture.
The absence of affordable funding on the market has been the major drawback to increased agriculture output since the turn of the millennium.
When agriculture funds were available, punitive security was slapped, making it impossible for the bulk of farmers who obtained land under the agrarian reforms since year 2000 to access such money.
Crucially, Government and bankers have agreed on the bankability of 99-year leases, further making funds easily available to farmers that have no collateral.
Agribank chief executive officer Mr Sam Malaba told The Sunday Mail Business last week that the bank is making significant investments in agriculture this season.
"This year, the bank's interventions in agriculture have been significantly enhanced by the Reserve Bank of Zimbabwe (RBZ) facilities, which have augmented the normal lending to agriculture.
"In particular, the bank has been able to access funding from the RBZ US$70 million export facility, the US$10 million horticultural facility and the US$10 million business linkages facility.
"Agribank's lending to the agricultural sector this season is therefore projected to surpass US$100 million, including both off-balance sheet and on-balance sheet lending. Of the above, as much as US$50 million is off balance sheet," said Mr Malaba.
He said collateral for this year's agriculture funding would be held on a "case by case basis, reflecting the unique circumstances of each applicant".
"In cases where the farmer has a good track record in terms of production, good debt repayment history and supportive cash flows, the issue of collateral may be relaxed or may not be required.
"Other farmers will, however, be required to provide security as the bank will be lending depositors funds and thus has a fiduciary responsibility to protect these funds.
"It is also important to note that Government and the bankers have agreed on the bankability of the 99-year leases, which can also now be used as security for borrowing," said Mr Malaba.
In conjunction with FBC Bank, Agribank has also raised US$20 million agro-bills funding for the current cropping season.
Over the past five years, the two banks have raised a cumulative US$65 million in support of the agriculture sector through agro-bills, for both summer and winter cropping.
This year's funds are targeted to benefit several sectors such as tobacco, sugar cane, horticulture produce, dairy, soya- beans, maize, cut flowers, agri-processing, tea, potatoes, tomatoes and onions.
But Mr Malaba said emphasis would be on supporting value chain financing, targeting the entire value chain (agricultural producers, input suppliers, wholesalers and retailers as well as consumers) and to play an active role in linking players in the value chain in order to increase productivity and incomes.
Over the years, Agribank has expanded its support interventions in agriculture to include target financing of small-scale irrigation schemes throughout the country to boost production.
The bank is also supporting the More Food Programme (Brazil Facility) under which more than 4 000 farmers have benefited under 36 irrigation schemes.
Said Mr Malaba: "Funding will entail financing of working capital, especially targeting farmers dealing in strategic crops like maize, soya, sugar cane as well as horticultural crops.
"This is in an effort to ensure the country reduces the import bill, as well as preserving the much needed and scarce foreign currency."
Agribank has also entered into contract farming financing key and strategic crops such as soyabeans, maize and horticultural produce through financing both primary producers (farmers) and off-takers (corporates).
In this regard, the bank has on-going partnerships works with Schweppes through Best Fruit Processors in Norton and cooking oil producers, including ZimGold.
As part of widening output and boosting incomes, Agribank has also begun financing fresh produce traders at Mbare (Harare), Renkini (Bulawayo), Kudzanai (Gweru), and other centres across the country.
As it complies with the Government directive to focus on financing agriculture, the bank also plans to strengthen its support to various Government programmes, in particular Command Agriculture, by funding input supplies to increase manufacturing capacity of seed, fertiliser and chemical companies.
In line with the 2018 Budget, Agribank targets to provide working capital to Government's irrigation and development programmes as well as those programmes being supported by development partners.
Some of the agriculture sub-sectors that have already received funding include tobacco (US$28 million), soya- beans and sunflower (US$20 million), Best Fruit Processors (US$1,4 million) and sugarcane (US$2,4 million).
The tobacco facility targets 17 500 hectares of the yellow gold and 18 000 smallholder farmers.
It capacitates farmers with seeds and fertilisers, motorbikes and technical services.
Agribank is also expanding its partnership with major tobacco industry players such as Tobacco Industry and Marketing Board (TIMB) and Tobacco Research Board (TRB) for the development of the sector by promoting drip irrigation infrastructure and rocket barns for small holder farmers to improve productivity.
Major auction floor operators like Boka and Premier Auction Floors and a significant number of tobacco merchants would also be capacitated.
Agribank is now able to play a key role in financing agriculture after it was capitalised by Government over the past few years.
As at November 30, 2017, the bank's tier 1 capital was US$54,9 million against regulatory capital of US$25 million and capital adequacy ratio of 42 percent against the RBZ minimum of 12 percent.
In the 2018 budget, Government capitalised Agribank to the tune of US$10 million, and Mr Malaba plans to continue engaging the shareholder for further capitalisation to ensure that by 2020, the bank's tier 1 capital will be in excess of US$100 million to provide a full range of banking services.