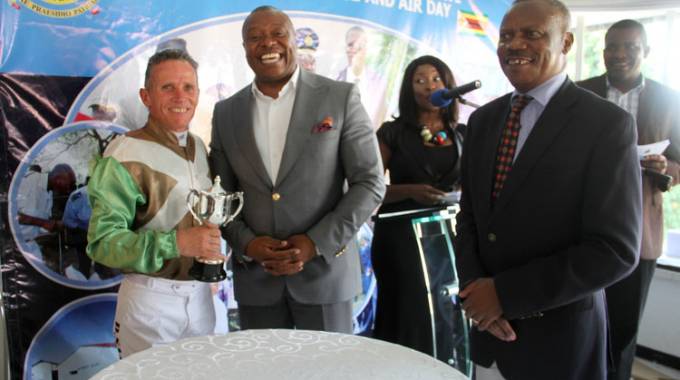 The Sunday Mail
Veronica Gwaze
The Air Force of Zimbabwe has pledged to continue supporting the less privileged as part of its commitment to charity work.
AFZ boss Air Marshal Elson Moyo said this yesterday at the 2018 Commander Air Force of Zimbabwe Charity Fund Horse Race and Air Day at Borrowdale Racecourse in Harare.
Yesterday's gathering, Air Marshal Moyo said, was a demonstration of the AFZ's commitment to improving livelihoods.
"Our ultimate goal is to raise funds for that child whose dream may never be realised without our intervention," he said.
The AFC Commander said the military was harnessing synergies between corporate sponsors and individual well-wishers, with the uniformed forces identifying needy communities around the country and finding ways of assisting them via judicious use of resources.
"This has steered the Charity Fund to continue accomplishing its target community empowerment projects. My prayer today is this event will contribute much towards the successful building of our future generations," he said.
Zimpapers group CEO Mr Pikirai Deketeke, who was guest of honour, said the event came as Zimbabwe celebrated the advent of the Second Republic, which was creating a favourable business environment.
"The 2018 Horse Race and Air Day could not have come at a better time when the nation is still celebrating the birth of our Second Republic, where there is so much anticipation for a better tomorrow for all Zimbabweans."
He said as the economy improved, it was important to remember the less privileged and marginalised.
Through partnerships with the corporate world, the AFZ has worked on a secondary school project in Murongwe, Mashonaland Central, and a clinic in Chief Negove's area of Midlands, among other initiatives.
"The same vision will soon be realised in Chiredzi district and Matabeleland North's Binga North district, where life-changing facilities like clinics will also be constructed," added Mr Deketeke.
He went on: "As members of the corporate world and in our individual capacities, it is noble to continue to spare a thought and commit ourselves to charity work regardless of the economic challenges that we face today.
"For sure, Zimbabwe is open for business. Our spirit of benevolence and the dream to empower disadvantaged communities should stir us to do more for our land, our people."