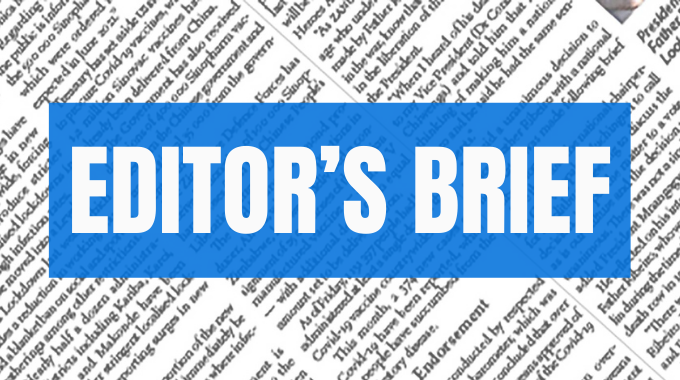 The Sunday Mail
Editor's Brief
Victoria Ruzvidzo
The ensuing excitement and debate following the disbursement of the US$961 million facility by the International Monetary Fund (IMF) as part of the SDR 650 billion the institution is distributing to its members is quite predictable and healthy.
Many have welcomed the windfall while a few think it is too small an amount.
But I submit that at this stage every dollar counts and US$1 billion is no small change.
The economy is set to benefit significantly from the funds.
The facility will do much to improve economic activity and increase foreign currency reserves.
At a time when the global economy was reeling from the effects of Covid-19 and in need of rescue packages such as this one, the facility has been welcomed with excitement, relief and anticipation of a change of fortunes for most struggling economies around the world.
The newly-created SDRs will be credited to IMF member countries in proportion to their existing quotas in the Fund
About US$275 billion of the allocation will go to emerging markets and developing countries, including low-income countries.
This is a timely decision. It is the largest SDR allocation in the history of the IMF. A much-needed intervention by the world economy, particularly during a period of an unprecedented global crisis.
The joy registered by Finance Minister Professor Mthuli Ncube, Reserve Bank of Zimbabwe Governor Dr John Mangudya, industry and commerce and other stakeholders is expected and quite understandable.
Of course, the headache now lies in the allocation seeing there are so many angling for a share of the cake.
By all means, this is a good and progressive headache if ever there is such. We believe that even the media sector will benefit from the SDRs to help us report more effectively about these developments.
Government, in consultation with its peers in the private sector, will need to come up with a viable disbursement plan.
Of course, not everything and everyone will be catered for adequately, but key economic enablers must get priority.
This shot in the arm could not have come at any better time than this. A time where we are seeing results of our own efforts towards achieving economic stability and growth.
Much of the progress achieved has been with relatively minimum resources, but maximum effort from Government, business and all stakeholders.
The drive towards achieving and in some instances exceeding our economic targets, is surely set to gain momentum as we beef up our foreign currency reserves, ease liquidity challenges and greatly reduce reliance on more expensive domestic and external debt.
All things are surely working together for the good of our beloved economy and we must maximise on opportunities and facilities such as these.
"The SDRs will be managed transparently, prudently and they will be deployed carefully.
"We have a history of prudent management as the Second Republic. I have a history of prudent management of public finances as Minister of Finance and Economic Development. I have run a balanced budget; the record speaks for itself," Prof Ncube bragged.
We will hold him to account. We have observed that these days he walks with a spring in his step. He is on cloud nine. The good Prof has had to endure immense pressure over the last few years and any breathing space is most welcome one would presume.
His arguments on potential areas to which the funds will be allocated are quite logical. Agriculture, mining, manufacturing and other sectors will need a boost.
Accessing loans in foreign currency will surely prop production, hence export performance.
Investing some of the funds in infrastructure development will also be a game-changer.
Social needs such as health and education will certainly expect a healthy injection of funds, among a plethora of other needs.
Reports by the central bank that firms have reached production capacities as high as 95 percent add the icing to the cake. It is almost unbelievable and yet true.
Only a few years ago, before the Covid-19 era even, firms were struggling, averaging 10 percent capacity but the recovery to current levels is most amazing.
This gives impetus to the National Development Strategy 1 (NDS1). Many targets that were dismissed as fallacy at the beginning of the year are proving attainable, thanks to Government policies and the hard work industry has put in.
The year will surely end on a high note. We need to bring out the champagne bottles (alcohol-free of course).
Zimbabwe needs to guard jealously all these achievements.
Of paramount importance is the continued fight against corruption and ensuring that we all selflessly work together for the good of the economy and the country.
We need not focus on short-term, individual gain at the expense of stability and progress.
We can never over emphasise the need to drive out corruption in order to achieve any economic targets we may have.
A lot of the battles we are fighting and now evidently winning have been as a result of corrupt activities by institutions and individuals who hold positions of influence, but have been reckless stewards of the responsibilities and duties entrusted to them.
The Government, led by President Mnangagwa, has been prioritising the fight against corruption with arrests and prosecutions being made of those without the fortunes of the nation at heart.
Corruption suffocates and bleeds the economy and has the ability to reverse any notable progress and economic growth.
It is no coincidence that the best performing economies in the world are those that have fought and won the battle against corruption and enjoy economic growth and prosperity unhindered by this vice.
It is sad to note that after all the progress and growth the country is enjoying, some businesses and individuals are still involved in corrupt activities that are stalling progress and stifling growth.
Without these selfish corrupt individuals, we could be enjoying and witnessing even more impressive economic figures.
The President and the Zimbabwe Anti-Corruption Commission (ZACC) have warned that more arrests are imminent as the drive assumes new proportions.
We remain faithful that corruption too will be a thing of the past and that we will all do everything in our power to achieve the economic prosperity and freedom our beloved country and citizens deserve.
In God I Trust.
Twitter handle: @VictoriaRuzvid2; Email: [email protected]; [email protected]; WhatsApp number: 0772 129 972