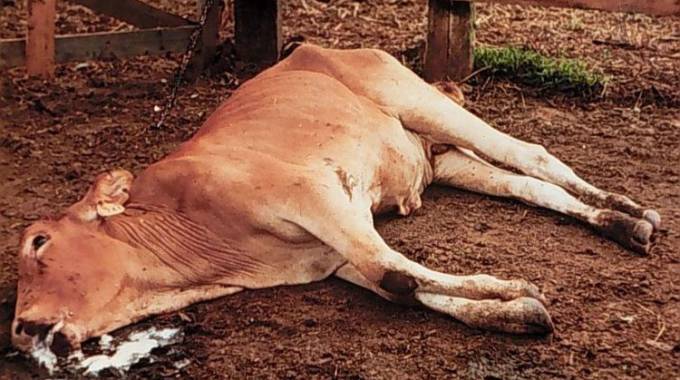 The Sunday Mail
Debra Matabvu
It took Johnson Chipayi of Mhondoro-Ngezi 26 years to breed and maintain a herd of 54 cattle.
His enviable herd comprised of a cross breed of brahman and boran cattle, which spawned quality offspring.
However, by one fell swoop – in the space of three months – everything was gone.
Everything.
All that is left to show for Chipayi's hard work, or what is left of it, is a hauntingly empty cattle kraal.
But his tragedy is shared by his peers, who are currently smarting and counting their losses from the devastating impact of a tick-borne disease that is called theileriosis, or January Disease.
Stricken beasts often fall like dominos, and this has forced many wary farmers to sell-off their remaining herd for a song.
It is an absolute catastrophe.
"I sold my last beast for $50 bond notes because I had no bargaining power. It is either you sell the beast or you watch it die," Chipayi said.
"They call it 'sick' money and that is what is was. I do not even remember what I bought with the money, but I could not watch another beast die because of the disease.
"However, the question I have been asking myself is 'what are we going to use for farming next season?'
"Besides farming, cattle is a source of wealth not only in Africa but the world over, how then are we going to pride ourselves as a people?"
Chipayi started rearing cattle in 1992.
At one time he was a serial winner of provincial accolades in Mashonaland West that recognised his prowess in breeding cattle.
"I first heard about this disease three years ago when I had visited a relative in Wedza. I never imagined that one day I would be looking at an empty kraal," he added.
His bad luck began in June last year when he lost 17 cattle within a week.
Despite his best efforts, which included sourcing vaccines from outside the country, all his beasts eventually succumbed by August.
Theileriosis has barrelled through areas such as Wedza, Goromonzi, Marondera, Chikomba, Buhera, Chivhu, Gutu, Chegutu, Centenary, Bindura and Shamva.
The tell-tale signs of an infected beast are all similar.
The disease starts with swollen lymph nodes as the first stage, while blood-stained dung and teary eyes are the final stage.
It takes its toll between nine days and three weeks.
Farmers say Government has been slow to react.
Efforts
However, Ms Noreen Ndlovu, a worker in the department of veterinary services stationed in Mhondoro-Ngezi, said authorities are currently sourcing potent dipping chemicals such as Deltatick Dip to deal with the scourge.
While acknowledging that chemicals had been in short supply over the years, she also noted that farmers are now reluctant to dip their cattle because they fear their herd will be infected by mixing with other cattle.
"The disease is caused by a brown tick which is normally found in grass," she explained.
"It usually hides in cattle ears and privates such that at times spraying might not be the best way for eliminating the tick.
"Of course, there was a time when we did not have chemicals for the dip tanks and that is how the disease spread; however, we have rectified the situation," she said.
Ms Ndlovu said although farmers could vaccinate their cattle using butamine, its price was prohibitively steep.
"A 50-ml bottle costs $150 and can be only be used on two beasts at most, leaving most farmers with no choice but to watch their cattle die.
"We have also tested the meat and we found out that it has no effect if consumed by human beings."
But authorities continue to be alert as all animals sold off to abattoirs are thoroughly inspected.
Surveys by the department of veterinary services have shown that more than 5000 cattle have died in the Mhondoro-Ngezi area in the past three months.
Bargain Hunters
Like vultures, individuals and private abattoirs from as far as Harare, Gweru and even Bulawayo have swamped the area seeking instant riches, where they short-change desperate farmers and onsell at obscene prices to unsuspecting buyers.
With the cattle selling for as low as $50 to $150, butcheries in Harare have been forced to slash beef prices.
A kilogramme of economy beef is now priced between $7 and $8 at some butcheries, down from the previous $18.
Growing the national herd is one of Government's major priorities under the Transitional Stabilisation Programme (TSP), which envisages the full revival of the livestock sector by 2030.
A $440 million facility has since been put in place to capacitate farmers in the three years through 2020.
But for farmers such as Chipayi, cattle farming is the last thing on his mind at the moment.
"I think for the next five years I will not be rearing and breeding any cattle until I am certain the disease has been totally eradicated," he said.
Just like most farmers in the area, he is contemplating switching to donkeys, whose prices have since soared to between $250 to $300.