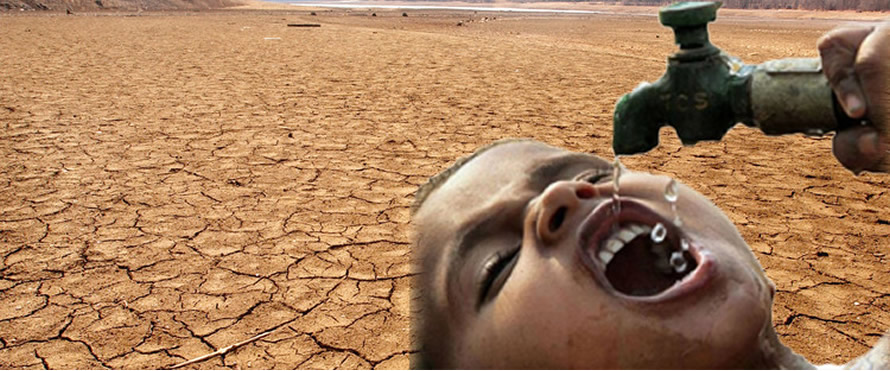 The Sunday Mail
Harmony Agere
It covers approximately 70,9 percent of the earth's surface, yet only 3 percent of the world's water is safe to drink, leaving one in every eight people with no access to clean water."There is a water crisis today. But the crisis is not only about having too little water to satisfy our needs, it is a crisis of managing water so poorly that billions of people and the environment suffer badly," states a report by an international multi-stakeholder think-thank — the World Water Council.
Indications are that the global water crisis is increasing with more than 3,4 million people dying each year from water and sanitation-related causes.
According to Unicef, at least 1,1 billion people worldwide do not have access to clean water while 2,6 billion do not have proper sanitation facilities.
Despite the bulk of the earth being covered by water, most people are failing to adequately access the resource as a result of climate change, pollution and overuse.
"We live in an increasingly water insecure world where demand often outstrips supply and where water quality often fails to meet minimum standards. Under current trends, future demands for water will not be met," United Nations Secretary-General Ban Ki-moon told a water meeting last year.
Experts say with so much water on the earth and its shortage to humans, it is a case of a resource so near, yet so far.
Research shows that poor water management has increased poverty levels in developing countries as a result of decreased agricultural, industrial and economic activity.
Experts say climate change and poor water management policies are to blame for the global water crisis.
In Africa, lack of technology to harness clean water and the damning effects of climate change have made the situation worse with businesses and the agricultural sector tumbling.
Most African countries are facing severe food shortages due to negative weather trends affecting agriculture. The impact can, however, be reduced if water management measures such as establishing more dams and irrigation schemes are put in place.
The United Nations says the daily per capita use of water in Africa stands at 20 litres per individual, way short of the international standard of 50 litres per individual.
According to findings presented at the 2012 Conference on Water Scarcity in Africa: Issues and Challenges, it is estimated that by 2030, between 75 and 250 million people in Africa will be living in areas of high water stress, which will likely displace between 24 and 700 million people as conditions become increasingly harsh.
In Zimbabwe, lack of funding and poor water management policies have played a part in escalating the country's water woes.
Experts say the formulation of a National Water Policy will address the water quantity and quality problems that the country is facing.
According to a statement by the Harare Residents Trust (HRT), laws that govern water in Zimbabwe have not been modified to suit the modern society where commercial use of the resource is increasing.
HRT's argument is that current water policies do not allow the water sector to be self-sustainable.
Applied social sciences expert Dr Claudious Chikozho notes that a policy which views water as both a social and economic commodity can make the resource more manageable.
"If water was treated like other commodities it would be priced to at least cover its cost of supply, including storage, treatment and distribution so as to ensure its continued availability," he said.
"This would also alert users to the need to adopt more efficient methods that reduce wastage."
Dr Chikozho, however, said decent prices should be maintained to suit the poor.
"The pricing should not exceed the payment ability of those needing water, including the poor, because in a certain sense, it (water) is a social good or a basic human right," he said.
"It is out of this principle that we now have concepts like the user pays and the polluter pays."
The country's water is managed by the Zimbabwe National Water Authority (Zinwa) as dictated by the Water Act Chapter 20:24.
According to the Act, the Government is the sole custodian of water in the country and it criminalises private ownership of the resource.
According to Zinwa, Zimbabwe has seven water harvesting regions — catchment areas. A catchment area drains into a dam, lake or reservoir.
However, the infrastructure of these water bodies is dilapidated and its revival is central to the improvement of the water situation in the country.
Some of the national water projects have stalled for more than a century.
In Matabeleland, where industry has closed down partly due to water-related problems, Government is yet to complete the ambitious Matabeleland Zambezi Water Project.
The project seeks to end the perennial water shortages affecting Zimbabwe's second city of Bulawayo by bringing water from the Zambezi River to the city. The project is expected to cost around US$600 million consisting three phases — construction of Gwayi-Shangani Dam, Gwayi-Shangani Dam to Bulawayo Pipeline and Gwayi-Shangani Dam to Zambezi River Pipeline.
In Masvingo, the Tokwe-Mukosi Dam is expected to become the country's largest inland water body with a capacity of 1,8 billion cubic metres with a flood area straddling over 9 600 hectares, according to the Zimbabwe Government Online website.
The purpose of the dam is to provide irrigation water to the Lowveld sugar estates and surrounding communal farmers. Projects such as the Kunzvi Dam, aimed at supplying water to Harare, and several other dam rehabilitation projects have been on the cards for many years.
Government says despite lack of funding, it is crucial to treat water as a security issue.
Minister of Environment, Water and Climate Cde Saviour Kasukuwere said water problems are threatening national security.
"While water underpins health, nutrition, equity, gender equality, well-being and economic progress, especially in developing economies, the equitable water supply and quality problems are also threatening the security of some of the most developed countries in the world," he said.
"In the US, for example, water availability has already been identified as a national security concern, threatening its ability to meet the country's water, food and energy needs."
It is an undisputed fact that ''water is life'' and a fundamental aspect of any society which must be protected.
Environmental Management Agency (Ema) spokesperson Mr Steady Kangata said the agency treats water issues with importance.
"We are responsible for ensuring that our water bodies are of quality, and we have put in place measures to ensure that they are protected and free from contamination," he said.
To ease the water crisis, donors and non-governmental organisations have chipped in to fund the sinking of boreholes in rural and urban areas.
However, the challenge has been to maintain the infrastructure as many of the boreholes are now defunct.
Water is increasingly becoming scarce and experts say the majority of the 9 billion people on earth will live with severe pressure on fresh water within the space of two generations if governments do not start conserving the vital resource.