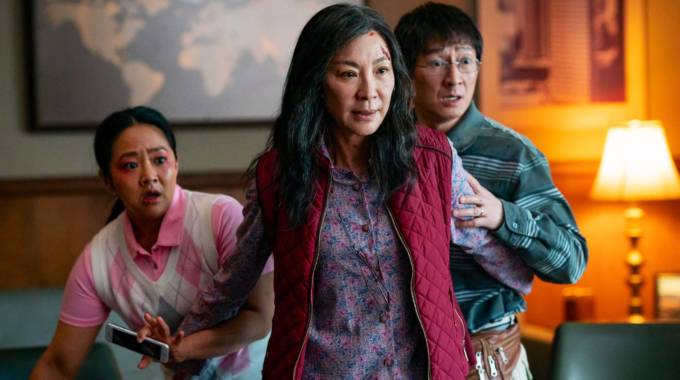 The Sunday Mail
IN a world in which superhero movies, unnecessary and outdated sequels, reboots and remakes have become the order of the day, should Hollywood be wasting a concept that has as much promise and infinite possibilities as the multiverse in film?
Well, that was my biggest takeaway after deciding to finally sit through A24 and IAC Films' comedy-drama "Everything Everywhere All at Once".
This is the third and probably best offering on the multiverse concept in the last eight or so months. This follows the release of Marvel's "Spiderman: No Way Home" back in December last year and more recently "Dr Strange in the Multiverse of Madness".
A brainchild of Daniel Kwan and Daniel Scheinert, who are collectively known as Daniels, "Everything Everywhere All at Once" tells the story of Evelyn Quan Wang (Michelle Yeoh), a Chinese-American woman who runs a struggling laundromat with her husband Waymond (Ke Huy Quan).
Wang gets sucked into an ultimate battle to save the multiverse when a stranger invades the body of her husband to warn her of an imminent threat to time and space.
The threat comes in the form of Jobu Tupaki, a multiverse jumping version of her daughter Joy Wang (Stephanie Hsu), hell-bent on destroying everything in her path.
Rather than go through the usual performance and storyline-based review, I have decided to do things differently this time around.
This is going to be in-part a rant of sorts on the slow and agonising death of the movie industry and also a glowing appraisal on the work the Daniels just did.
Let us get into it.
Followers of this column certainly know of the praise and admiration that I have for Marvel. Unlike most of my peers, I did not partake in the traditional childlike activities like playing outside with toys and what have you. Instead, most of my time was spent either watching movies or reading whatever comic book I could get my hands on.
"The adventures of Archies", "Asterix and Obelix" and a few DC and Marvel comics were my favourites.
But Marvel's Phase Four has been a disaster.
With new characters coming thick and fast –among them Ms Marvel, Marc Spector, She-Hulk on the horizon and the disaster that was the "Eternals" –it is getting harder and harder to make heads or tails of whatever story Kevin Feig and his cohorts are cooking up.
Despite making good money at the box office, the last Spiderman and Dr Strange sequel were not really good movies. The two productions were used to introduce the multiverse into the Marvel Cinematic Universe (MCU) and totally botched it.
They sacrificed substance and basic storytelling for fan service and cheap heat.
Yes, the arrivals of Tobey Maguire and Andrew Garfield's Spiderman personas into the MCU will forever be iconic moments.
The same can be said for the Illuminati's brief appearance and forgettable cameos in the Dr Strange sequel.
However, takeaway those moments, coupled by Willem Dafoe's unhinged performance in the Spiderman and there really is not much to write home about.
That seems to be a recurring theme with not only Marvel but the industry as a whole, as things like CGI, fan service and Easter eggs apparently have more importance than basic movie tenets like storytelling, performances and enriching the audiences.
I do not really see the logic of having three movies that delve into the multiverse in the space of seven movies. Some might even say it is actually four movies in seven months if you count Michael Keaton's Adrian Tommes arrival into the Sony-verse in the post-credit scenes of "Morbius".
The only good thing to come out of these two Marvel productions is that it helps appreciate Daniels' body of work in "Everything Everywhere All at Once".
Rather than centre the entire film on the multiverse concept, Daniels used it as a plot device to tell a deeper and more complex story.
At the heart of Wang's multiverse shenanigans is a woman bored with life, tired of loveless marriage and struggling to come to grips with how time has moved from her traditional upbringing and value.
She is caught between her traditional values of her father Gong Gong, played by the incomparable James Hong and her United States-born daughter Joy's bid for acceptance.
The multiverse, rather than be alternate realities that coexist parallel to each other, are realities based on the choices that we make in our day-to-day lives.
By venturing into these alternate timelines, Wang gets a chance to experience some of the choices she did not make and in one she is a singer, writer, martial-arts movie star and novelist. These are dreams and ambitions she once harboured but chose not to pursue.
It is in part a look into the life and struggles of Asian-Americans in the United States of America.
There are also shades or tributes to many movies of years gone by, as the Daniels borrow tenets from hits like "The Matrix" and "Fight Club".
Yeoh and Hsu deliver scene-stealing performances with the latter thriving well in more of the film's comedic elements.
The Daniels achieve all this with a fraction of the budget that the Marvel movies had at their disposal and totally wasted.
The film has done reasonably well at the box office, grossing US$91 million from a modest budget of about US$25million.