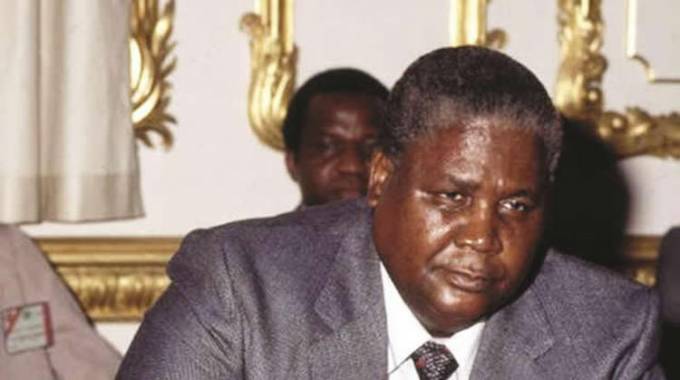 The Sunday Mail
Dr Joshua Nkomo
On July 1, 1999, Zimbabwe's iconic revolutionary and politician Dr Joshua Mqabuko Nyongolo Nkomo breathed his last. Dr Nkomo had served as the country's Vice President since 1990. This Wednesday, the country commemorates the life of the late leader. Some people think that heroes are super human, but Dr Nkomo, in his own tell-all autobiography, "The Story of My Life", however, shows that he was thoroughly human, possessing all the strengths and failings that make up a human being. We publish below some of excerpts through which he candidly describes the man he was.
*************
Being a late bloomer
My mother told me again and again how she and my father worried about me as a baby.
For almost the whole of my second and third month of my life, I caused them sleepless nights with my screaming.
My parents consulted a traditional doctor, who gave me some medicine.
The result gave my parents a new cause for concern.
I became unnaturally quiet, unable even to cry like a normal baby.
They thought I might had lost the power to speak, but the doctor assured them there was nothing to worry about. I would talk when the time came.
This made me a late taker and a shy child.
I could not keep up with other children and kept running to my mother.
I adored her. I was a mother's boy.
My weakness made me backward in our games, and at the sport of stick fighting.
I was slow to follow other boys in herding, first the calves and the full-grown cattle.
Even when I went to school and found myself coming first in all my classes, Standard 1 to Standard 6, I felt other boys were better than me.
In later life, that lack of confidence has been both my strength and my weakness.
Because I felt the others were ahead of me, I always struggled to keep ahead of their standard.
But because I had so much trust in my mother I have believed to rely on other people as I did on her. . .(Page 8)
I was thirty years old and I had not started to make myself a political philosopher.
I was finishing my education and trying to sort out my own private life.
In Pietermaritzburg, while doing my fieldwork, I met a lovely young Zulu girl, Violet Xaba and we decided to get married.
We even started making wedding arrangements, and I was just about to write to my father to tell him the good news and ask for advice.
Then to my surprise, he wrote to tell me he was getting married himself, he was lonely, he had met a very good and suitable young woman and he hoped I agreed with his plan.
I wrote back at once to say how pleased I was. Mother had been dead for over five years and I knew how lonely father had become.
I went home for my father's wedding and something remarkable happened.
I met a young woman and we fell in love.
I knew we had to marry — although in fact we waited until 1949, when I had some security to offer her.
I was very unhappy to let Violet down in this way and it was some time before I got my courage together and wrote to tell her we could not get married after all.
I was so relieved when she wrote back, telling me that she too had met someone else whom she wanted to marry more than me. We are still good friends.
When my daughter Thandi was married in 1983, Violet travelled up from South Africa for the ceremony, and I was pleased to see that she is still an attractive woman.
My marriage was the best thing I ever did my whole life.
In the 34 years of our marriage we have spent less than half the time together, but we have had a better understanding all the time.
My wife had always borne the main responsibility for such property as we have owned, more she has kept the family together, because all of us have always been confident that she would be there whatever happened.
Names of married women are a very private thing among our people: I suppose I was almost thirty before I learnt that my own mother's name was Mlingo Hadebe.
My wife was given the Christian name of Johanna, but that is not what I called her. The name I use is an honorific form of her maiden — Mafuyana.
She is the younger sister of my father's second wife.
She is also a devout Roman Catholic, and that was the only problem about our wedding. I was at the time a devout Methodist (I have explained that my religion is now wider).
After much discussion we ended up having three wedding — a civil marriage to make it legal, then one blessing by a Methodist clergyman and another by a Catholic priest, our dear friend, Father Schmitt. . .(Page 38).