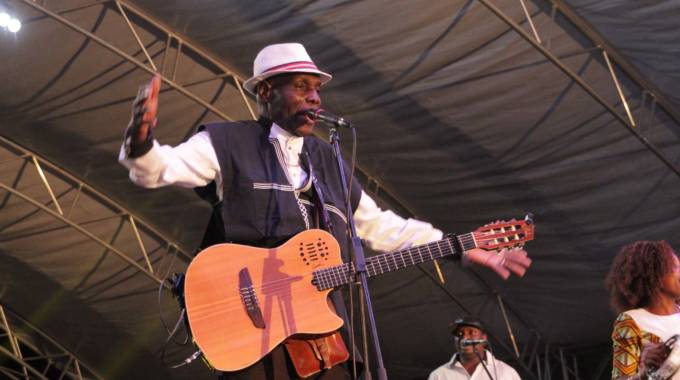 The Sunday Mail
Veronica Gwaze
THE late Dr Oliver "Tuku" Mtukudzi was an artiste par excellence.
His powerful and well-crafted compositions encouraged many across generational divide.
This is one artiste who tactically played a pivotal role in cheering freedom fighters, during and after the liberation struggle, through his poignant lyrics.
Talk of the songs "Rova Ngoma Mutavara", "Ndipeiwo Zano" and "Dzandimomotera" that spoke to the people's struggle.
That is not all!
He also addressed socio-economic issues. The monster hit "Todii?" quickly comes to mind.
Dr Tuku was one of the first artistes to tackle head-on the issue of HIV/AIDS when stigma was still rife.
"Hee todii (senzeni); What shall we do (tingadii); Senzenjani (what shall we do)," he quizzed in the track "Todii?".
On "Street Kid", the revered singer highlighted the plight of homeless children. "Neria" was another dynamite, which meticulously tackled matters to do with inheritance and partly gender-based violence.
Dr Tuku's refined art left an indelible mark not only in the country but across the globe. He continues to inspire, even in death. In fact, he is missed by many as his level of composure and impact on the music front remains unmatched.
It is hard to forget the sway of his husky voice and excellent guitar strumming skill, especially during live gigs.
The decorated singer succumbed to diabetes on January 23, 2019 at the age of 66.
Because of his consummate art, Dr Tuku became the first artiste to be declared a national hero.
And his widow, Daisy Mtukudzi, feels honoured with the recognition.
"As a family, we are following Government's lead on Heroes Day celebrations. We will be joining those taking part in planned programmes to commemorate living and fallen heroes of this country," said Daisy.
Samanyanga as he was also affectionately known had a distinct Afro-jazz that was simply known as Tuku Music or Katekwe.
By the time of his death, the African icon was working on his 67th album.
"Samanyanga vanga vakaremedzwa nenyika through a lot of expectations. However, he did not feel or take it like a burden. For him, music was effortless and because of his love for Zimbabwe and its people, he always found motivation to continue delivering," said Daisy.
Dr Tuku rose to prominence in the 1970s, contributing to the liberation struggle through his profound messages meant to promote black emancipation.
For decades on end, the legend remained consistent in his offerings which depicted what he stood for.
"What I marvelled most is that he remained a humble man through all his successes and the hero status simply means that Zimbabwe appreciates his work, what he believed and fought for," she added.
The singer gave hope, advice and counsel through his hard-hitting lyrics that were often punctuated with rich Shona proverbs.
"He had a message for everyone in all his compositions. In fact, apart from resilience, his other biggest strength was his choice of messages. The way he composed his songs was unique. Many artists struggle in that regard.
"I believe the way he conducted his work should be a big lesson for upcoming artists. Meaningful messages will win you hearts. At the same time, they should continue working hard and impacting people's lives."
Although Daisy has stayed away from the studio since the demise of her husband, she still continues to run Pakare Paye Arts Centre as a way of celebrating him every day.
The arts facility was so dear to Dr Tuku and is also part of his rich legacy.
With the strong bond that the music 'power couple' shared, Daisy seems to be managing to cope with the loss.
The two had been married for more than 40 years and would spend most of their time together.
She feels their relationship stood the test of time because they had learnt to respect each other in their respective workplaces.
"I understood his job and learnt that we needed to rely largely on trust. A lot of negative stuff would be said and written about him but it never affected or tore us apart because we were best friends.
"At home we would talk about some of the incidents and laugh. He taught me to act as if nothing happened around us and that lesson stuck with me to this day.
"We did not have a lot of money but we always tried to make each other happy, we planned and budgeted towards our projects together and this is something I wish youngsters could learn from."