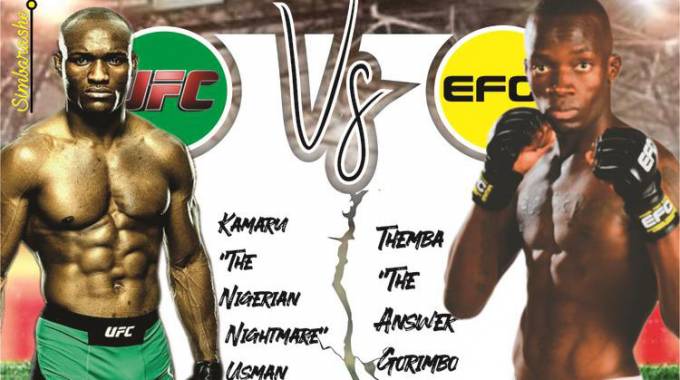 The Sunday Mail
Tinashe Kusema
Deputy Sports Editor
The seeds of a dream match pitting the two biggest welterweight champions of mixed martial arts, and the two biggest mixed martial arts companies, have been sowed.
Ultimate Fighting Championship (UFC) goes up against Extreme Fighting Championship (EFC).
In this fight, Africans are going against each other. Zimbabwean EFC welterweight champion Themba "The Answer" Gorimbo has called out his compatriot at the UFC, Kumaru "The Nigerian Nightmare" Usman.
Gorimbo, the transgressor in this potential feud, is a lot of things to a lot of people.
The defending EFC welterweight champion is a winner and a hard worker (both his words).
Just last week, he was crowned the 2019 Annual National Sports Awards (Ansa) Sports- person of the Year.
And the 28-year-old is not short on confidence. The Masvingo-born mixed martial artist underlined his confidence in his victory speech shortly after winning the coveted Ansa Sportsman and Sportsperson of the Year awards. "I feel normal, it's normal. I knew I was going to win. "I'm a winner, I win, and I knew I was going to win," said Gorimbo.
"I work hard and I'm going to work extra hard because success is good and it motivates me to do much more.
"I want to feel like this forever," he said.
The man who goes by the moniker "The Answer" did not mince his words about his desire to break into the UFC and fight Usman.
His message to Kumaru — "Keep my belt warm for me."
"Recognition (Ansa win) is fine and dandy, but I am here to inspire people. I don't care about being recognised and stuff like that," said Gorimbo. "Don't get me wrong, it's good and it's a great feeling today, but tomorrow morning I'm telling my people that we need to go back to our base (South Africa) and start training for bigger and better things to come," he said.
Having already been turned down by the UFC late last year, Gorimbo has not given up on that dream yet.
"I have a huge chip on my shoulder, that is why I work so hard. "I was supposed to go to the UFC in December last year, but they opted for a Korean guy. "My goal for now is to defend my EFC welterweight title, beat every opponent that comes my way. "UFC know about me and after this fight (next title defence), they can't deny me. "They will have to take me," he said.
"End of next year, I will be a UFC champion," said Gorimbo.
"Kamaru Usman and l will fight in the mother city, Cape Town, and I can tell you how it is going to go.
"I am going to knock out my challenger for this title. After that I will go on to the UFC and beat whoever they give me.
"The second fight will be a short notice fight and I will beat a top 10 guy. Maybe then they will start to notice and believe that I am the real deal. "They will likely feed me another top 10 guy, who I will beat, and then they will give me the fight I want."
Gorimbo also directed his ire at the UFC champion. "He is the UFC champion, the welterweight champion and the guy I have my eyes set on but he is not the end goal.
"l wish him well in the time being. I hope he keeps winning because I want to be the one that takes that title from him.
"It's going to be a good fight, a spectacle even, seeing a real African going against another 'African'. He was born in Africa, yes, but he doesn't live here. He doesn't know what it's like to survive in Africa, he doesn't know the struggle.
" I respect what he has accomplished as a fighter, I understand that, but he doesn't really know what it's like to be here in Africa, struggling every day, sponsoring yourself, driving yourself and doing whatever it takes to make it.
"I don't know what it's like there in America, but I know it's harder for a true African to make it. I am one of the biggest fighters in Africa, but I was denied a chance by the UFC. So it's harder when you come from this continent. For the other guys out there, it only takes four fights to get the UFC's attention, here you have go on forever to get their attention.
'I will get there soon and force them to take notice," he said.