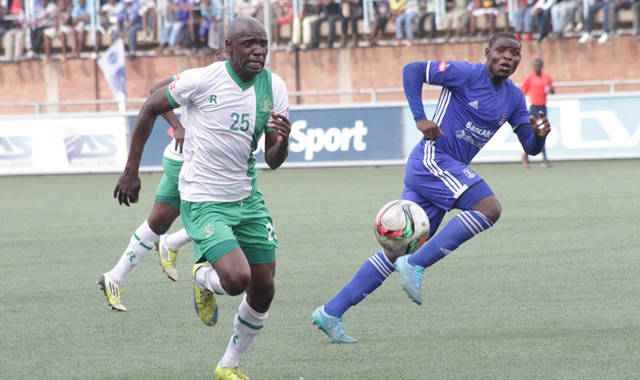 The Sunday Mail
Langton Nyakwenda
Sports Reporter
HOW time flies!
The last time CAPS United and Dynamos squared up in a Premier Soccer League derby was exactly 893 days ago, just before Covid-19 reached these shores.
Makepekepe were chasing the league title while DeMbare were battling relegation.
The Green Machine maintained a two-point lead at the top of the log standings over their nearest rivals FC Platinum with just two games of the season left after edging Dynamos 1-0 at the National Sports Stadium on November 24, 2019.
But they were eventually pipped to the title by FC Platinum on a dramatic last day of the season.
In the five matches leading up to the 2019 derby, CAPS United had amassed five points after winning once, drawing twice and losing twice.
This time they enter the battlefield on the back of five straight defeats.
Back then, before the epic encounter, Dynamos had only managed nine draws and a single win.
DeMbare eventually finished the season ninth with 44 points, just four above the drop zone.
This time they go into the derby in better form, having won six and drawn three in their last 10 league assignments.
DeMbare have 31 points and enjoy a 14-point lead over CAPS United going into the last match before the mid-season break.
Today's derby, which will be broadcast live on ZTN Prime, is crying out for main actors and heroes — not villains — as the two giants go into the crucial fixture battling their own demons.
Many fans are sceptical on whether or not the derby will live up to its billing given CAPS United and Dynamos' recent form.
Off-field challenges at both clubs have clouded what ordinarily is supposed to be a blockbuster match.
Financially crippled CAPS United have mastered the art of keeping their opponents guessing whether or not they will fulfil their fixture.  Dynamos, on their part, rocked their ship two weeks ago when the club's executive suspended coach Tonderai Ndiraya for alleged insubordination.
He was later reinstated less than 48 hours before a goalless draw against Herentals last Sunday.
"A lot happened last week, which I really don't want to dwell on, but, naturally, when such things happen, the whole system tends to be affected psychologically, so there was a lot of psychological effect on the team," Ndiraya revealed.
Firing blanks
DeMbare also have another thing to worry about: Their strikers have not been scoring.
Of the 17 goals that Dynamos have scored in 15 matches, only one has come from an out- and-out striker – Alex Orotomal – and yet they have five or so gunmen in their team.
DeMbare's leading scorer Emmanuel Paga (five goals) has been used as a midfielder, while Bill Antonio, who has three goals to his name, is a winger.
Another attacking linkman, King Nadolo, and box-to-box midfielder Shadreck Nyahwa have two goals each.
Martin Ofori, Ralph Kawondera, Brandon Mpofu and centre-back Frank Makarati have scored a goal each.
DeMbare have fired blanks in their last two matches.
They are win-less in three outings, including the abandoned match against Highlanders.
And Ndiraya is naturally worried.
"We are travelling our own journey and that journey has so much competition, but we want to get back to winning ways.
"It has been two games without scoring a goal and we have been working on those areas, especially the forwards," he said.
"We have also been working on the midfield to try and get some goals from that department, so hopefully on Sunday we can score goals for us to win the match. If you want to win a match, you have to score."
A long dry spell has also hit CAPS United, who have failed to find the back of the net in their last four matches.
They are also on a five-game losing streak.
However, as has often been the case ahead of the derby, there was a buzz at CAPS United training during the week as their unpaid players displayed some surprising zeal.
Coach Lloyd Chitembwe actually thinks the crisis at his club has been "exaggerated".
"I think there are a lot of good things I have observed in these players.
"We have gone through a hell of a phase. You can't really blame anyone within the football club but we tend to exaggerate some of these things," he said.
Chitembwe, a veteran of many derbies during his CAPS United playing days, is demanding the right mentality from his players.
"It's important to focus on the game … If you go and play without courage and you play without the right kind of personality, I am sure you will personally struggle."
In Phineas Bamusi, Valentine Musaruwa, Marshal Machazane, Kelvin Bulaji, Tonderai Mateyaunga and Devon Chafa, CAPS United have players with experience in this fixture.
Interestingly, Chafa, who has played for both CAPS United and Dynamos, has never lost a derby match.
Dynamos can count on skipper Partson Jaure, Emmanuel Jalai, Godknows Murwira, Evans Katema and King Nadolo, who have experienced the derby environment before.
But, DeMbare goalkeeper Taimon Mvula, Frank Makarati, Albert Eonde, Trevor Mavhunga, Sylvester Appiah, Keith Murera, Brandon Mpofu, Issa Sadiki, Ralph Kawondera, Paga, Orotomal and Nyahwa will taste the derby for the first time.
Added Ndiraya: "We have got a lot of new players who have come from other teams. We have tried to explain to them the importance of this fixture and what it brings to us as a club.
"But telling them is one thing, experiencing it is another. We hope that they will be up for it. These are the sort of fixtures that can make or break a player. We have been telling them that."
He said CAPS would not want to lose to Dynamos.
"We are preparing with all that in mind; we are not taking any chances. We just have to get into that game fully prepared for a CAPS United which is really going to come at us."
CAPS United will also bank on recent history. They have won three of the last five derbies, Dynamos have one win and the other match ended in stalemate.
DeMbare go into this fixture trailing log leaders Chicken Inn by a point, with the Gamecocks set for a tricky encounter against Triangle at Gibbo Stadium this afternoon.
Fixtures
Highlanders v Harare City (Barbourfields)
CAPS United v Dynamos (National Sports Stadium)
Manica Diamonds v Tenax (Sakubva)
Triangle v Chicken Inn (Gibbo)
WhaWha v Ngezi Platinum (Ascot)