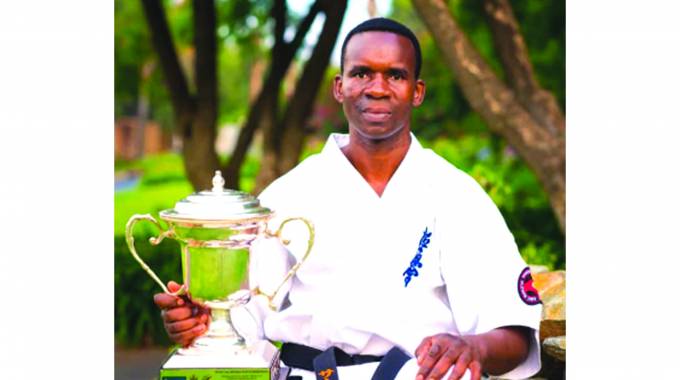 The Sunday Mail
Tinashe Kusema
IF he was to retire today, Shihan Samson Muripo would stand unrivalled at the top of his chosen profession.
The Fifth Dan black belt maestro would probably also find a place in the country's top sportsmen and women.
But, the 41-year-old, who recently dropped his Mixed Martial Arts dream in order to prolong his Kyokushin career, still has plenty of gas in his tank.
His recent conquest in Russia was yet another accomplishment to add to his already colourful martial arts resume and trophy cabinet.
He is already looking forward to next year's So-Kyokushin World Championships in Japan.
"The trajectory is well on course, we are headed in the right direction.
"Whether you are in the gym, doing bag work-outs or specified drills, karate tournament training varies from technical to strength and conditioning. Competitive action really helps.
"The Russia tournament was tough, probably the toughest tournament I have ever participated in. I'm glad that I was able to compete and win.
"Between now and the Japan tournament next year, there is one or two more tournaments, specifically the Iran International. I hope to compete and win there too," Muripo said.
In as far as this Russian meet is concerned, it's almost ironic that Muripo's latest world title triumph would come now.
The win marks 10 years since Muripo won his first world title.
lt has also been a decade since our paths crossed.
His modest office, located at the heart of his Raylton dojo, was the scene of our very first interview, back in the summer of 2009.
Muripo had just become the first World Champion from Africa.
Modesty is indeed a virtue.
Despite all the success, accolades, medals and titles, Muripo remains modest.
Following his latest win, the karateka retorted to my congratulatory message with a simple "thank you" or "OSU" as he puts it.
"I don't really put much thought into things like these (anniversary of first world title), there have been many wins and accomplishments during that ten-year spell.
"I am happy that I managed to win, but I view it more as a continuation of my karate journey.
Muripo is such a great character.
It is his sheer determination and spirit that separates him from his contemporaries in both martial arts and other sports.
He has also had a year of mixed fortunes. His Chimanimani birthplace was ravaged by Cyclone Idai, thereby forcing him to put a halt on both his training and fighting.
On the eve of his comeback fight, Muripo then lost his father Silas Muchandireka, a development that could break even the strongest of men. But, Muripo managed to come out of that dark tunnel a world champion.
"This certainly was one of the toughest tournaments I have ever competed in.
I almost failed to take part in the tournament and even lost about six kilograms before the weigh-in.
"I think l arrived in Russia on a Friday. It took some bit of time to leave the airport and then check into our hotel.
"I decided to go to the gym late that same night.
"I then saw the messages from home, that my dad had passed on.
"I wanted to return, but then discovered that the burial was on Sunday, I would only arrive here early Monday morning.
After a short chat with my coach, I decided to compete and dedicate every fight to my father," he said.
Muripo, like he does in his everyday life, sought solace and comfort from the Bible and the life lessons from his late father.
"He was a great man, he taught me a lot of life lessons.
"I get my work ethic and fighting skills from him, he was a (boxing) fighter in his own right.
"I also seek comfort from the Bible, I am a very spiritual man.
"It is my philosophy that if one is not stronger than me spiritually, then they have already lost the battle.
All battles are won in the mind," he said.