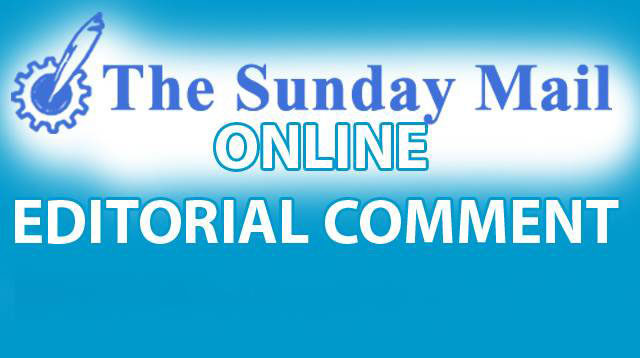 The Sunday Mail
The anti-corruption drive in this country has taken a more definitive trajectory that should see the vice visibly diminishing if the stance taken by the new Zimbabwe Anti-Corruption Commission Chairperson Justice Loice Matanda-Moyo is anything to go by.
Arresting powers have given the institution the muscle required to ensure corrupt cases are dealt with more decisively.
President Mnangagwa has on innumerable instances spoken strongly against corruption, a cancer that has stifled efforts to turnaround the economy.
This country loses millions of dollars annually to corruption, while some investors have failed to come into our space because they have been asked to pay huge bribes to have their projects approved.
In other instances tenders are corruptly allocated compromising implementation and delivery in terms of quality and time.
These and other malpractices have continued to haunt the economy.
Furthermore, the auditor-general's report released recently, is pregnant with instances where institutions and individuals have compromised performance by Government and other public institutions due to poor adherence to corporate governance tenets and other malpractices.
Its a potpourri of issues set to unravel earth-shattering details of how the country has been prejudiced.
Zimbabwe definitely needs such a cleansing exercise to rid the system of individuals and processes meant to destroy where others are building.
The ZACC chairperson has come out guns blazing, insisting she will stop at nothing until perpetrators of corruption are dealt with decisively.
And she says she knows no barrier, even the high profile cases that were previously a no go area will be unravelled this time around.
Her tone and posture says it all. Those that have been sitting comfortably all along despite the skeletons in their cupboards must understand that they now find themselves on quick sand.
The Ides of July are come, to put it in Shakespearean lingua as captured in one of his book; Julius Caesar.
Its not so much the identity of the perpetrators but we are persuaded by the impact the drive will conceivably have on eradicating the corrosive practice.
Fighting corruption is no longer just mere talk or politicking but its commendable that we now see tangible strides to deal with the rot, underlining Government's resolve to deal with this affliction.
A study by the African Union reveals that Africa loses about $150 billion through corruption, depicting the gravity of the situation.
The changes announced in an Extra Ordinary Government Gazette published a fortnight ago through Statutory Instrument 143 of 2019 enables Zacc officers, as peace officers, to arrest perpetrators.
This adds on to the special powers they have to fight corruption.
This has accorded the officers more teeth.
Before the new promulgations, ZACC could only make recommendations for the police to arrest those caught on the wrong side of the law.
Therefore, we now expect ZACC to do more, emboldened by their new status.
Already they have begun auspiciously.
"We are already seized with the NSSA issue. I am happy to report that we do have the forensic report at ZACC. We are going through the report and arrests will be made arising from that report. Arrests will happen, its certain that people will be arrested," said Justice Matanda-Moyo last week.
That's the spirit!
Lets not relent in this fight.
Elsewhere in this paper we carry an interview in which she said that the Commission is not adequately resourced.
We sincerely hope that the issue will be resolved soon.
We are heartened by the fact Justice Matanda-Moyo has said the limitations will not stop her from doing that which she is mandated to.
She is also studying the AG report so she can pursue cases contained therein.
Indeed it is also our responsibility as Zimbabweans to join hands with the Government and its arms to fight the rot.