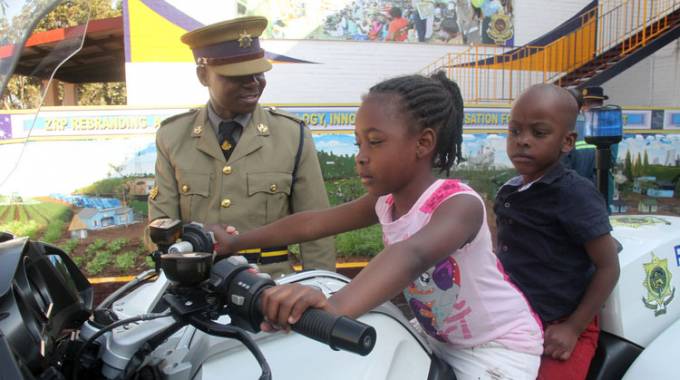 The Sunday Mail
Emmanuel Kafe
MIXING business and pleasure often creates bad results.
However, good results are achieved when this is done at the Zimbabwe Agricultural Show.
Young and old show-goers, entertainers, business executives, entrepreneurs, farmers and other professionals last week converged for the 109th edition of the ZAS, formerly the Harare Agricultural Show.
Thousands streamed into the Exhibition Park —  the traditional venue of ZAS — for the week long event that started on Monday last week and ended yesterday.
At least 530 exhibitors participated at this year's show. Away from business, show-goers were entertained by several artistes, drum majorettes, road shows, fireworks, police, prisons and military displays as well as livestock parades.
The first days of the agricultural show were a bit on the low side. However, the tempo improved as the weekend drew closer.
The Zimbabwe Defence Forces stand was one of the popular ones as people were interested in getting to know the weapons that were on display. The army tracking section and war survival strategies were particularly popular.
Children were mesmerised by drum majorettes, horse races and the animals at the ZimParks stand.
Show-goers who spoke to The Sunday Mail Society said they were impressed by most exhibitors. Tyllom Mutsaka, who had accompanied her four children to the show, said this year's edition was refreshing.
"I came with all my children so that they could refresh and network with other children," she said.
One child said: "We had great fun at the jumping castles and I also had an opportunity to ride horses."
Parents interviewed said the show allows their children to appreciate rural settings.
"At the show, my kids get to see cattle, goats and many other domestic animals. I haven't been to my rural home in a very long time so this event allows my kids to see domestic animals. We also cannot afford to visit local tourism destinations, hence the ZimParks stand is a must attend for us," said Mai Kupakwashe from Mbare.
The show also presented a platform for show-goers to see their favourite artistes performing live.
"I haves never taken my girlfriend out for live gigs. It is only during such times that we get to spend quality time together and enjoy live music," said Panganai Mututu.
Despite the prevailing economic challenges, most exhibitors said they enjoyed business.
Skynet Technologies marketing manager Mr Munyaradzi Tembo said, in terms of business opportunities, this year's edition was better when compared to the previous edition.
"Normally, very few people visit the stands on the first day but business increased mid-week. It has been a good week," he said.
The farmers interviewed said more people were keen to know about livestock, especially rabbits and roadrunners.
"A lot of people promised to contact me, they are interested in my rabbits. Business was fair despite the challenges that people are facing," said Mr Manford Garwe.
The Zimbabwe Agricultural show was running under the theme 'Technology, Innovation, Modernisation; Adopt, Accentuate, Accelerate.'
The Zimbabwe Agricultural Society organises the annual show to promote economic development by linking various stakeholders to each other and their existing and potential markets.
The organisers re-branded the annual agricultural exhibition as part of efforts to create a national outlook for the show.