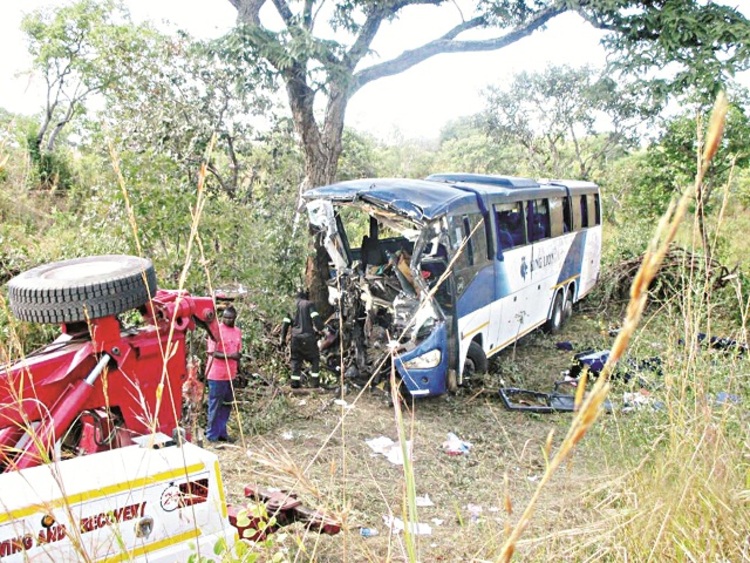 The Sunday Mail
Levi Mukarati and Desire Ncube
He was a teetotaller, a fact that rules out the possibility of the effects of alcohol in the accident.
Born into a Catholic family, he was baptised at birth and tried his best to follow Vatican prescribed traditions and rites for 40 years.
In the last five years, the man converted to an apostolic sect – Kuwadzana – assuming the title "Madzibaba" or "Muvhangeri".
At Kudzanai Bus Terminus in Gweru, he was known as an avid Chelsea and Dynamos fan, and often imitated comedian Sabhuku Vharazipi. Close associates describe him as an open person and a softie who would not hurt a fly.
But today many people pin the deaths of 43 people on him.
These are the 43 passengers who died when the bus he was driving crashed in early June in Nyamakate, Karoi in Mashonaland East province.
But who exactly was the man behind the steering wheel of the Zambia-bound bus?
His name is Jimson Ruzvidzo from Gweru.
The driver was behind the steering wheel of King Lion bus registration number ADC 2095 since 2014. It was this same bus that took his life and the lives of 43 others, leaving over 30 with varying injuries.
The Sunday Mail travelled to Gweru, Ascot Extension where the late Mr Ruzvidzo had moved upon completion of his five-roomed house in which he lived for just 37 days before he died.
The house is yet to be fully furnished with his wife Joyce Ruzvidzo revealing that her husband intended to buy a lounge suite in Zambia during the trip that was to turn out to be his last.
"My husband also had plans for life," narrates Mrs Ruzvidzo in an emotionally charged interview last week. The couple had been married for 21 years.
With tears building, Mrs Ruzvidzo adds: "He was a loving and God-fearing man. Our children were named in a manner that bears testimony to our beliefs."
The children are named Chidochaishe (19), Tinodaishe (14), Tanatswa (12) and Tinomutenda (6).
Silas Chakwanda, who once worked with Mr Ruzvidzo, also does not understand what could have happened on June 7, vowing that his colleague was not a speed fanatic.
"We had cases of passengers who were confident in Ruzvidzo's driving and would reschedule their trip if he was off duty," claims Chakwanda.
Mr Ruzvidzo had almost 22 years driving experience.
Born in Kadoma's Donain rural area some 45 years ago, the man was an accountant who worked for several years at Red Star in Bulawayo before venturing into full-time driving in the late 1990s.
He drove haulage trucks and buses for Power Liner, J and J Transport, Chawatama Buses, Unki Mine and King Lion.
"Unlike what some public transport drivers are known for – philandering – Ruzvidzo was well-reserved in that area," adds Chakwanda.
Ruzvidzo had his brushes with the law.
He was arrested in 2013 at Beitbridge Border Post on accusations of trying to bring into Zimbabwe a Mercedes-Benz minibus with fittings and accessories worth R236 375 he had not declared.
He was working for Unki Mine at that time and had been dispatched to collect the company minibus.
Ruzvidzo told the court his employer had not told him that the minibus would come fitted with seats, window panes, fire extinguishers, parcel shelves, a radio and other accessories.
The case was still before the courts after Ruzvidzo challenged a ruling for him to pay US$450 or spend 120 days in prison.
"He was so hurt by the incident that he quit his job as a driver at Unki Mine," narrates Mrs Ruzvidzo.
"My husband continued to fight against the sentence saying he did not want his name associated with any criminal activities."
But some survivors of the accident think of him differently, and say he was speeding and thus caused the crash.