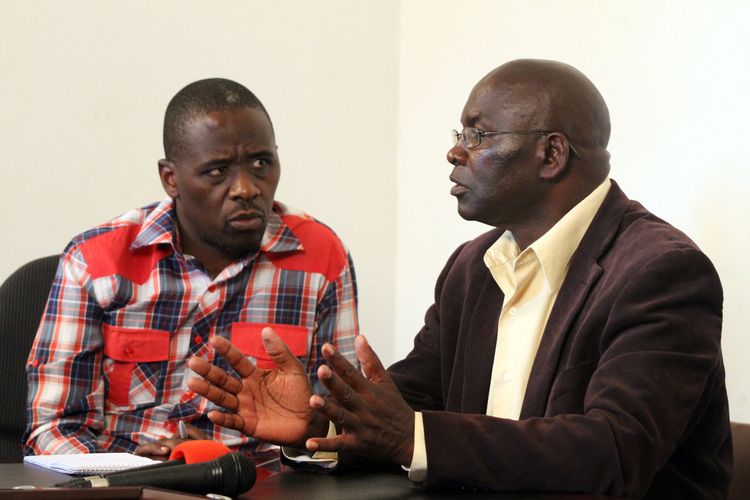 The Sunday Mail
Comrade Midson Gomba Mupasu born on March 6 1942, whose Chimurenga name was Cde Norman Bethune does not mince his words when speaking. He is your typical hardcore commander, but then he has this soft side that seems to compensate for his raw cash-talk.
Cde Bethune, a hugely popular figure during the liberation struggle, was the Commander at Chimoio Camp when it was attacked by Ian Smith's ruthless forces in 1977. The spirit mediums who were staying at one of the bases at the camp had warned Cde Bethune of the impending massacre and some people have been accusing this commander of failing to do anything to save people from being mercilessly slaughtered by the Rhodesian soldiers.
Now, for the first time, Cde Bethune opens up about what happened before, during and after the attack. In this interview with our team comprising Munyaradzi Huni and Tendai Manzvanzvike, Cde Bethune indeed agrees that he was warned of the impending attacks, he talks about the arrangements he put in place in preparation for the attack, he talks about how Cde Rex Nhongo (Cde Solomon Mujuru) his immediate boss gave him a cold shoulder after he told him of the warning and he talks about how the bombing started lasting some five hours.
In a true movie style, Cde Bethune narrates how Cde Peter Baya, the commander of Chimoio Camp before him, walked out of the massacre without a scratch carrying a little baby on his back.
Read on …
***

SM: Cde Bethune, a lot has been said about the massacre at Chimoio Camp by the Rhodesians and over the years, you have chosen to remain silent. Now comrade, can you tell us of the events that happened before the Chimoio attack?
Cde Bethune: Before the attack happened on November 23 1977, I remember it was on a Thursday quite a number of things happened. In August, some comrades who were on patrol picked up a pangolin and they brought it to me. This patrol was meant for the comrades to be on the lookout for the enemy at any given time and this was a daily routine.
So on this day in August 1977, these comrades picked up this pangolin. This is a very rare animal and haingowonekwi wonekwi. These comrades brought this pangolin and showed me at the camp. This pangolin yairatidza kuti yaigara paiva nered soil. After showing me, I told the comrades kuti vaendesa haka iyi kwaiva nana Sekuru kuPasichigare camp. Kwaiva nana Sekuru Chipfeni, Chidyamauyu and Chiodzamamera and other comrades vaibudirwa nemudzimu yenyika.
When they got to this camp yana Sekuru, one of the comrades vaya vandati vaibudirwa, mumwe wacho akabudirwa nemudzimu ukataura kuti zvandabudira imhuka iyi iri pamberi pedu iyi. Chiratidzo chiripo ndechekuti kunongwa kwayaitwa, yanga yakatarisa kuno kuCamp. Izvi zvichireva kuti kwayanga yakaisa muswe wayo, ndiko kuchazouya nevarungu vatiri kuona kuti vane hurongwa hwekuda kuuya pano. Kana vazosimbaradza pfungwa iyoyi, tichazenge tichikuudzai. Asi haka iyi, inofanirwa kuzopuwa vakuru venzvimbo ino. Vachireva kuti kudivi reMozambique nharaunda yeChimoio yaiva nachief wataifanirwa kuzopa haka iyi. Taiva nasabhuku wataishanda naye for all our rituals in the area.
This pangolin was put in a sack and the comrades put it in a makeshift cage made up of mesh wire. The next morning, that pangolin was nowhere to be found. Yakanga yabuda mucage yaenda.
SM: Was this a bad sign or what?
Cde Bethune: Still in that August, vana Sekuru sent some of the comrades to call me. I went and for the second time, I was given shoko repiri rekuti tirikuona pfungwa iya yatakambotaura, varungu varikuda kuuya pano apa and pfungwa iyoyo vazoisimbaradza.
I said aiwa vana Sekuru tazvinzwa asi nemiwo moramba makati muchitirangaridza nguva yamunofunga kuti vangauye.
On this day, Cde Rex Nhongo was around and as my immediate senior, I advised him of this message from vana Sekuru. Cde Rex didn't say anything to me and I didn't think much about it because I had told him the message as my senior.
I went back and continued with my duties, hoping that after giving what I had told him much thought maybe, Cde Rex would tell me something to do. He never said anything about this issue again.
In September, I sat down with my leadership at Chimoio and I told them kuti ndiyo nyaya yava pamusha uno varungu varikuuya pano zvataurwa nemudzimu yedu yenyika. Ini ndakati handina kushora kwandingaite mudzimu kana yabuda ichitaura maringe neramangwa nezvinogona kuzoitika.
I told them that I am just advising you of the decision that we will take on the people we have here, especially those vasina pfuti and those vasina military training. I said we should go outside this area to survey places to hide on the northern or eastern parts of Chimoio camp as a whole. People were supposed to go to these places for cover.
But I said the comrades who were under training would not go anywhere because they were receiving theory in military training and if the real war comes, we will allocate them positions on our defence lines so that they can get practical experience of the war.
So Cde Chocha and his team of instructors who were seasoned fighters, some who had been to the war front, I deployed them on our defence line.
Let me repeat, this arrangement was for the trained instructors and those who were receiving military training. These were the few people who had guns. I think about 2 000 in total. All those who didn't have guns, were supposed to go kucover.
I went further and specified that between 5am and 6:30am, all those with no guns should vacate their different camps and go to these hideout areas. These hideouts were a distance of about 2km from Chimoio camp. There was a thick forest on the eastern and northern side. This meant hapana munhu akanga achagara in Chimoio camp, except the instructors and those who were on training.
Also in September, we started clearing all our important and secret documents to do with the war or the party. We had a place which we used to call a typing pool office where there were people like Cde Chamu (Cde Oppah Muchinguri), Cde Endy and a few others. I told them to pack all their belongs and documents. We had special bags, trunks and suitcases that were meant to keep these documents. We had found a place for them KuMudzingadzi, that area kwaiitwa production. This was about 15km from Chimoio camp.
The only thing that we were not able to move was beans dzinonzi ndodzi, tubeans twakaoma so twaiita kunge soya beans tuchena. We had almost 20 tonnes of this beans in our warehouse at Chimoio. Hondo yakazouya tisati tawana nzvimbo yekudziisa. When the camp was bombed, that warehouse was destroyed dzikabata moto. Some people say dzakaita about two years dzichitsva.
SM: Was there a warning from vadzimu a few days before the attack?
Cde Bethune: There was no further warning because they had already indicated that shiri dzevasina mabvi dziri kuuya pano.
I also need to tell you that by this time we now had anti-air machine guns and we had put them on strategic positions on nearby mountains. We had five anti-air machine guns and very few people in the camp knew about these for security reasons.
In August and September, there was a spotter plane which was written Red Cross, but we later discovered it was not a Red Cross plane. It was a Rhodesian spotter plane. When we informed our fellow colleagues in Frelimo and the Mozambican government about this plane, they were not convinced about what we were saying.
This plane would on a daily basis and at around 10am fly over Chimoio camp and we notified our fellow comrades that we were suspecting the Rhodesians who were using the plane to take aerial pictures about the camp under the guise of Red Cross.
The Mozambicans didn't take us serious. They thought indeed, this was a Red Cross plane. On the day of the bombing, we didn't see this plane, but for the past three to four months, flying over Chimoio was its daily routine at 10am.
SM: Let's assume it was Red Cross, was it a standard thing for its plane to fly like that?
Cde Bethune: No it wasn't and that's why we alerted the Frelimo government. However, we didn't get any satisfactory response as they were insisting that it was a Red Cross plane. After seeing this, we were now concentrating with patrols around the camp. By the way, before this plane started flying over us, there was an attempt by some three Rhodesian agents who came as close as one of the mountains on the west of Chimoio camp. My comrades saw them and they tracked them. Along the way, my comrades discovered three drums of Jet A1 fuel.
So I was convinced that the Rhodesians were coming and it was only a matter of time. Our policy when faced with such a situation was never to vacate the area before any attack.
SM: We still don't understand the silence from Cde Rex?
Cde Bethune: He never said a thing. Kuti nditi did he believe it or not I really don't know. Even his silence, iye ndiye anoziva why akanyarara. As a commander I notified him as my immediate senior. If he wanted us to do anything I was waiting for his orders. However, he didn't say anything.
SM: We have so many questions at this point but we want your narration to flow smoothly. So take us through what happened on the day of the attack. We will ask most of the questions later.
Cde Bethune: I woke up at 5am because I had my watch set. So my alarm yewatch rang and I woke up. I dressed up and got my gun nebhandiriya rangu then ndoita arm sling my AK around my shoulder.
I first went to what we used to call Chitepo college. Ndichisvika ndichiti wake up, wake up everybody! Wake up and get out! Wake up! Go to your positions now. So people started trickling out.
I then went pahospital where we kept injured comrades who could walk. However, kwakazoita I think three or four vakazowanikidzwa vachinzi they had severe malaria.
KuChaminuka there were not many people there because the entire team was busy investigating some comrades. So the few comrades who were there vakabuda ndaendako.
Then kuvana vechikoro, kuChindunduma that's where there was a big problem because vakanonoka kubuda. When I left them vakaita as if vava kubuda then I left. I then went kuNehanda because it was close to Chindunduma.
When I got kuNehanda, ndakapenga futi. Some of the comrades were dead asleep and I said 'makavata zvenyu, saka munozogona here kusvika to your hideout positions? Wake up monovata ikoko?
After this I came back to my position at the HQ. I didn't go to Pasichigare 1 and Pasichigare 2 because I knew that ana Cde Murehwa listened to my orders in terms of kubuda out of their base in time plus vanga vari vashoma. It was still a bit dark.
When I got to HQ, ndakapopotera wataiti Cde Chombo who was a senior cook aibikira Cde Mugabe (President Mugabe) Ndakati 'Cde Chimbo komuchiri kuitei pano? Vanhu venyu vachozobuda nguvai muno muCamp.
Handina kuzoita muromo wechipiri, ndichitaura navo. Ndakangoshevedezera kuti ahhh, varungu vauya ndege idzi. The planes were coming from the western direction. Dzichingobuda above chikomo in that direction, each plane took direction of the targets it was supposed to hit.
From a distance, I could see there were dakota planes that were dropping parachutes of Rhodesian soldiers. On the other hand, some helicopters came and encircled the whole camp. Our defence line that was up the mountains with anti air was hit during this first round with other planes dropping bombs right into the camp. The helicopters unleashed their machine guns.
So as for me, the plane that had been given the target to hit the HQ, the fragments of its first bomb ndiwo akandikuvadza. I was standing as I was talking to Cde Chombo. I actually saw the plane releasing the bombs that were meant to hit the HQ.
After being hit by the fragment, I fell down and started becoming dizzy. Then I said no I should resist this dizziness. By this time, the entire camp was now under heavy bombardment.
I was not sure kuti vanhu kwandakanga ndabva vakazosara vobuda here, I didn't know.
The sound of the bombing and the sound of the machine guns from the helicopters actually awoken some people.
So there was serious confusion and in that confusion, instead of rushing out of the camp many people rushed coming to the centre of the camp. What they didn't know was that they were being encircled. Those helicopters aitinhira vanhu inside the camp in a circle formation.
Pakati pecamp paiita sepane kamunda so there was some open space but kwaigara vanhu there were think forests. So noise yendege and the gunfire, many were drawn to centre of the camp but some vakabuda vachitiza kunze. Those who came towards the centre of the camp were the victims.
Then the ground force came from the western and the eastern south around Chaminuka and kuhospital, kuParirenyatwa and kuChitepo college. Percy Ntini was actually left outside the attacking radius.
The Rhodesian infantry also advanced towards Takawira one and people from these bases failed to escape to their hideouts. Vamwe tried kutevedza kuright kwegomo but there was also a ground force coming from that direction.
This ground force was waiting for the comrades who were trying to escape or those who were injured. They finished them off.
The sporadic bombing mukati mecamp, the heavy sound caused people to panic and run in all directions. So the ground force killed people while advancing to their gathering point at the HQ.
SM: Where were you by this time?
Cde Bethune: One of the fragments up to this day, if you count rib one, two, three and three, its lodged between rib four and rib five. That fragment wasn't removed because the doctors said its at a very delicate point.
I can even show you. You can touch and feel it. (he opened his shirt and even without touching him, one could see the protruding foreign body between his ribs)
So I fought the dizziness and gained some energy. I removed my shirt, which was cream and I stashed it into my open wound to try and stop the bleeding. I still feel the pain up to this day. Just below the ribs, where you see those clear marks, that's napalm. Ndakatsva padumbu apa but I had to survive like a commander.
Ndakafamba ndichimira, ndichifamba, ndichimira nemiti. I was wobbling to my defence line which was somewhere near the gate to the camp. I was losing too much blood and I was losing power. I then made a decision, yekuenda kunopinda mustream that was nearby. So ndakanopinda mugahwa racho. Ndakapinda muviri wese kusiya musoro mbichana.
But ndisati ndipinda ipapa, ndakatryer kubata umwe comrade who came rushing from my back but he overpowered me because I had lost too much blood. Chinondirwadza pana comrade iyeye, ndichizotevera, ndakamuona apfurwa mberi kwangu.
Then came another female comrade, she came running and anga asina kupfeka. She was only putting on a pant and bra. Ndakabata pant yake. She tried to resist ndikaramba ndakabata pant iyoyo. Takadonha tese pasi ndikati 'hauna kwauri kuenda. Uri kuenda kunopfurwa uko there are Rhodesian ground forces coming. Can't you see comrade atopfurwa uyo pane vatodarika nepano?
I saved that female comrade. Takapinda tese mugomba rinemvura I was talking about. Takagara imomo. Gomba iroro its there up to this day kuChimoio. Tiri mugomba umu, masoldier eRhodesia, vamwe vakafamba nemhiri yekarwizi aka negomba riya. We could actually see some of the soldiers walking towards Chitepo college. I said, 'uri kuona, wanga uchasvika kupi? Tichagara muno and havatione.'
They were looking for comrades who were running trying to escape. Hwangova hudhidhi, dhidhi, dhidhi! Dhidhi, dhidhi, dhidhi dhidhi. They were also setting dzimba dzese on fire. The whole HQ was brought to the ground.
SM: You were watching all this?
Cde Bethune: From where I was, I could not see but the sounds told me what was happening.
Now you remember, I told you that I took over as commander of Chimoio camp from Cde Peter Baya, who I said was getting old? He was there during this attack. So as soon as the attack started, vakatora mwana vakamubereka and started walking right in the middle of the road. This road was from Pasichigare and he started walking on this road looking very calm. He could see all what was happening but he kept walking vakabereka mwana uya.
He was looking like any other oldman. He walked past the HQ seeing all the destruction. He is the one who later narrated to us what he saw the Rhodesians doing.
He said 'ini ndakangoti I am a Mozambican ndiri kubva kunorapisa mwana.' So vakapona naizvozvo nemwana iyeye. Zvikanzi 'iwe mudhara iwe chibva pano, get away nekamwana kako.' That's how he walked out of the massacre without any scratch.
The Rhodesians vakazoungana paHQ around past one masikati. They briefed each other while bodies of comrades were lying all over. Others would walk around vachipedzisa those comrades vakanga vachiri kupfakanyika.
Can you imagine some of the black Rhodesian soldiers would see their relatives votobvunza kuti ko iwe mwana wekumusha wanga uchitsvagei pano? Some of the survivors told me these stories.
The bombardment and the subsequent massacre started around 7:45am and went on until past 12 noon — bombing, shooting and killing. I remained in my position with this female comrade all this time.
SM: Now comrade, as commander as you saw and hear the bombardment and shootings around the camp, what was going through your mind?
Cde Bethune: (pause) Zvakandirwadza. (Pause) uuummmm. I can't even explain it. There are no words to describe that.
What pained me even more was that I couldn't do anything because we were overpowered. The firepower was just too heavy, especially the bombing. Supremacy yavo was on air force and vakasakadza camp. If it was only ground force, taivarova and they knew it.
Vanga vakawanda apa were black Rhodesian soldiers and they killed fellow blacks zvisina tsitsi. Vaitofara kuti vahwina hondo even if they were killing vanhu who didn't have guns.
We continue this interview next week, where we will be taking Cde Bethune to task asking him tough questions why they didn't abandon Chimoio camp altogether and why he didn't call for reinforcements as he prepared for this attack.
Did Cde Bethune let his comrades down? Did the comrades let Cde Bethune down? Get your copy of The Sunday Mail next week for a no-holds barred question time with Commander Bethune.
Bases at Chimoio Camp and their commanders
Takawira One
Commander – Cde Chocha – now Commissioner of Police Cde Augustine Chihuri.
Takawira Two
Commander – Cde Martin Ndlovu now Commissioner Cde Kwainona.
Chaminuka
Commander – Cde Kenny Ridzai assisted by Cde Happy Mayeredza or John Mawema.
Chitepo College
Commander – Cde Muparuri working with Cde George Rutanhire and Mao Hurungudo
Parirenyatwa hospital
Commander – Cde Amos Ropa
Nehanda
Commander – Cde Teresa Mbune
Chindunduma
Commander – Cde Shebba Tavarwisa
Zvidozvevanhu
Commander – Cde Murehwa
Zvidozvevanhu Two
Commander – Cde Tumai Mombe
Pasichigare
Spirit mediums – Sekuru Chipfeni, Chidyamauyu and Chiodzamamera (machinda aifamba nehomwe yaMbuya Nehanda) and others vezvemweya.
Matopo
Commander – Cde Idi Amin
Sub HQ base
For administration – led by Cde Machoro.
Percy Ntini
Under Cde Bethune with assistance from any comrade he would choose at that particular time.
Mudzingadzi
For production – under Cde Bethune assisted by Cde Mandizvidza.
Osibisa
For preganat women – Cde Dadirai assisted by Cde Catherine Garanewako.
(Source – Cde Norman Bethune)