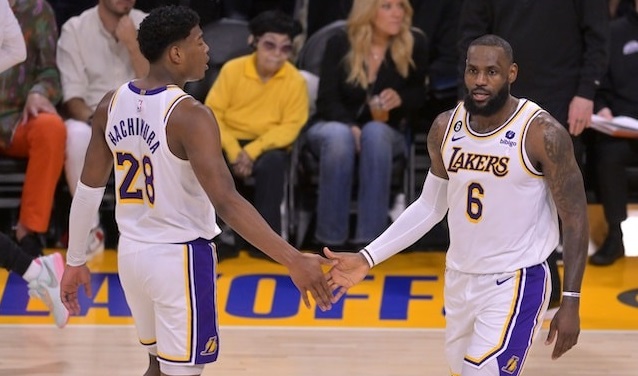 The Sunday Mail
 . . . LeBron preps for historic season like a rookie
THE Los Angeles Lakers' plan to help LeBron James extend his unprecedented prime into the 21st season of an illustrious career involves adding talent around him, not so much cutting his minutes.
"Bron, he does a great job taking care of himself," Lakers coach Darvin Ham said.
"The team that's around him now, the pieces that we have in place, those guys are going to step up and do a lot of heavy lifting early."
James, who will turn 39 in December, averaged 35,5 minutes per game last season, which was a tick down from the 37,2 minutes per game he logged in 2021-22.
However, it was still more than he played in any of his first three seasons with the Lakers.
Statistically, James was still impactful — averaging 28.9 points on 50 percent shooting with 8,3 rebounds and 6,8 assists —- but a torn tendon in his right foot caused him to miss 27 games.
While there has been little noticeable drop off in James' overall game since he signed with the Lakers, his body has betrayed him at times.
He has missed 111 games because of injury in the last five seasons after only missing 71 games in his first 15 years in the league.
Lakers' vice president of basketball operations and general manager Rob Pelinka praised James' off-season work ethic and mental approach following the Lakers' disappointing end to the postseason when they were swept out of the Western Conference finals by the Denver Nuggets.
"It's staggering for a player who has 20 years under the hood already and is preparing for 21 like he is a rookie," Pelinka said.
"He has been doing 6am workouts. He has probably been in our building as much as any player this offseason.
"Bron has been in the weight room as much as any player.
"Any team that LeBron has played for, it's been pretty uniform that his work sets the tone.
"There has been nothing but an increase in seeing that here. To me, it's let's be about it, let's not talk about it. He has definitely been about it this offseason," he said.
Pelinka kept last season's core together for the most part, securing contract extensions with Anthony Davis, Austin Reaves, D'Angelo Russell, Rui Hachimura and Jarred Vanderbilt.
The Lakers rounded out the rest of its roster with youth, athleticism and shooting ability, signing 27-year-old guard Gabe Vincent, 29-year-old forward Taurean Prince, 28-year-old big man Christian Wood, 23-year-old centre Jaxson Hayes and 24-year-old swingman Cam Reddish.
The Lakers also signed two rookies —  20-year-old Jalen Hood-Schifino out of Indiana and 21-year-old Maxwell Lewis out of Pepperdine.
"We have to partner with (James) to help him get all the way to the end (of the season healthy), because that's his goal," Pelinka said.
"I think adding the depth we have, the versatility, the shooting, all those things are going to help us manage that." — ESPN.