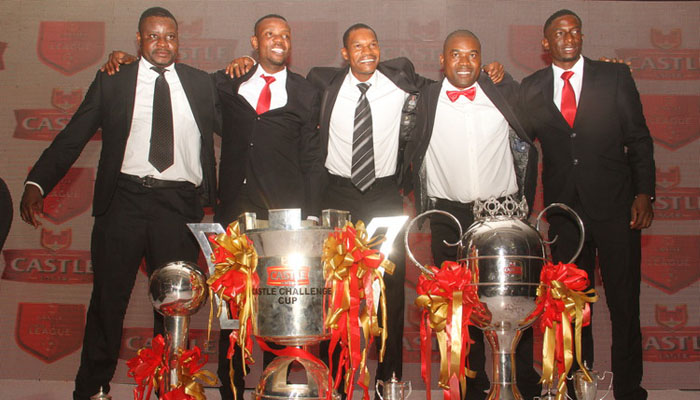 The Sunday Mail
Sir
18area.coms
FELLOW Zimbabweans may we take this opportunity to acknowledge the bravery of Chicken Inn coach Rahman Gumbo.
After doing that let's remind ourselves of the need to avoid repeating stale tales we believe are jokes each time we get an opportunity to speak.
And thirdly please parents, let's be considerate when we give our children names.
Devon Chafa nearly blew his head off when his Caps United teammates found the funny side of his name Taitamba, which loosely means we were fooling around.
Takanyariwa is Norman Mapeza's middle name and my gut tells me he had a tough time carrying such a name at school.
Anyway greetings and welcome to the 18-area.
In this new dispensation yours truly found himself at the Soccer Stars of the Year dinner for a maiden time on Friday night.
And without going into much detail, please allow me to hand over the worst dressed award to Chicken Inn coach Rahman Gumbo.
Dr Rush was dressed like a sungura artiste, a 90s sungura artiste.
You know how they used to do it before Tongai Moyo came onto the scene, right?
Gumbo wore a grey suit and his blue shirt blended well with it.
His shoes matched the suit, as they were grey.
However, the said shoes were trainers, the kind of shoes one would wear with tracksuits and not a formal suit.
Mixing a suit with trainers or sneakers is an abomination in the world of fashion and Gumbo must be awarded a bravery medal for daring to do that at such a great stage.
Dynamos coach Lloyd Mutasa raised the bar with his dressing during the just ended season but he looked like a circus artiste on Friday night.
His red bow tie was gigantic and left one guessing what the colour of his shirt was.
I loved the stage work and decor though, it was on point as were the masters of ceremonies Barry Mandandi and Mike Madoda.
I didn't see Charles Mabika though, his deep knowledge of Zimbabwean football would have come in handy at some point during the night.
But that does not mean Barry and Mike fluffed it, no, they nailed it with the former confirming his stock as the crowd tagged along when he signed out.
"That's my story and I am sticking to it. Manandi out!," said Barry as the crowd ate from the palm of his hand.
But before Manandi signed out, Kenias Mubaiwa gave the vote of thanks as the Premier Soccer League emergency committee's chairperson and the guy sounded like a broken record.
He repeated his "Catsol" joke for probably the 999th time over the last two years and the audience gave him a sympathetic giggle.
He didn't deserve any though.
It's a real dud but I will retell the joke, if it can be called one.
Jimmy walks into the bar and says barman give me "Castol" and give everyone a drink of their choice, I want everyone to drink when I drink.
The guzzlers in the bar are all excited and start shouting the blesser's name.
When Jimmy is about to leave he says 'barman give me my bill and give everyone their bill too. When I pay my bill everyone should settle their bills too.'
I felt sorry for Mubaiwa just like I felt sorry for the dozens of guests who had to scrounge for food.
After the VIPs had eaten, the food deteriorated in both quality and quantity so much that by the time I reached the serving point only rice, veggies and some funny looking fish were left.
There were promises of some extra chicken but it never came and I never bothered to ask why.
Unlike some I wasn't there for the food.
Then Elvis Chipezeze looked like a member of Alvin and the Chipmunks with his haircut.
It was difficult to tell whether the applause Chipezeze got as he collected the Goalkeeper of the Year award was in recognition of his achievement or the haircut.
Then there was the moment when Ruzive Ruzive was announced as the Referee of the Year.
It was embarrassing and Ruzive never looked comfortable walking onto that stage to collect the award.
The Zifa Referees Committee has some explaining to do on this one!
How does a guy who acts the opposite of his name win such an award ahead of the impressive Nomore Musundire?
It's a mockery.
King Peter Ndlovu was the guest of honour and although he is not the most eloquent of speakers, the former Warriors skipper had everyone's ears.
I was touched when he told the house that the other part of the Ndlovu trio, Adam Ndlovu, was at the dinner in spirit together with him and elder brother Madinda Ndlovu.
One day I hope to see Ndlovu where Phillip Chiyangwa is.
We won't talk about PC, the guy is busy trying to curry favour with the new administration, hailing every development.
Meanwhile, the Harare City family was conspicuous by its absence with only the job hunting Tendai Samanja available.
Yours Truly sheds no tears for Harare City and their funny smelling jerseys.
Asante Sana.
Sir Exits the scene!