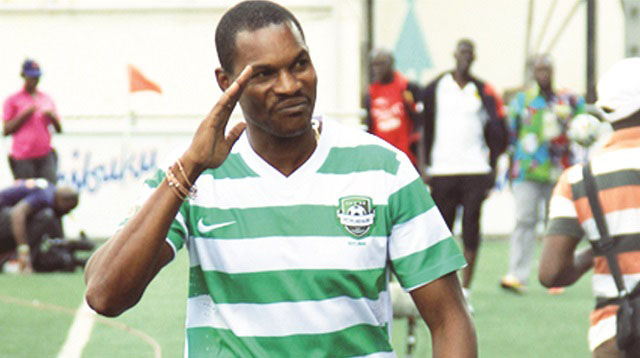 The Sunday Mail
Langton Nyakwenda
Sports Reporter
Harare City . . . . . . . . . . . . . . . . . . . . . . .  0
FC Platinum . . . . . . . . . . . . . . . . . .  . . . . (2) 2
UNSTOPPABLE FC Platinum took their points tally to 50 and opened an eight-point lead at the top after registering their 15th win of the season against Harare City at the National Sports Stadium yesterday.
The champions kept another clean sheet – their 10th on the trot – and dragged Harare City into the relegation zone in the process.
FC Platinum have now gone for at least 900 minutes without conceding a goal and their goalkeeper Wallace Magalane is now a top contender for the July Player of the Month award.
Two first-half goals by Thandolwenkosi Ngwenya – who scored after only 90 seconds – and Innocent Mucheneka condemned beleaguered City to their ninth loss of the season and left the municipal side in the bottom four after ZPC Kariba picked up a point in a goalless draw against Chicken Inn at Nyamhunga Stadium yesterday.
ZPC Kariba moved to 23 points, while Chicken Inn are now on 42 points.
Harare City remained stuck on 22 points and the future now looks bleak for Taurai Mangwiro's side, who have also been dogged by a huge player exodus.
The league's top scorer William Manondo, Emmanuel Mandiranga, Tatenda Tumba, Collin Mujuru, Marshal Machazane, Tatenda Tavengwa and Clive Rupiya are some of the players who have left Harare City since January.
FC Platinum have no such problems.
The Zvishavane miners have on their books some of the best players in the local league.
One of them is 20-year-old Ngwenya, who grabbed his eighth goal of the season after only 90 seconds.
He was put through by Brian Banda and had the composure to place the ball past Kelvin Shangiwa.
Mucheneka then doubled the lead four minutes from half time when he tapped home a square ball from Walter Musona.
Musona could have put his name on the scoresheet midway through the first half, but the former Young Warriors forward shot wide after he was set free by Ngwenya.
The visitors carved some chances which they could not convert as they overran a hapless City.
Mangwiro introduced the unheralded pair of Victor Mukutairi and Obert Tafira in the second half but they did not make a difference.
Gift Bello and his FC Platinum defence were resolute throughout.
The 38-year-old Bello partnered Lawrence Mhlanga at the heart of the champions' defence, with the underrated Rainsome Pavari providing the shield.
For Harare City, the only positive vibe was the industrious Donald "Kante" Mudadi, who continues to impress for the struggling Sunshine Boys.
Mudadi is one of the players that Mangwiro will be looking up to as he begins his fight against relegation.
"It's an unfamiliar territory that we find ourselves in," Mangwiro said.
He remains confident his side will survive the chop.
"It's a crucial time that we are in. But I don't think we are relegation material.
"We had a shaky start, conceding inside the second minute and it's always difficult when playing against the champions.
"We regrouped better in the second half but it was always difficult to come back from 2-0 down.
"We now need to work on our mistakes. Games are not coming any easier; next we go to Chicken Inn."
Responding to questions on the player exodus, Mangwiro said there was nothing he could do to prevent them from leaving.
Mapeza was animated as ever on the touchline even after the 90th minute, as he wanted to make sure his side notched up another crucial win.
This was FC Platinum's fourth trip to Harare and they have so far managed two wins, a loss and a draw.
"It's all about concentration. The moment you say it's over when it's not, you lose it," said Mapeza.
"It's about constantly reminding players how we need to press, how we need to defend.
"We keep pushing, it's all about hard work, we have to manage everything we do.
"What's important is organisation, if we can't score, then they (opponents) don't have to score," Mapeza said.
FC Platinum have now gone for 15 hours of football without conceding a goal and they keep setting new standards in the domestic league.
The only blemish on the game was when FC Platinum winger Donald Teguru was stretchered off the pitch in the 83rd minute.
He was replaced by another bright prospect, Panashe Mutimbanyoka.
TEAMS:
Harare City: K. Shangiwa, H. Chapusha, S. Masunda, D. Dzvinyai, T. Mugoniwa, D. Mudadi, I. Zambezi (V. Mukutairi 61st minute), W. Muvirimi (O. Tafira 46th), Z. Bizeki, T. Mukono, T. January
FC Platinum: W. Magalane, G. Mbweti, G. Bello, L. Mhlanga, K. Mangiza, B. Banda (J. Mutudza 90 + 2), R. Pavari, I. Mucheneka (B. Moyo 61st), D. Teguru (P. Mutimbanyoka 83rd), W. Musona, T. Ngwenya (O. Bhebhe 90+2)