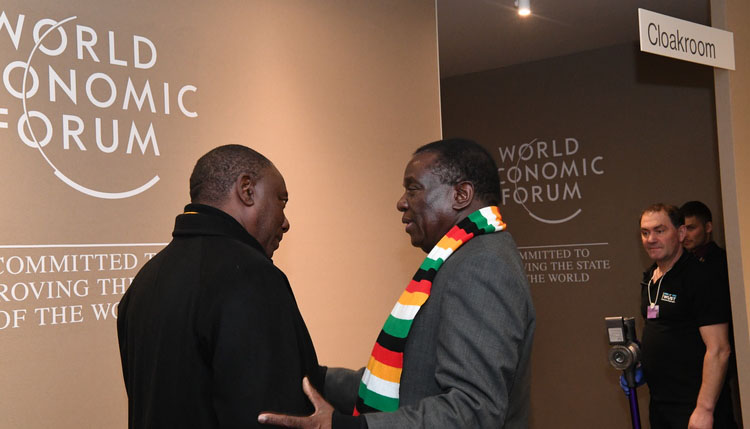 The Sunday Mail
I have found this fixation on whether President Mnangagwa's 100 days in office have been a hit or miss rather puzzling.
The debates and arguments have been both poignant as well as baseless.
Just like how the Chinese define their politics, and not be fed or led by American populism, I think we should adopt our own, home-grown, methods of quantifying and qualifying our own successes.
Why should we follow the American dream of 100 days?
Anyway, we are all agreed that Zimbabwe had been a mess for quite some time. Where to mark the genesis of that mess differs with one's political opinion.
Some say it started in 1980, some say it started with the Economic and Structural Adjustment Programme of 1992, some with 1998 and the war vets' payments, some with MDC's formation in 1999, some in 2000 with Fast-Track Land Reforms, some in 2001/2002 with the imposition of economic sanctions on Zimbabwe. Whichever the starting point, our economy has taken a battering for quite a while.
Therefore, to expect someone to get into office on November 24, 2017 and then expect a miracle after 100 days is naivety of the highest order.
We all desire improved livelihoods, but to expect it in a mere 100 days is rather absurd.
The damage needs more than 100 days to re-dress.
Reason why the next election, expected to be held around mid-2018, should be defining.
If, as largely expected, President Mnangagwa romps to victory, then those who are currently seized with the 100 days tune will sing their voices hoarse, because there will be plenty-plus 100 days over the next five years.
Back to the current 100 days, I flipped an electronic calendar and a straight 100 days after President Mnangagwa's inauguration are up today.
If you exclude weekends and holidays, we still have a while to go.
All the same, going by the generally accepted count, the 100 days are up. And what do we say of President Mnangagwa and his team?
Roadblocks
The most noticeable thing today in Zimbabwe is the reduction in police presence on our roads. The police had become notorious for harassing motorists for the silliest of traffic offences.
Recently, we travelled from Harare to Hwange and not once did we come across a roadblock. Previously the 10 fingers and 10 toes were not enough to count all the police stops between Harare and Victoria Falls.
Slowly, which is very lawful and constitutional, the police are making a comeback to the roads, though their behaviour is now quite measured.
The police should not be feared or despised, they should be respected. And this is respect that they will have to earn.
For the unhindered movement of people across the country, it is a 10/10.
Corruption
President Mnangagwa has talked often and openly about fighting corruption. There have been some arrests and some have dismissed these as political witch-hunts.
In the DRC lst week, the President re-asserted his commitment to combatting corruption, and pointed out there would be no sacred cows.
The nation is watching expectantly.
Fence-sitters are waiting to see what will become of the Parliamentary Portfolio committees which are criss-crossing the country and their attendant hearings, if all this will not end up as just that – talk.
It is good that some former ministers and other high ranking officials have been arrested and are before the courts.
What will be more important will be putting in place measures that actually stop the corruption from happening in the first place.
Because much more needs to be done, the President and his team gets 6/10.
International engagement
Since November, Zimbabwe has been making headlines for the right reasons. There is a new spring in our step.
The Davos World Economic Forum and the Cape Town Mining Indaba were proof that there is renewed interest in the country.
The beeline by diplomats wishing to meet the new authorities is quite significant. One can only ignore the changes that have taken place in Zimbabwe at their own peril.
There is talk of getting into bed with the Commonwealth, which should be seen in more than just political eyes. Our sports-people stand to benefit as well from engagements like the Commonwealth Games. The positive flow from such engagements will, undoubtedly, see more international tourists flying into the country. For these positive steps, President Mnangagwa and his team get 8/10.
Open-door policy
Former president Robert Mugabe had mystified the President's Office. It was an unapproachable, alien existence.
President Mnangagwa has demystified all that.
For example, in the DRC he took it upon himself to help out a Zimbabwean woman who had been stranded in that country for a couple of years.
Armchair critics will be quick to ask, so what's the fuss? Well, ask any American how likely it is to get a free ride on Air Force One. Add his presence on social media platforms, where he engages directly with the citizenry, and what you have is a President who is as human as you and me. Also, he reads all communications directed to him and responds with action – sometimes with personal replies – as soon as is possible.
For his efforts, the President gets 9/10.
Health delivery
Free healthcare for under-5s and over-65s is quite commendable.
Now we would like to see every clinic and hospital with functioning equipment and medicines. It will be to miss the point by a mile to give the young and elderly free health care when, at the end of it all, there are no drugs to treat them. Helped by the hand of the First Lady, who has gone on a country-wide public health campaign, particularly targeting cervical, breast and prostate cancers, the health sector has overcome a typhoid outbreak that threatened to mask successes of the first 100 days.
For the efforts in the health sector, it is a 6/10.
Agriculture
Among the drivers that are expected to turn around the economy, agriculture stands out as it has some quick-wins, probably reason why Government saw the continued support of farmers through Command Agriculture as pivotal. Success will have to go beyond Command Agriculture, and if the Guruve Siyalima model, which was launched on February 7, is to be replicated across the country, then food self-sufficiency should be achieved.
After the Siyalima launch, Vice-President General (Retired) Constantino Chiwenga launched a livestock, fisheries and wildlife support scheme in Insiza, Matabeleland South. Though the current season was blighted by a prolonged dry spell, which has been followed by incessant rains, both natural incidences which are likely to affect harvests, Government's efforts are commended.
Agriculture gets 7/10.
Zimbabwean Dream
Overal, there is general optimism everywhere and many people are now talking about the Zimbabwean Dream.
Those who had been holed up in foreign lands for decades are contemplating a come-back, investors are looking at Brand Zimbabwe with a new eye, and the political environment is no longer toxic – except perhaps in opposition parties with unresolved succession issues.
The future is bright. It is every Zimbabwean's duty to contribute to the achievement of our shared Zimbabwean dream of a prosperous nation.